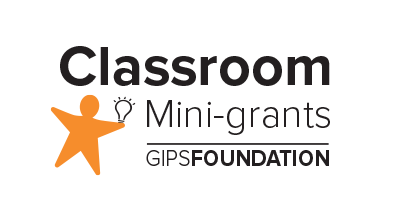 Online Application
Application will open in August.
 

Eligibility and Deadlines
The Grand Island Public Schools Foundation awards classroom grants on an annual basis. Classroom Grants are designed to fund educational opportunities for students that are not available through the school district's general budget. Only applicants with a @gips.org email address are eligible for grants.
Classroom Grants will be considered for:

Classroom projects that require out-of-the-ordinary supplies, educational software (for student use), etc. NO Field Trips this Year, No GUESTS in Buildings (they could be virtual)
Applicants must demonstrate the impact on and the benefit to students. The committee looks favorably upon co-operative grants. No intermixing of classes or big groups.
Additionally, the committee is concerned with equity. A project that benefits all classrooms in a school building at one level or more will carry more points. 
The committee reserves the right to make exceptions. 

Classroom Grants will not be considered for:

Document cameras (Elmos, iPevos, etc)
Smart boards
Teacher stipends
T-shirts
Alternative seating
Food (unless directly related to the project)
The committee reserves the right to make exceptions.
Round 1 Deadlines:
August 15 - open
September 30 at 4:00 pm - closed
October - awards announced
Projects should begin after November 1
Frequently Asked Questions
Contact the System Administrator with questions at cwiemers@gips.org
How do I create an account?

NOTE: Only applicants with a @gips.org email address are eligible for grants.
Before you can use the online grant application you must become a registered user. During the registration process you will choose your own username and password. If you cannot remember your user name that you have created, please contact the system administrator. DO NOT create another account. If you create a duplicate account, the Grant Committee reserves the right to disqualify your application.

Create a new account
At the login screen click To create a new application click here. DO NOT create duplicate accounts. You will be presented with a registration screen. Enter your name and email address. Choose a unique user name and a password of at least 5 characters. We recommend using the email address as your user name. If a user name is not entered, the email address will be used as your user name. Remember that the passwords are case sensitive and fields marked with an asterisk (*) are required.

How do I reset my password?

If you cannot remember your username or password, use the link to reset your account. DO NOT create multiple accounts or you may be disqualified from the grant application process.To reset your password you must know your username or email address used to create the account.

If you still cannot access your account contact the System Administrator at cwiemers@gips.org.

Complete the Reset Password Page
Enter your email address and/or your username (you must know at least one used to create account). Click the Reset Password button. An email will be sent to your account email address with a link to reset your password.

How do I create multiple grant requests?

NOTE: Only applicants with a @gips.org email address are eligible for grants.

Maximum of 5 grant requests per round:
After you have created an account and started/completed the grant application, you can create additional grant applications to be considered during the same grant round. The maximum number of grant requests per round is five. All grant applications can be created with one user account.

Create a new grant application:
Log into the grant application. To create another grant request click on the Add Entry icon.

Open grant application:
Click on the pencil to open a grant application.

View list of grant applications:
Click on Forms in the top grey box. This will navigate back to your list of applications. Click on the pencil next to the application you want to work on.

What do the icons in my application mean?

A green check mark indicates that all of the required fields in a form have been completed and saved.

A red exclamation point is shown when at least one required field in a form is empty or contains an invalid entry. Your document cannot be submitted while any of its forms are incomplete. If you hover your mouse over the red exclamation point, pop-up text will list the reasons that a form is considered incomplete.

A green save diskette is shown when there is a change to a field in the form. You must click on the diskette to save the information. The green diskette may appear at the bottom of the screen or in the upper right of the page.

How do I know if my recommendation is complete?

Each grant application requires a recommendation from your building principal or direct supervisor. You will not be able to submit your grant application until the recommendation has been completed.

Once you enter their information in the Principal Recommendation and Signature page, your building principal/direct supervisor will receive an email with a link to your online grant application recommendation form. Once they complete the recommendation they will not be able to access your application again. The recommendation must be complete before you may submit your application. Monitor closely the progress of your recommendation. It is your responsibility to ensure your recommendation completes the form. The status of your recommendation will be displayed on the "Principal Recommendation and Signature" page next to their email address.

(Notified) - Indicates the recommendation has been sent a form link by email.

(Failed) - Indicates the recommendation email is incorrect and bounced. You must correct the email address. Once the email address has been corrected and the page saved, a new email will be sent to the updated email address.

(Completed) - Indicates the recommendation has completed the form and submitted it as complete.

How do I submit my grant application?

Before you can submit your application, you must complete all the required questions and your recommendation must be submitted as complete. The Submit button at the bottom of the navigation menu will be clickable when all the requirements have been completed. You will receive an email stating your application has been submitted.

If the submit button is inactive, it means something in your application is incomplete. Check your application again and complete any missing information. Once all information is complete the submit button will activate.

Your application must be submitted before the deadline to be reviewed.

How do I complete the recommendation form?

Recommendation Forms are Time-sensitive
The applicant cannot submit their application until the recommendation form is complete and submitted. Applicants are competing for grants.

Reminder Emails: A system generated reminder email will be sent every three days until the form is completed.

Confidential: Your response is confidential. Applicants will not be able to see your recommendation form.

Recommendation Form Access Link
Once the applicant enters the recommendation name and email into the application, the system automatically generates a recommendation request email.

Unique Links: Each recommendation request link is unique. The link will only open the recommendation form from the application it is associated with. Multiple applicants may request a recommendation from the same person. Each request will generate an email that contains a unique link.

Save Diskette: Click on the save diskette to save changes to fields. (navigation menu and bottom of page)

Submit as Complete: After all the fields on the recommendation form are complete, click the save diskette and the confirmation page will appear. Click on "Submit as Complete" if you are finished. The access link will be deactivated.

Continue Editing: If you need to exit the form before it is complete, click on the save diskette to save the changes to the fields first. On the confirmation page, click on "Continue Editing" to keep the access link activated. Click the access link in the recommendation request email to access the form again.

Reactivate Link: If you have submitted the recommendation form as complete, but still need to edit the form, contact the system administrator (cwiemers@gips.org).
How is my Online Grant Application scored?
Grand Island Public Schools Foundation grants are awarded through a competitive process. Each grant application is reviewed by a committee and scored.
Score Overview

Grand Island Public Schools Foundation grants are awarded through a competitive process. Each grant application is reviewed by a committee and scored.

Project title and description (6 points)

Has the applicant clearly followed application directions?
Has the applicant clearly described the project?

Meets district objectives/grant narrative (30 points)

Does the project provide a learning experience/opportunity that students would otherwise not receive?
Is the project high impact, involving a lot of students, or one that could be duplicated across the district so that it would impact a greater number of students?
Does the applicant explain how the project enhances current curriculum?
Does the applicant explain how the project meets district objectives?
How many disciplines are used in the project? Does the applicant describe how the project will impact the different disciplines?
Does the project sound like an engaging learning experience? Would you or your children react favorably to the project?

Outcome and measures (15 points)

Does the applicant explain the outcomes?
Does the applicant have a plan to measure the outcomes?
Are the outcomes realistic?

Itemized budget (15 points)

Has the applicant provided an itemized budget as requested?
Are the expenses reasonable?
Is there an expense that is not in line with the Foundation priority of providing additional opportunities for our students?

Timeline (6 points)

Is the timeline reasonable?
Has the applicant planned adequate introduction and follow-up for the project?
---
Janeth Davis Memorial Fund
Applications and awards through the Classroom Mini-grant process
The family of Janeth Davis offers this fund to honor her memory and invest in the students of Grand Island Public Schools. Mrs. Davis was a middle school teacher, teaching both English and Spanish. She loved her students and was a fierce advocate for their education and opportunities. 
Eligibility and Purpose
The Janeth Davis Memorial Fund will offer grants annually to benefit students via the GIPS Foundation's Classroom Grant program. The grants will be funded using the standard procedures for Classroom Grants as determined by the GIPS Foundation.
Preference will be given to middle school projects for these designated funds, but other projects may also be funded.
Amount
The cap for funds distributed for 2022-2023 will not exceed $1,500
To Apply
Complete the Classroom Grant online application form at https://gipsfoundation.org/what-we-do/classroom-grants.html
Deadline
Classroom Grant applications are accepted in two rounds on an annual basis. See application deadlines at https://gipsfoundation.org/what-we-do/classroom-grants.html
Selection Committee
A committee approved by the Foundation Board will select the recipients from the requests submitted.
GIPS Foundation announces 2022-2023 Classroom Grant Awards
For the 2022-2023 school year, 16 grants totaling $16,457 were awarded through the Classroom Grant process. Grants range from $250 to $2,000. 4,425 students will benefit from a classroom grant this school year.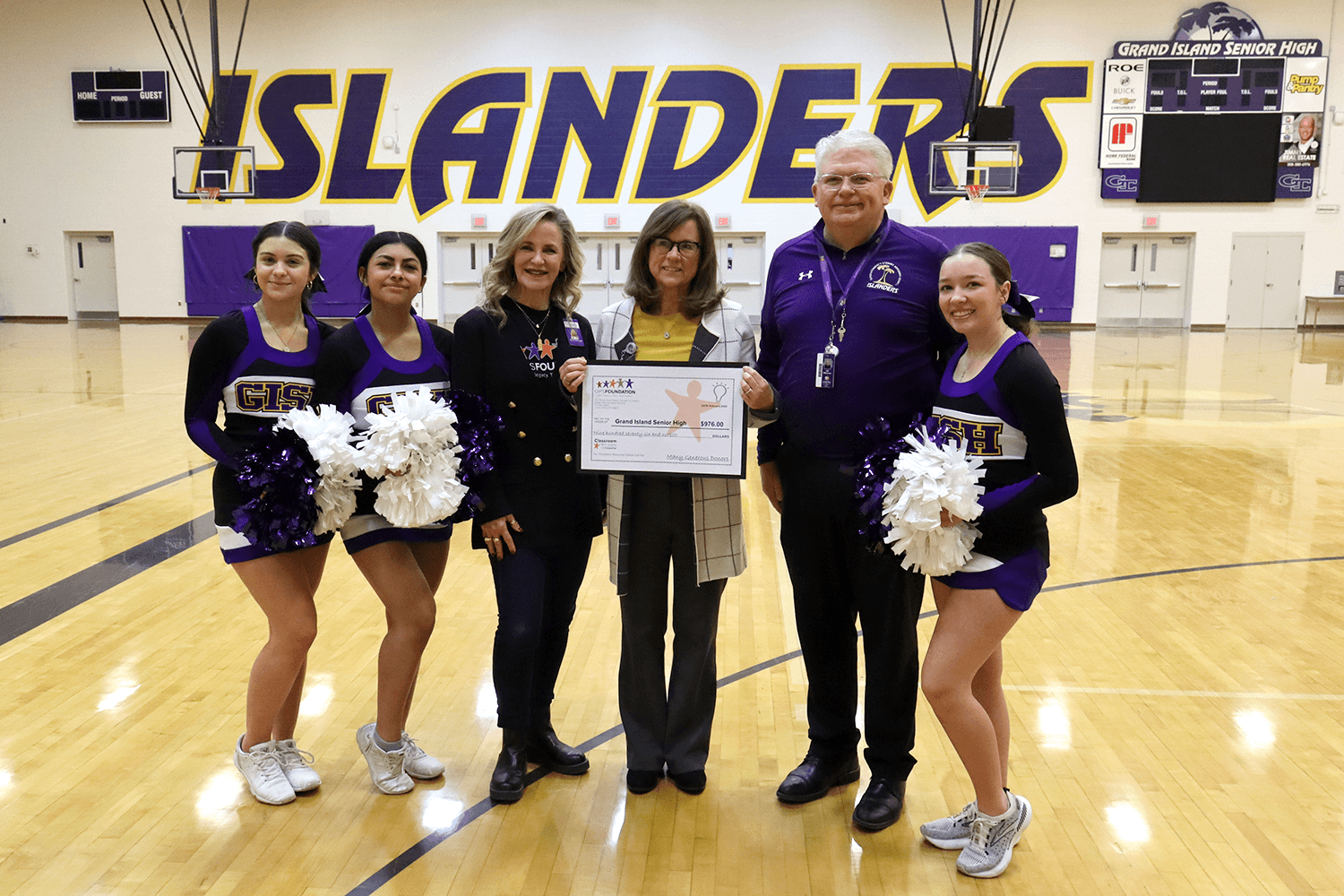 A collaboration of Rod Felton and Nancy Jones, Grand Island Senior High School, $976, "TeamMates Mentoring College Visit Trip". TeamMates will provide programs to students and their mentors on a college visit to Central Community College in Columbus. This is an opportunity for students to picture themselves in a college environment and realize it's a possibility perhaps for the first time. Many students in the program would be first-generation college students and this trip offers them hope and motivation for their future.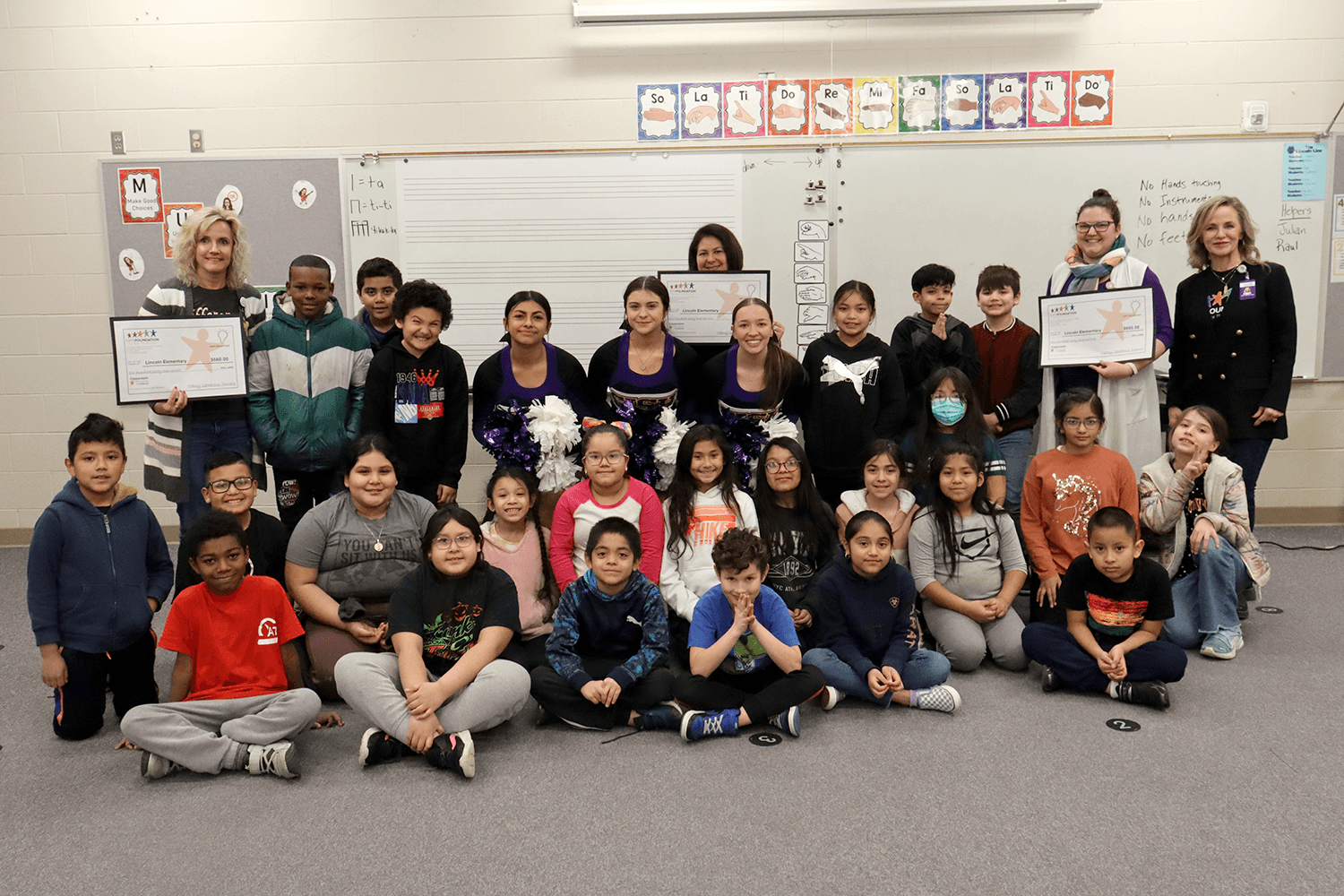 A collaboration of Liang O'Brien, Kristin Schultz, and Florina Espinosa, Lincoln Elementary School, $660, "Lincoln Visits the Stuhr Museum". Following a three week program, students and their parents will visit the Stuhr Museum. The Lincoln History Club - an after-school program - would use this opportunity to present to their parents a culmination project.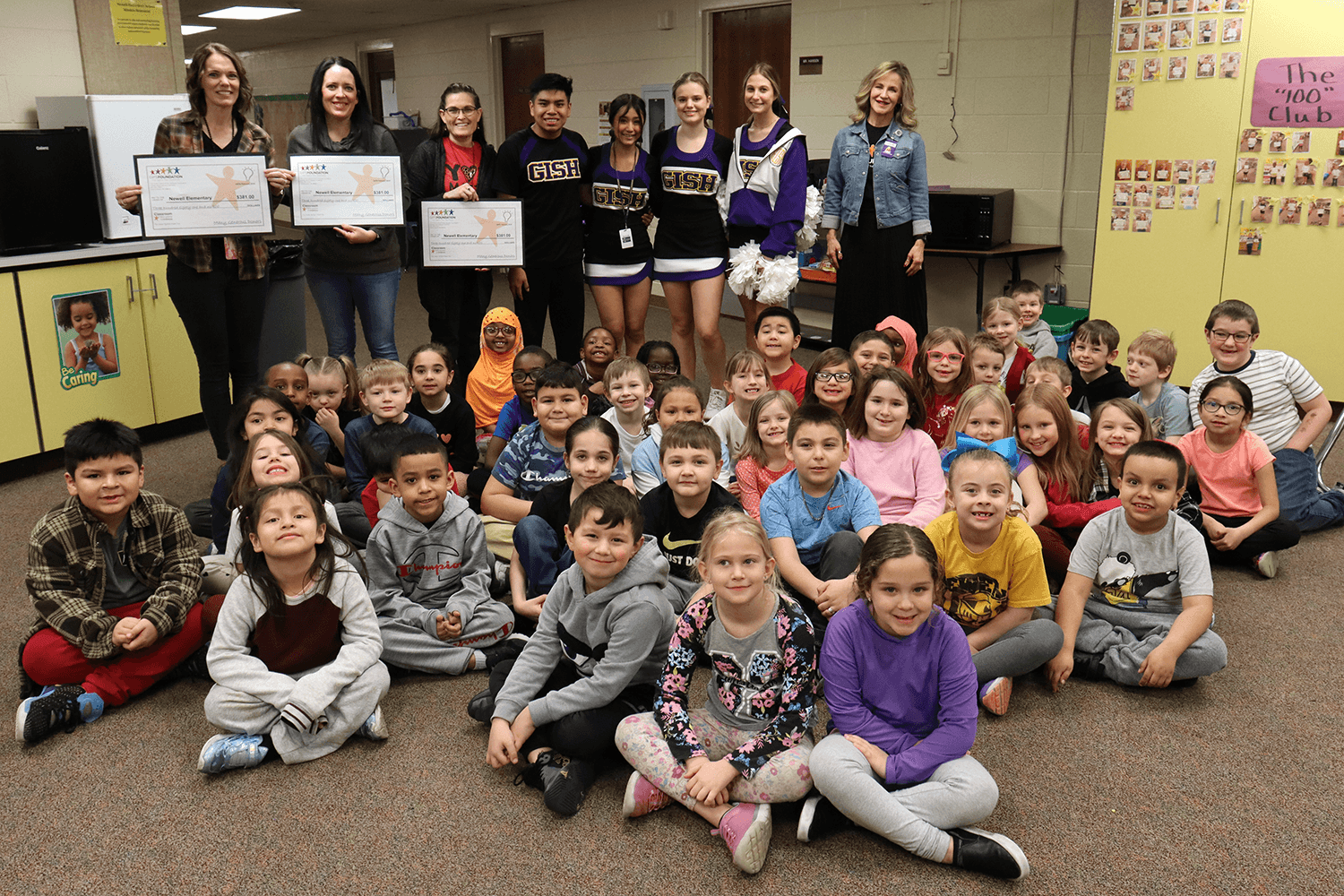 A collaboration of Asia Thoene, Renee Sutherland, and Abby Elsbury, Newell Elementary School, $381, "Solar System Field Trip". The Edgerton Museum would bring to our school their portable planetarium which projects the night sky as it appears from Earth as well as travel throughout the Solar System. Students will get a view of the sky from the moon as well. This opportunity would allow our first grade students to transfer the knowledge gained from the recent science unit Spinning Earth and Astronomy Unit in Knowledge to a real life experience.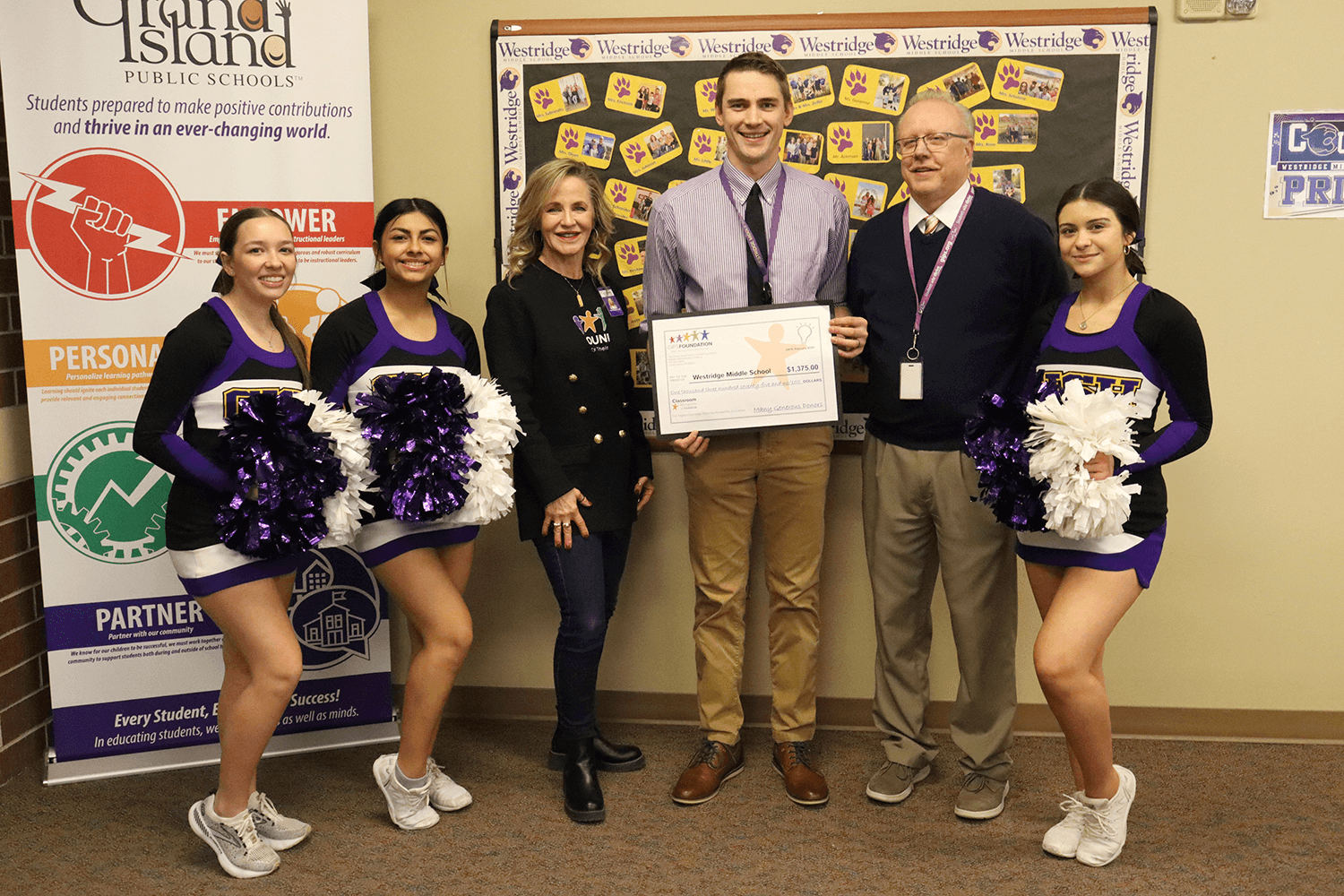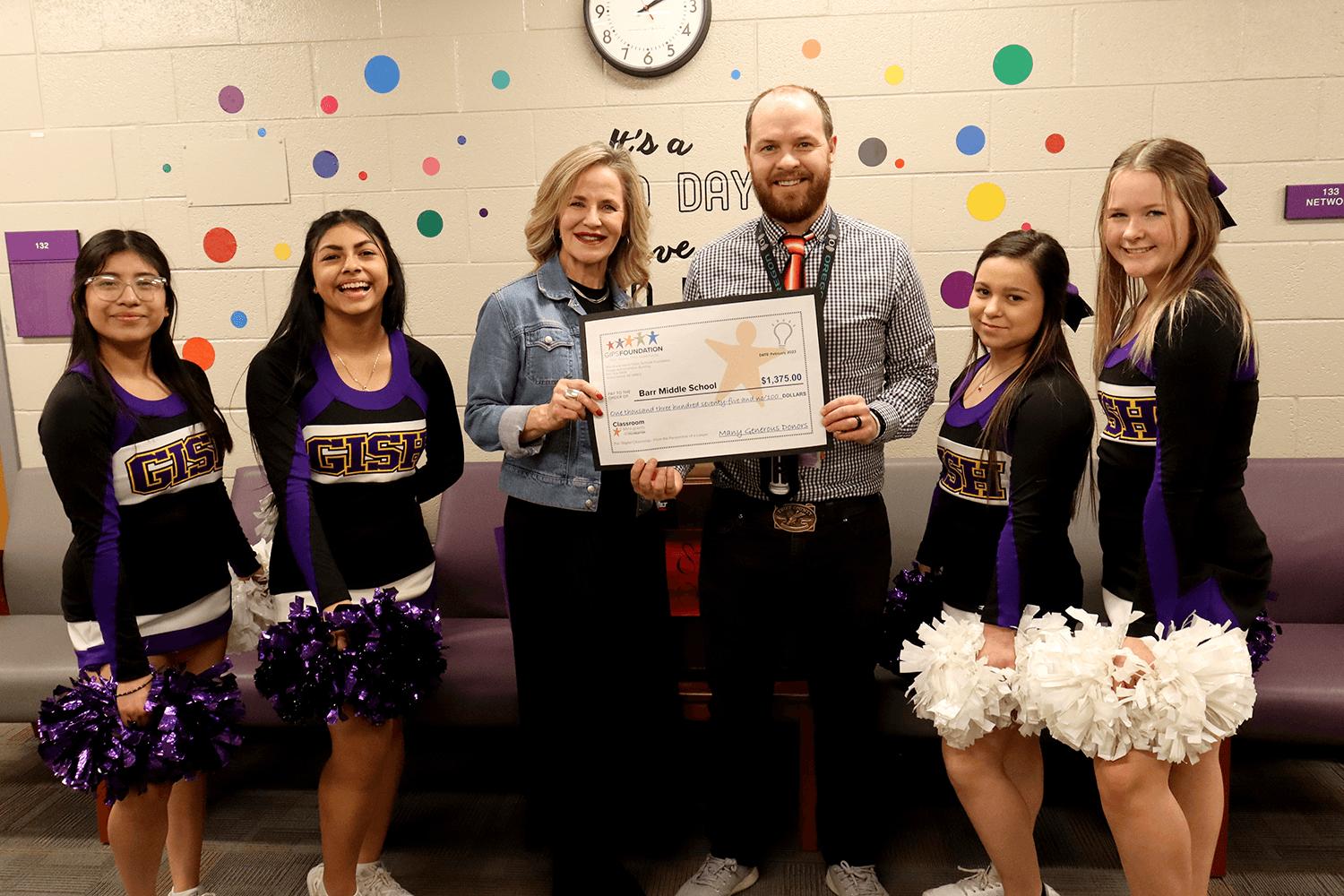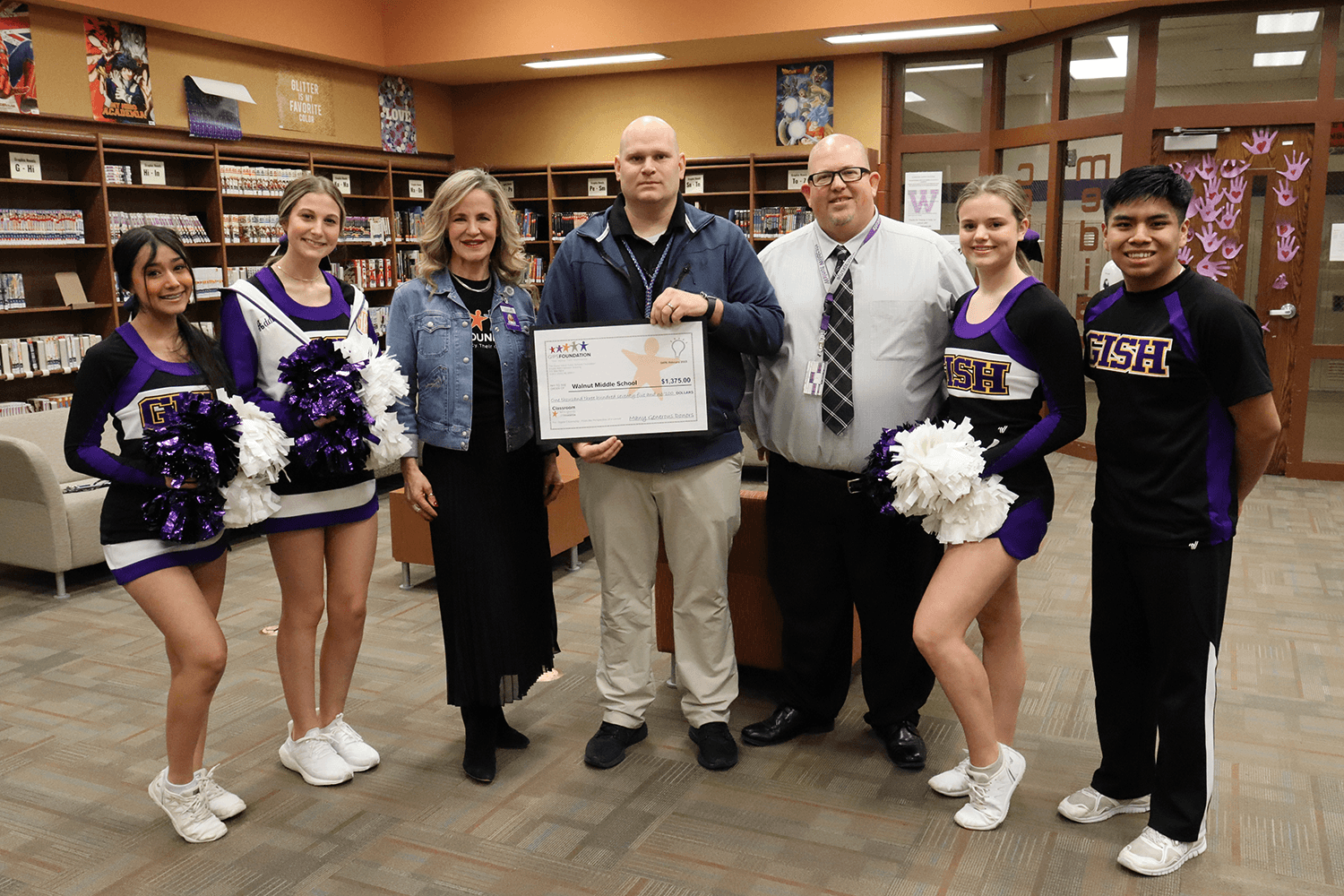 A collaboration of Jacob Morrow, Matt LaCompte and Shane Fernau, Westridge, Barr and Walunt Middle Schools, $4,125 "Digital Citizenship-From the Perspective of a Lawyer". The three middle schools will be bringing in Bobby Truhe from KSB Law. School attorney, Mr. Truhe, will discuss legal issues related to students' use of social media. Using humor, statistics, and summaries of real-life cases, Mr. Truhe will explain to students the significant consequences attached to the inappropriate use of social media such as SnapChat, Instagram, Facebook and Twitter.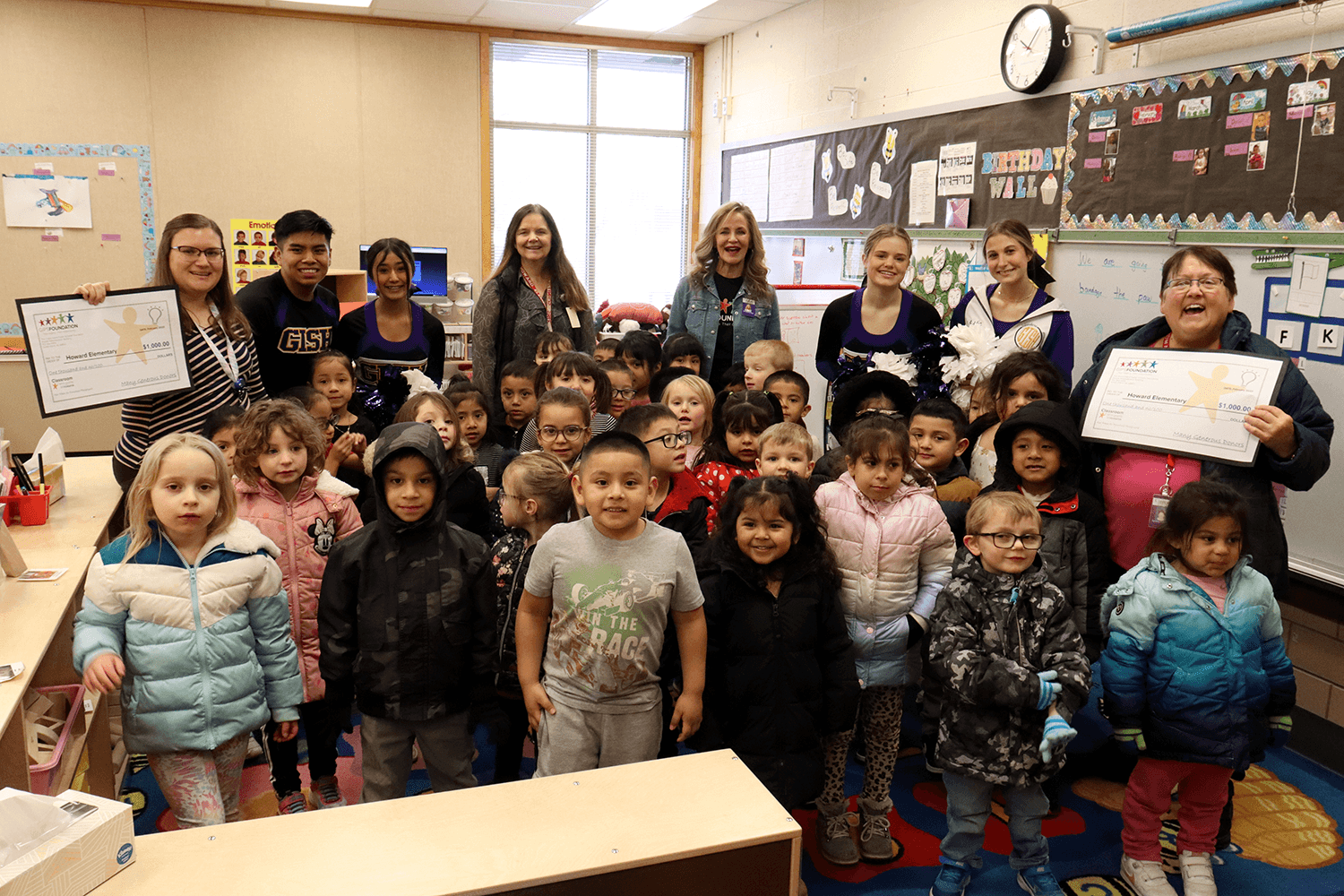 A collaboration of Courtney Salmon and Cindi Friedman, Howard Elementary, $1,000, "Trikes for Preschool Playground". Providing two new trikes for their preschool outdoor gross motor use.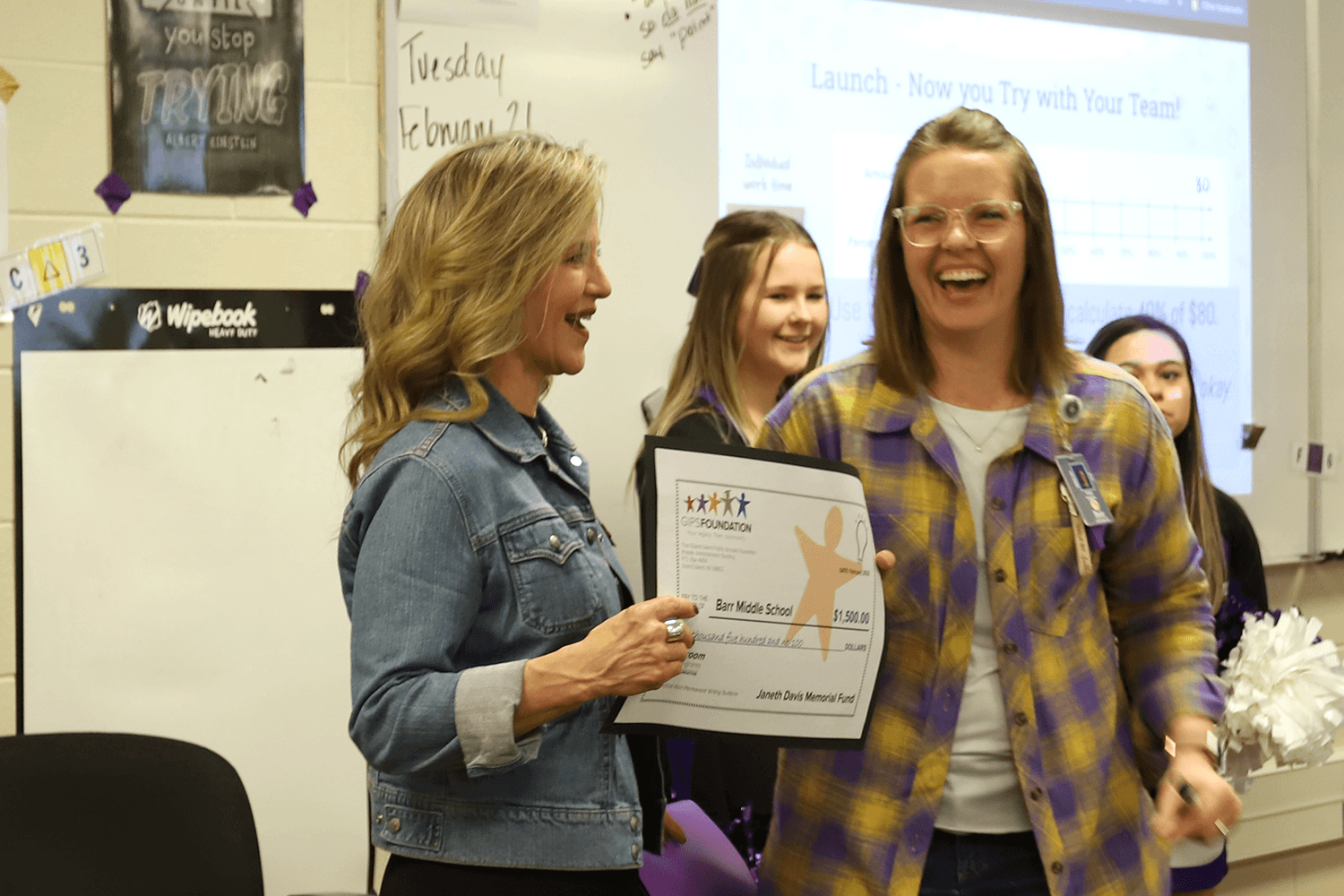 A collaboration of Katie Keasling, Lacy Biberos, Shannon Shuck, Heather Rotter, Hannah Schmidt, Elyssa Johnson, Jackie Bigley, Irene Faldorf, Sydne Sims, Hector Cerda, Hannah Beck, Barr Middle School, $1,500, "Vertical Non-Permanent Writing Surfaces". In an engaged math classroom, students are learning together through talking about the math problem in front of them while working it out on a space they can all use and see with a non-permanent writing surface. Students working together can help them make connections, notice patterns and try things in a way they maybe wouldn't have thought of on their own. This grant was funded by the Janeth Davis Grant.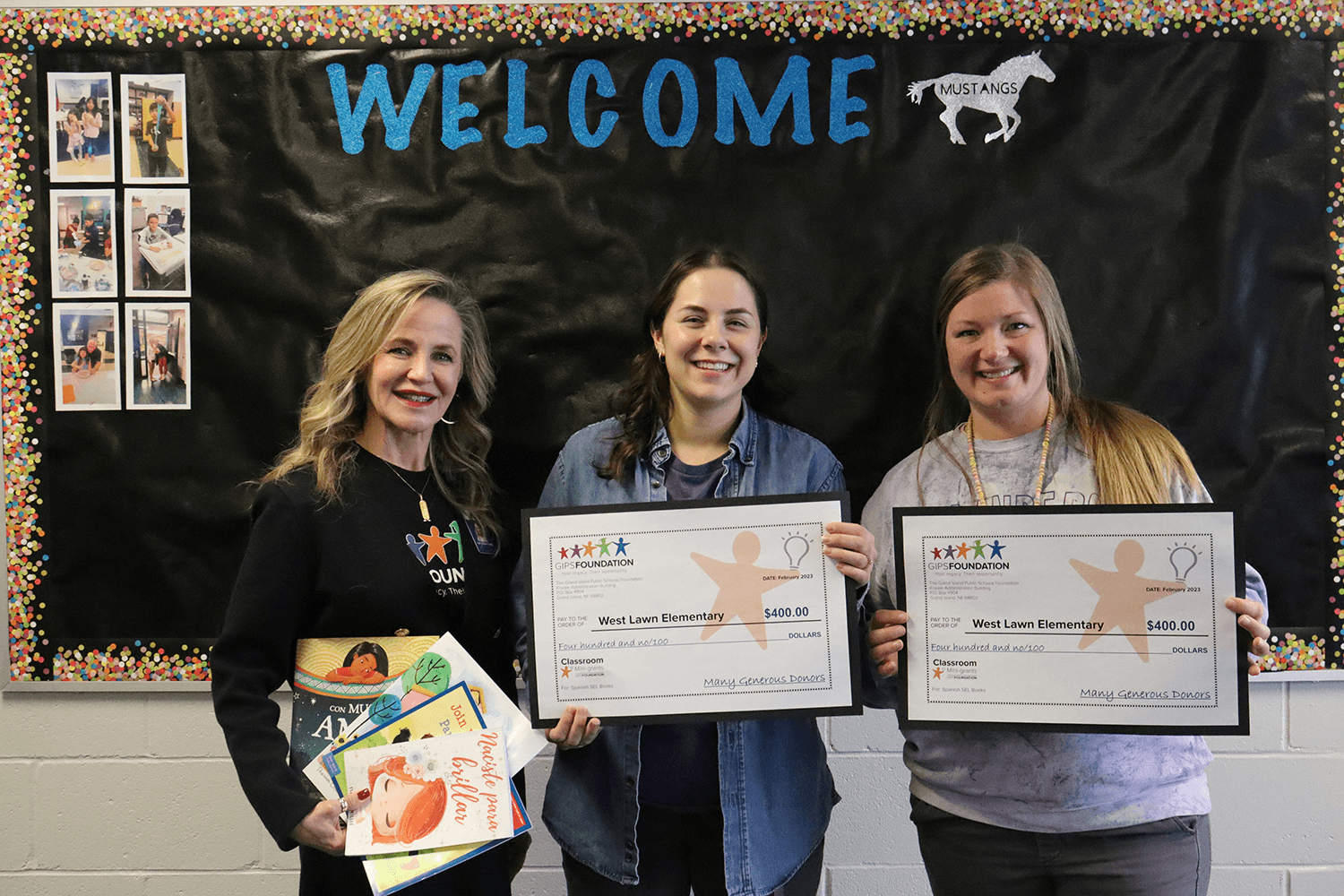 A collaboration of Sarah Grigsby and Rebecca Duran Meyer, West Lawn Elementary School, $400, "Spanish SEL Books". West Lawn houses the Newcomers Program and have other students where Spanish is their first language. When working with the students that mainly speak Spanish, being able to have SEL books that are in Spanish would allow us to more easily teach and communicate important SEL skills and emotional regulation.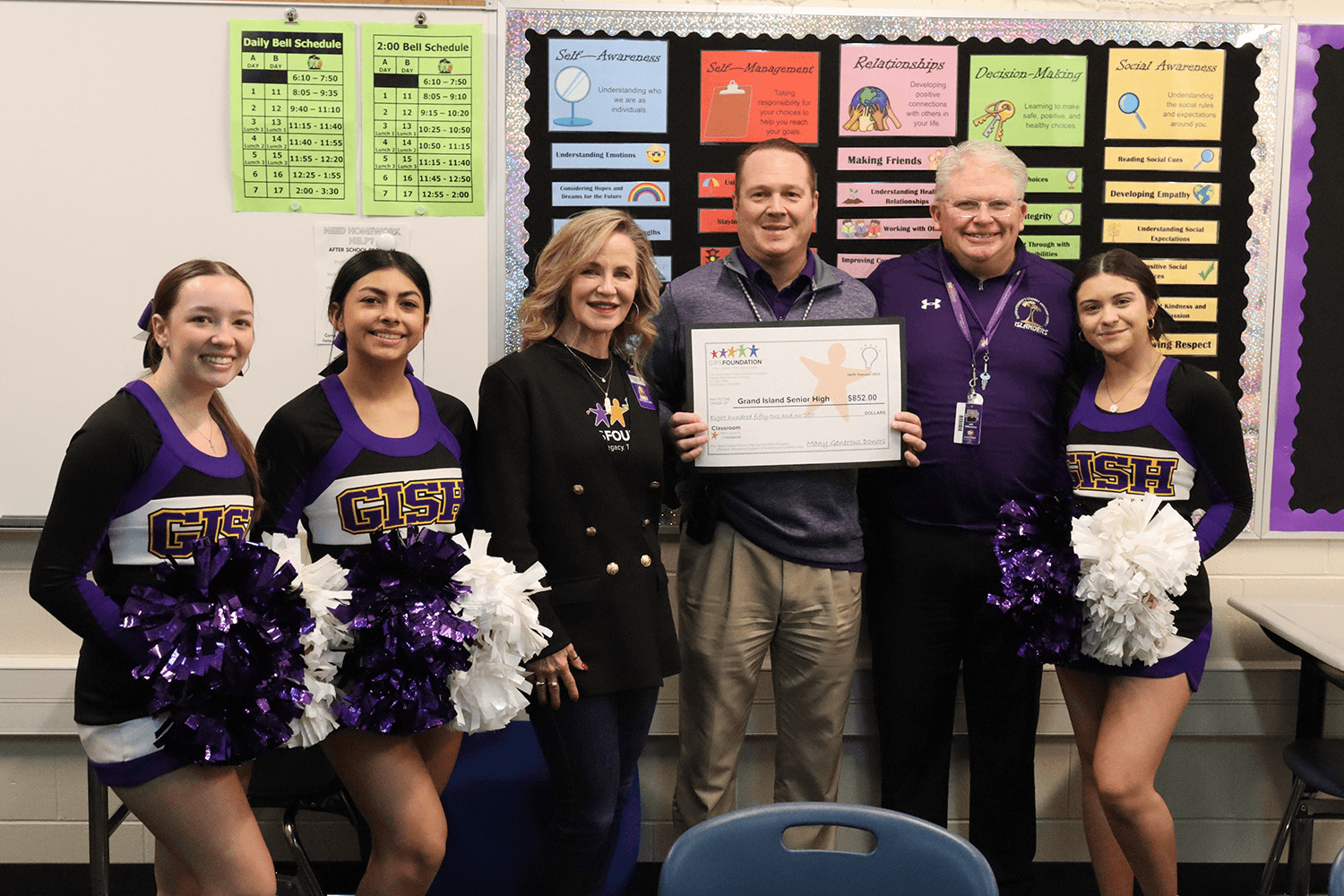 A collaboration of Andrea Hill and Calvin Hubbard, Grand Island Senior High School, $852, "GISH PASS Program". The Grand Island Senior High School PASS (Positive Alternative Support to Suspension) Program would create a calming area to be used by students for emotional regulation. This calming area would help students cope with their emotions, stay calm, regain self-control, and focus on the present moment, so they can interact positively with others and be proactive in learning.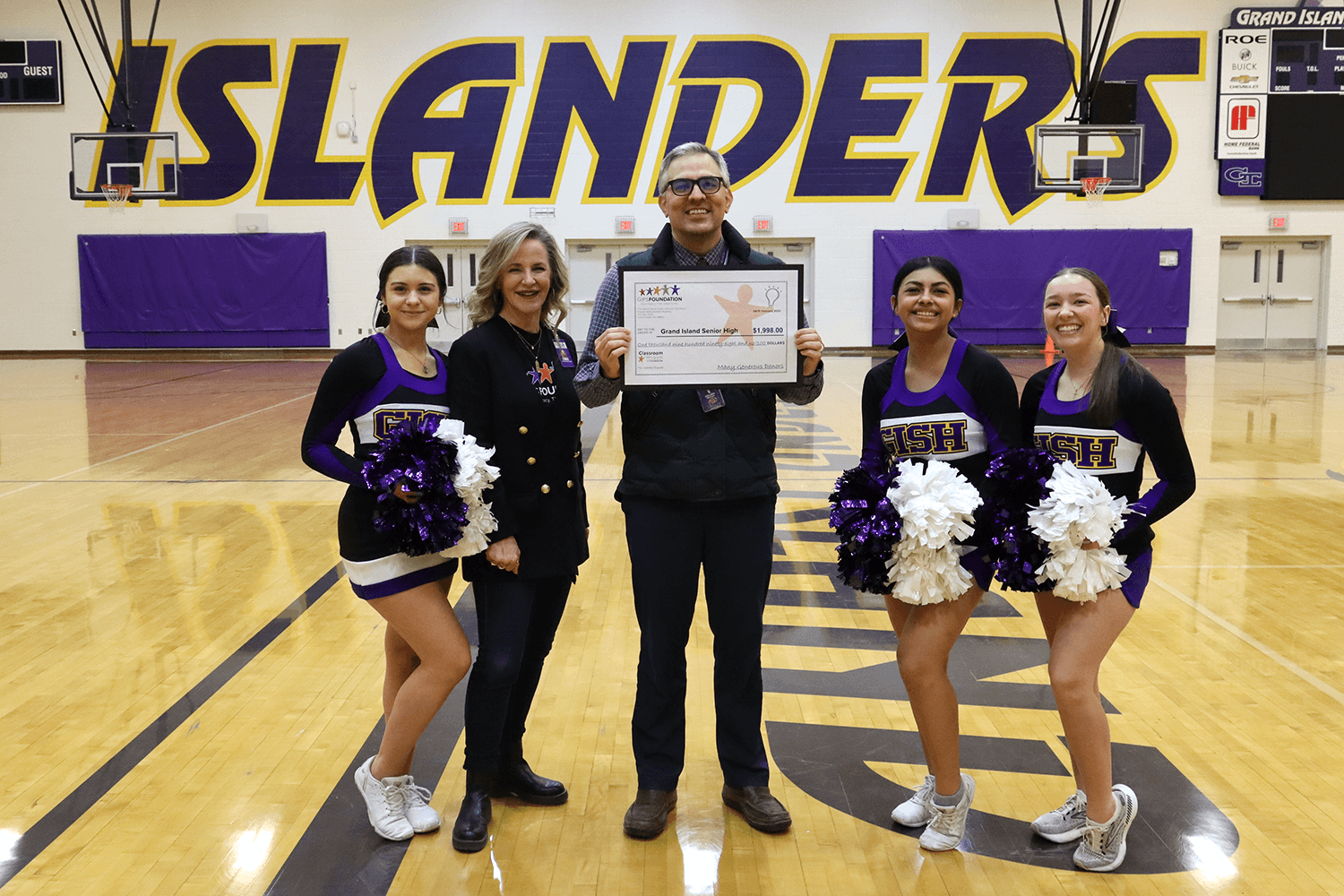 A collaboration of Benjamin Marten and Dr. DeFrank, Walnut Middle School, $1,998, "Islander ESports". Rocket League is mostly played using controllers, and some students don't have one they can bring. To play at a competitive level with Rocket League, players need the type of finesse that can only be achieved using a controller. This grant would allow us to purchase a number of controllers that can be used for multiple years and provide uniforms for our players.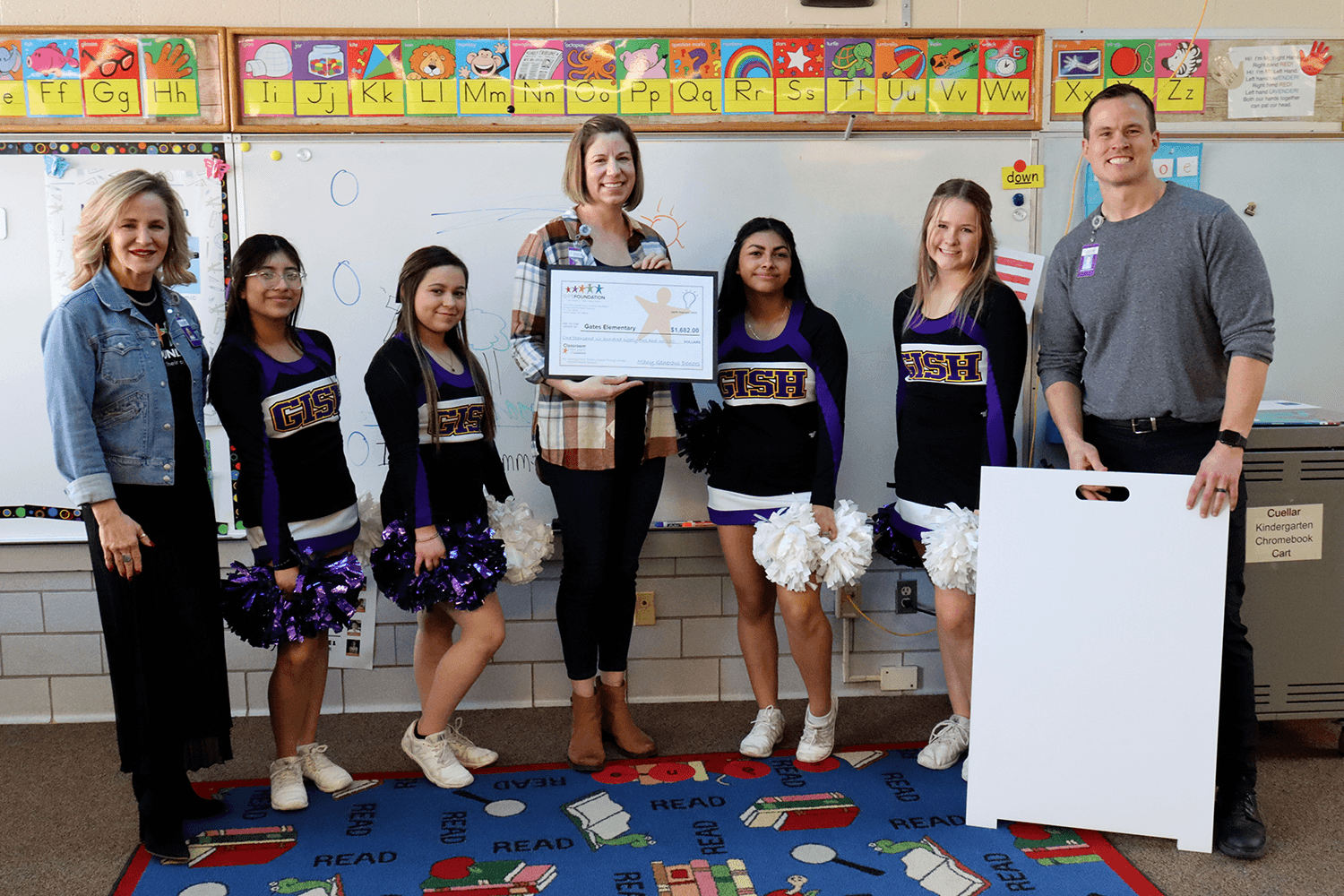 Sara Robinson, Gates Elementary School, $1,682, "Creating Active Thinking Spaces through Vertical Non-Permanent Surfaces". Will provide third, fourth and fifth grade students with vertical non-permanent surfaces (vertical whiteboards). Vertical spaces are ideal for thinking and engagement. This opportunity will certainly create active thinking spaces for the students at Gates Elementary.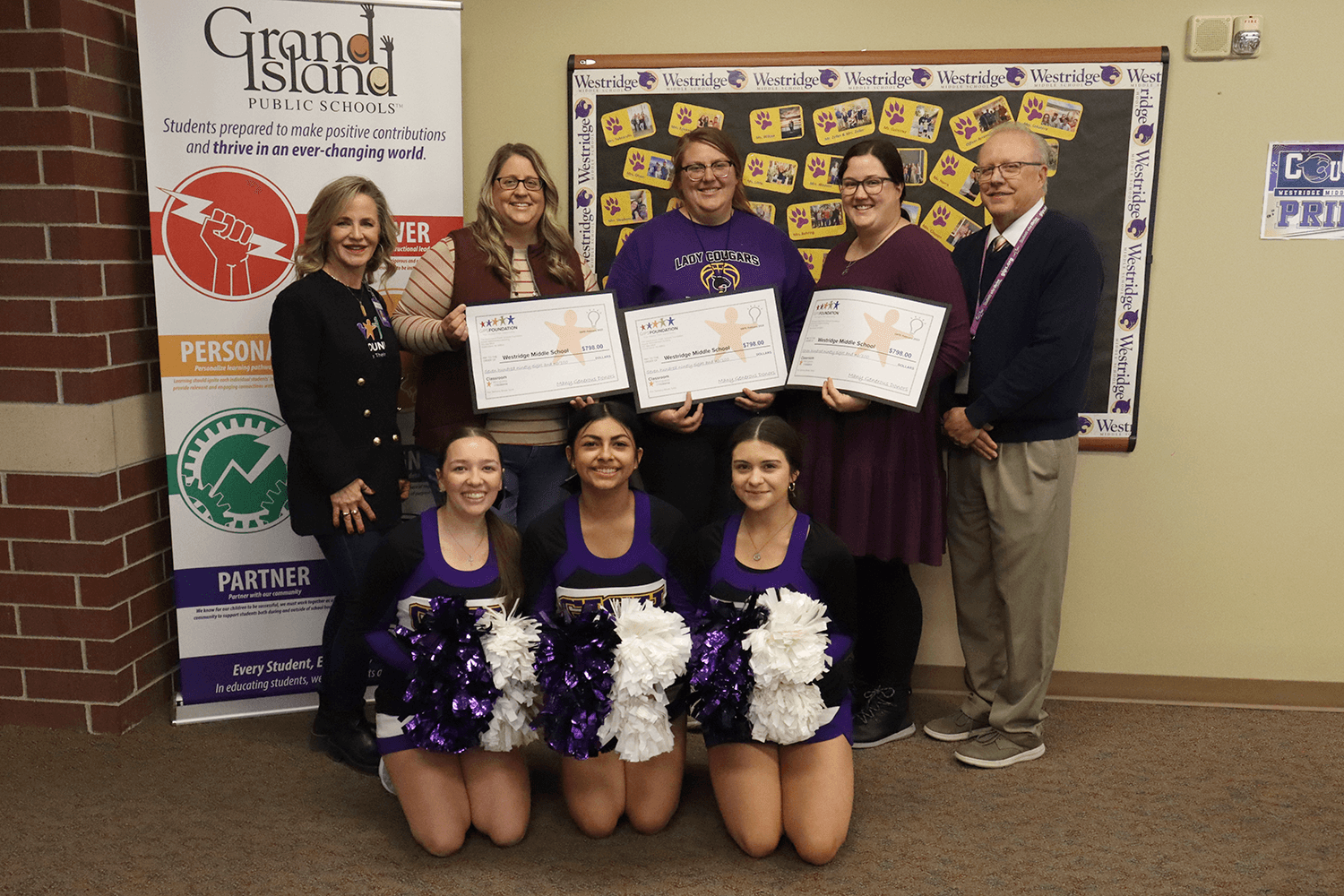 A collaboration of Jenifer Fischer, Heidi Hiebner, Lauren Wilcox, Taylar Heinemann, Halli Chramosta, Claudia Demko-Reno, Libby Hauser, Westridge Middle School, $798, "Sensory Break Tools". These tools are to be used during in-class and out of class sensory breaks. Research shows that supporting de-escalation helps to increase concentration and reduce anxiety and behaviors, which in turn, allows for learning, focus and attention to take place.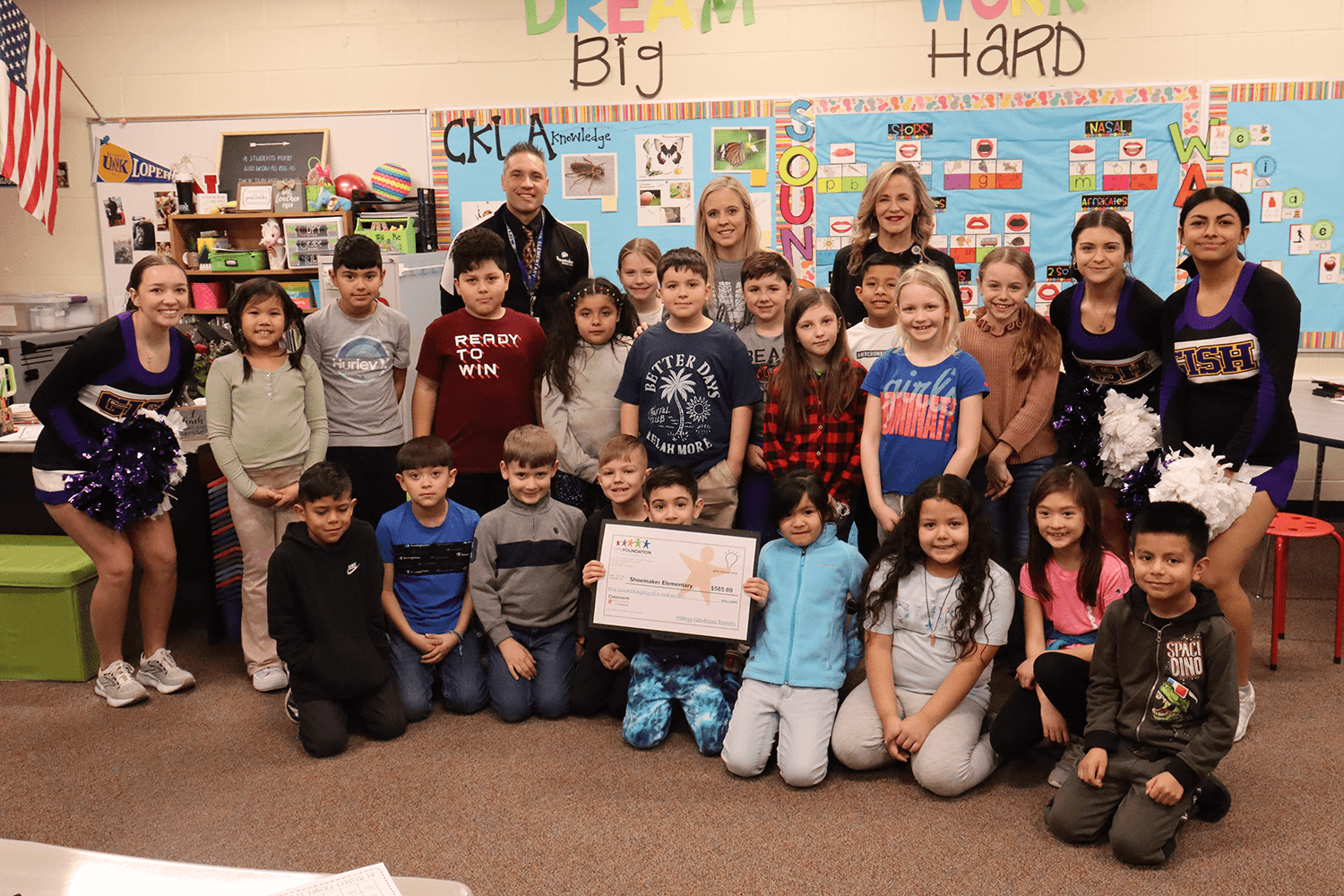 A collaboration Bailey Aupperlee and Melissa McDonald, Shoemaker Elementary School, $585, "Vertical Surfaces School Wide". Vertical surfaces are a great way to get students engaged in learning. Students are more willing to write/show their work if they are able to quickly erase it and change their thinking. Vertical surfaces are more engaging compared to the old school paper/pencil approach.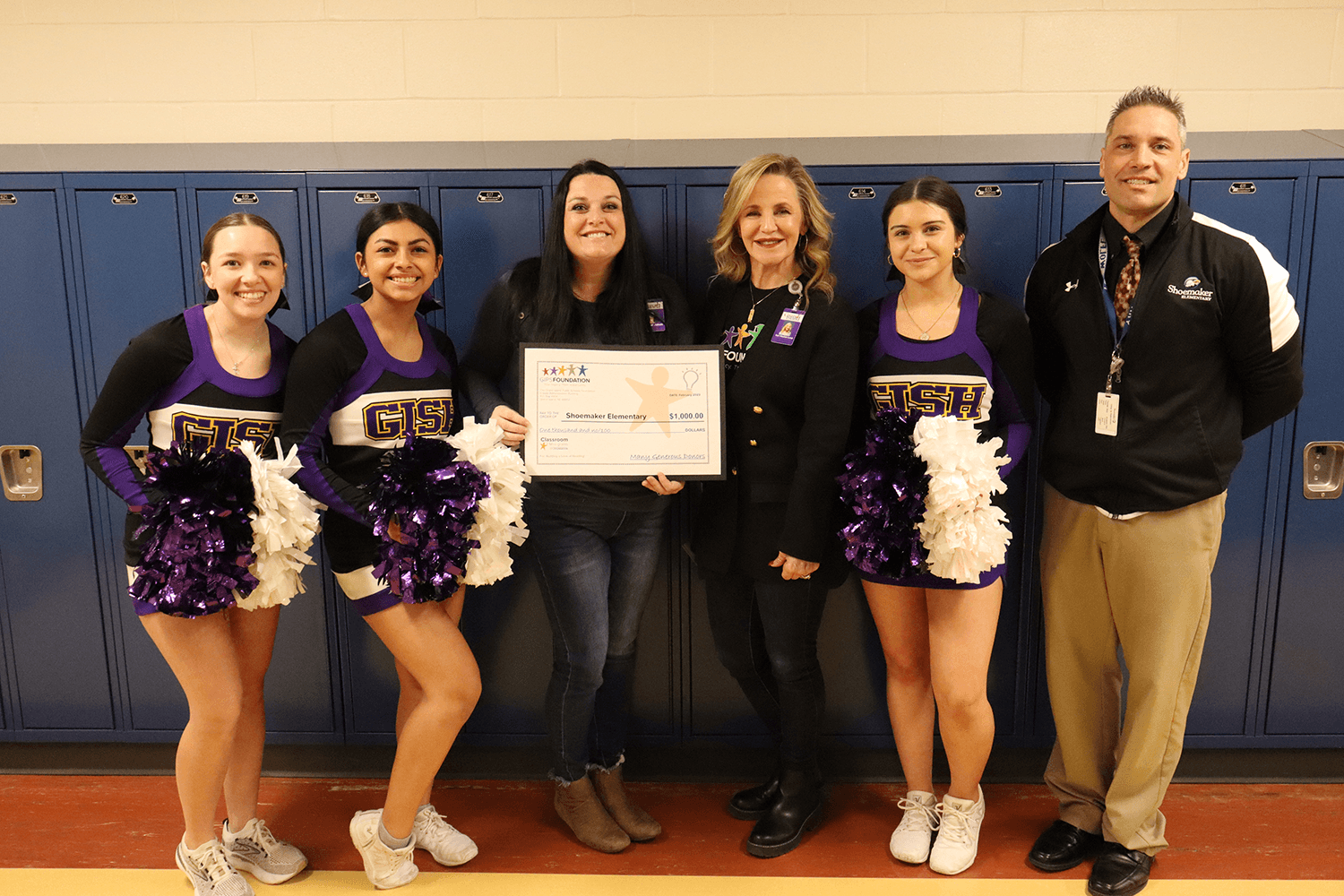 Rachel Jakob, Shoemaker Elementary School, $1,000, "Building a Love of Reading!". There is a desire to build a library of high interest books at a challenging level for students who are meeting grade level expectations. These books will be used for literature circles so students can discuss a good book and foster a love of reading!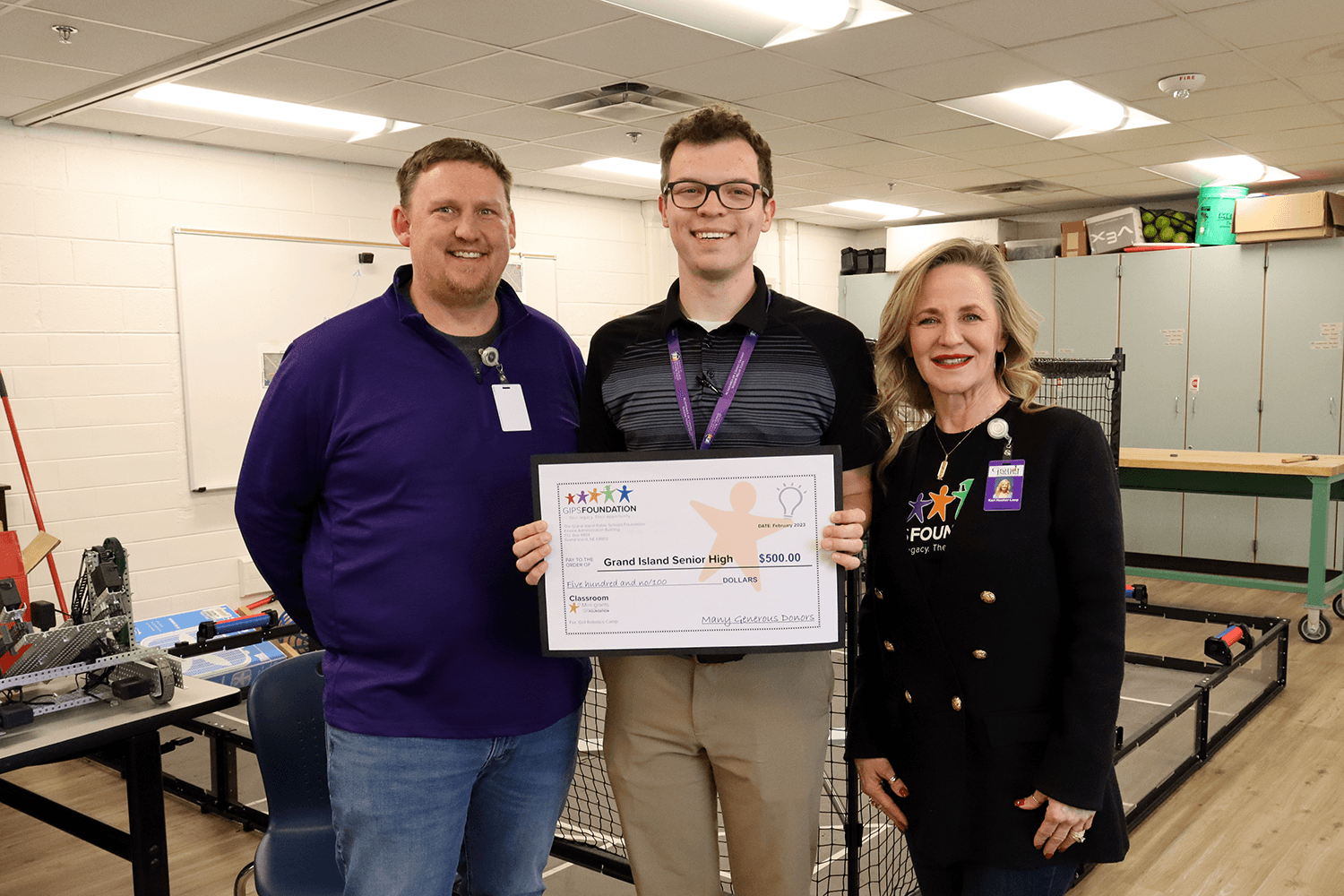 Alex Kemnitz, Grand Island Senior High School, $500, "GRIT Robotics Camp". GRIT Robotics Camp is a week-long summer camp for middle school students entering 7th, 8th, or 9th grade. This camp will focus on coding skills, engineering skills, and personal skills as students work through various challenges with the mentoring of stand-out high school students. This is the second iteration of the GRIT Robotics Camp after its success last year.