Welcome to Rise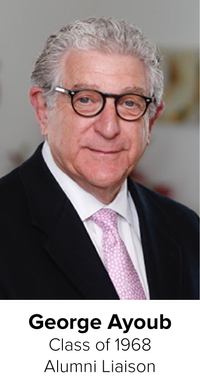 Rise Grand Island is the alumni newsletter for Grand Island Senior High published by the Grand Island Public Schools Foundation. Every other month we connect with thousands of Islanders across the globe, keeping you and them informed on what's happening in Purple and Gold land, and reminiscing a little bit as well.
Regular correspondents, George Ayoub and Mike Monk share their thoughts and remembrances. A current GISH student will keep us up on what's currently going on from the halls of Grand Island Senior High. And GIPS Foundation staff will give updates on what the foundation is doing in the classrooms and community.
Do you have suggestions or news to share? We would love to hear from you! We can be reached at alumni@gips.org
---
Rise Grand Island! Contributors
Rise Grand Island! SECTIONS
AT THE TOP
Our feature story for the issue, with an eye toward alums whose star is rising.

PUSHING ON
A roster of Islanders who have reached new and noteworthy milestones.

I'VE BEEN THINKING
George Ayoub's latest observation or bemusement about life – obviously seen through the eyes of a Senior High alum.

A DISTANT MIRROR
Remembrances, reminiscences, and darn good stories from our intrepid correspondent, Mike Monk.

SHAKING THE WORLD
Stories of impact from the GIPS Foundation.

YOUR LEGACY. THEIR OPPORTUNITY.
Stories of alumni, educators, parents and friends who give opportunities to today's students.

ON THE ISLAND
Current news from the halls of Senior High.

IN MEMORIAM
A list of Islanders who have recently passed away.
Stay connected to your alma mater and subscribe today!
Join thousands of other Islanders when you receive the free alumni newsletter via email six times a year.