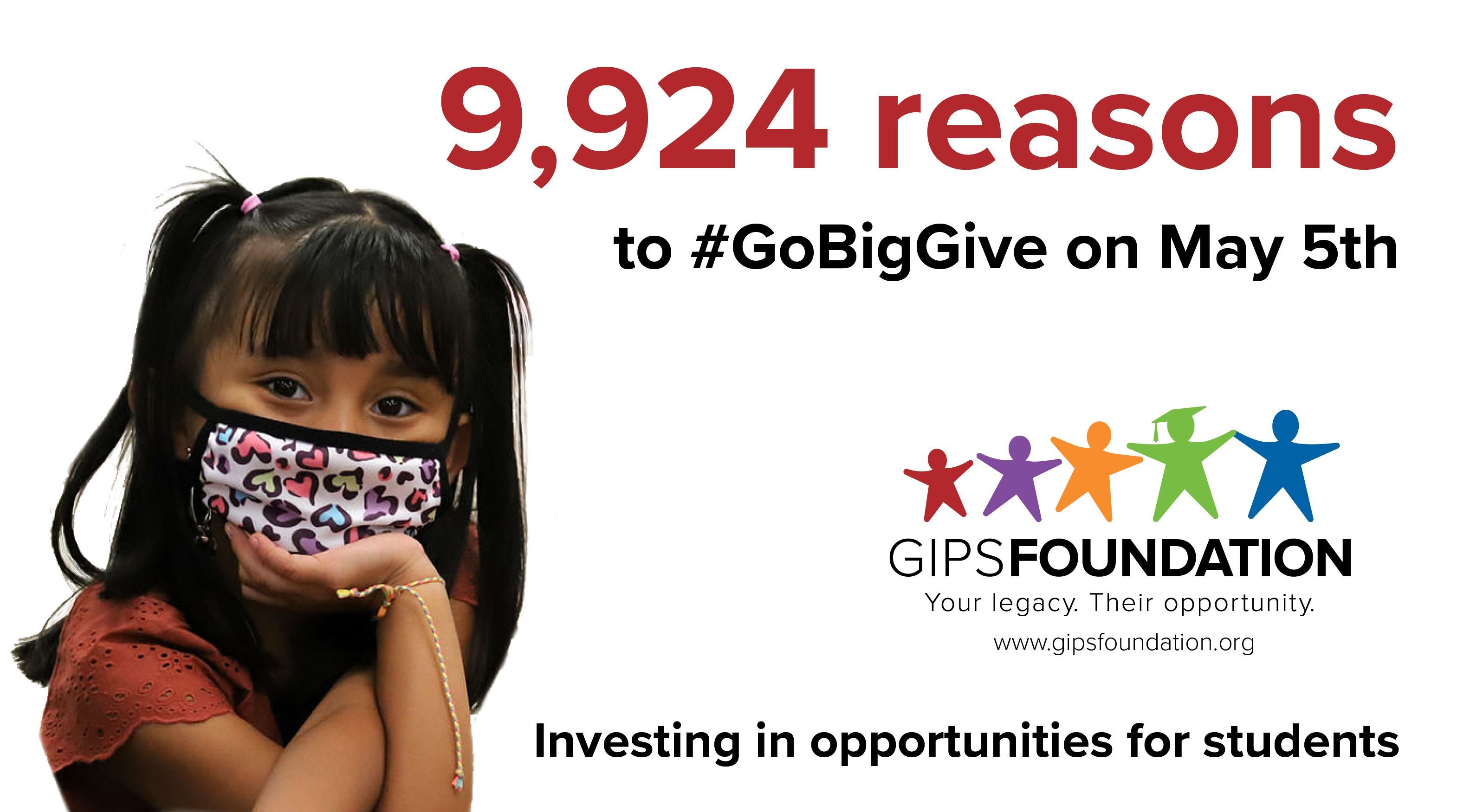 Go Big Give with the Purple and Gold Fund
It is almost time for Grand Island's Day of Giving, Go Big GIVE! Again this year we have the GIPS Foundation in the Go Big Give platform. There are so many great ways to give back to students!
It has been a lot of fun to see the alumni Purple and Gold Fund make its mark on this day too. We are going to run our Decade Challenge contest again. We will count your gift to the GIPS Foundation towards the Decade challenge. Last year the 1970's reclaimed their "Street Cred" crown by giving the most gifts and highest dollar amount.. 
We are proud of the effort from our alumni and supporters who went big and gave to our students through the 2021 Go Big Give effort. Our totals that day grew to $14,454 from 53 donors. Of that total, $4,529.25 was given to the Stadium Project and $9,924.75 was given to our general campaign. $9.271.50 came from alumni with seven decades represented. We added $2,196 to the Purple and Gold Fund as this was the amount that was given by alumni and not restricted to a specific project such as scholarships or the stadium.
John Jacobs, Grand Island Senior High, $1,000, "Band Writer/Composer/Artist Clinic."

Former Army Band arranger and musician, will spend 2 days with Grand Island Senior High bands doing clinic work with the Jazz Band, Jazz Orchestra, Concert Band, Symphonic Band and Wind Ensemble on April 28th and 29th, 2022. Eric Burger is the composer/arranger of many of pieces we perform with our Jazz Orchestra. We will feature Mr. Burger as a guest artist, performing with our Jazz Band and Jazz Orchestra at Big Band Night, on Friday, April 29th. This grant will benefit 150 students in grades 9-12.

Kenny Morales and Alex Kemnitz, Career Pathways Institute, $1,500, "Grit Robotics." 

Students will undertake a two-week STEM camp focused on both engineering and robotics. Students will learn how to problem-solve, think divergently, communicate, and be better leaders through the use of robotics. Students will learn both the basics and application of robotics throughout the program, and upon completion will receive personal creations to take home. This grant will benefit 41 students in grades 11-12.
In a year when things have been so extraordinary, we are asking our Alumni to band together and GIVE EXTRAORDINARY OPPORTUNITIES to our Students!
LET'S SHOW GRAND ISLAND THE PURPLE AND GOLD PRIDE by participating in Go Big GIVE on May 5, 2022.
Decade Challenge
Just to make sure that other decades get a crack at this "Street Cred" thing, we will offer the decade challenge again. We will record how many gifts and how much was raised for the Purple and Gold Fund by decade. So, if you are a member of the class of 1956 for example, your gift will be attributed to the 1950s decade.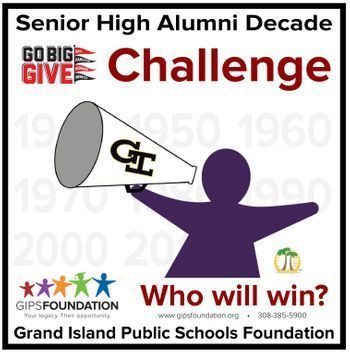 QUESTIONS AND ANSWERS
If my decade has the most gifts or gives the highest amount, what do we get? The answer is street cred. We will highlight the decade winners in the May newsletter and give your decade the coverage it deserves.
How will you know who belongs to which decade? When you give to the GIPS Foundation through Go Big Give, we get a list of donors. We will match this list with our database and credit the proper decade. Please be sure to list your name as you give to Go Big Give. If you give anonymously, we don't get your identifying information, and therefore would not be able to credit the gift to your decade.
Can I send a check instead? Yes, but to be credited to this challenge, your check needs to be made out to Go Big Give and sent to our office by April 27. Our office address is: GIPS Foundation; PO Box 4904; Grand Island, NE 68802.
The physical address is: 123 South Webb Road.
How do I give? The Go Big Give online portal will open for pre-giving on April 25. The day of giving is May 5. To give, click on the button: