JULY 11, 2019
Grand Island Memorial Stadium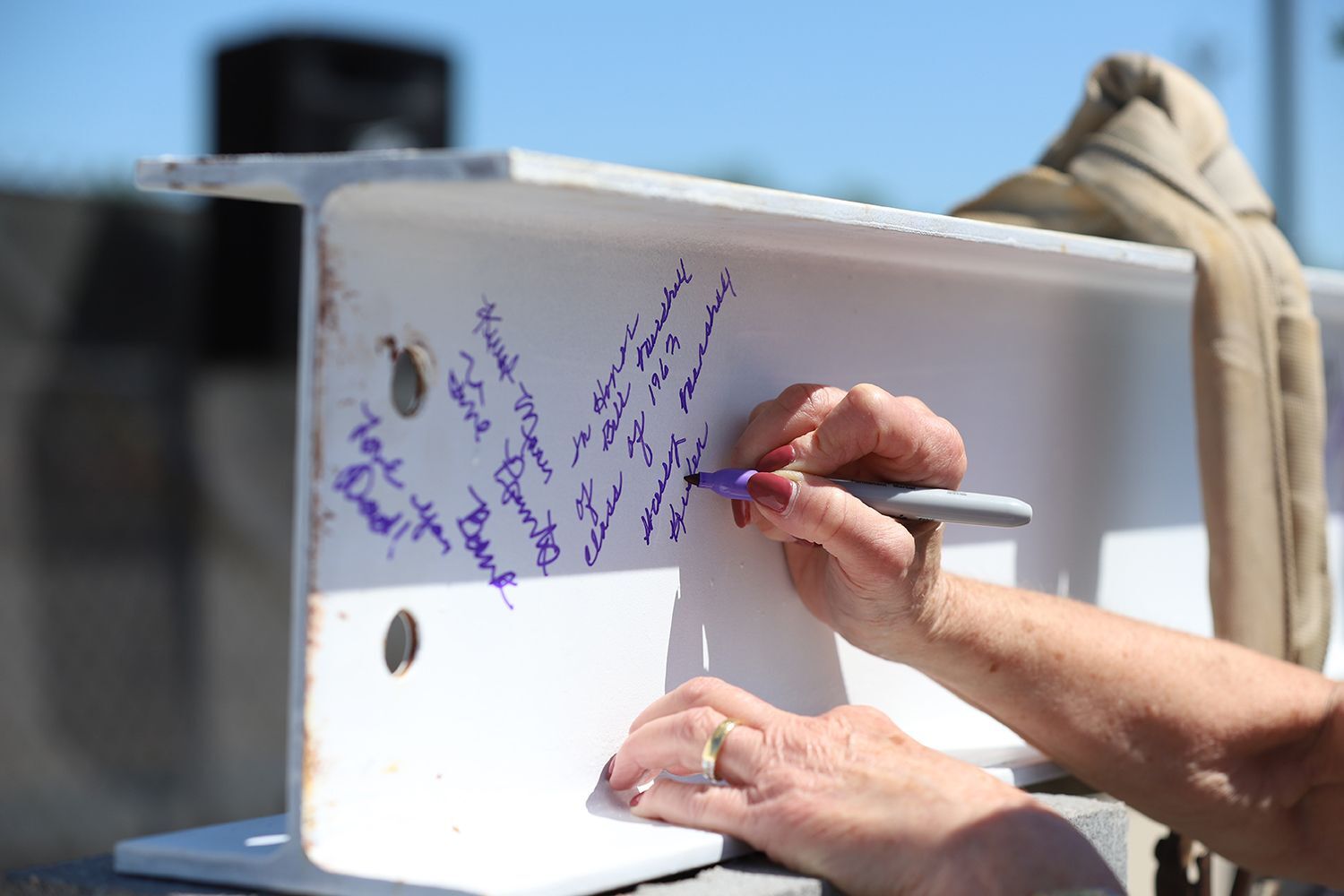 Grand Island Senior High Memorial Stadium WEST Historic Top Out Ceremony
Grand Island Public Schools, Grand Island Public Schools Foundation along with Hausmann Construction, hosted a Top Out Ceremony for Grand Island's Memorial Stadium on Wednesday, July 10th at 3:30pm along Stadium Drive.
What is a Top Out Ceremony? The last steel beam placed is a major milestone in the evolution of a building project. This milestone is commemorated by having the steel erection crew, construction team, designers, administrators, donors and other dignitaries sign the beam for posterity. The beam is usually adorned with a small evergreen tree and the American flag on opposite ends of the beam. This custom celebrates the construction process and is viewed as the introduction of the building to the public. It is uniquely honors the accomplishments of the construction crew and is reminiscent of old fashion barn-raising celebrations. 
The tree is the key symbol. In the steel trade, it signifies construction has reached the sky without loss of life or injury and it bodes well for future inhabitants of the building. It was also a signal to those nearby that it was time to start the celebration of a job well done.
Guests in attendance at the historic celebration were asked to sign the beam after a short ceremony. The beam was then hoisted into place on the stadium for guests to witness. 
The Top Out Ceremony is a celebration of the construction of WEST Stadium only. The full project, including renovation to East Stadium will not be completed until summer of 2020.
The Memorial Stadium Campaign is a collaborative partnership between the Grand Island Public Schools Foundation, Grand Island Public Schools, Mr. Lanny Martin, lead donor and the community, similar to the community effort during the stadium's inception in 1947.  
Grand Island Public Schools Foundation, a non-profit organization whose mission is specifically focused on improving the education and experience of GIPS students, is managing the fundraising project. These key organizations along with Mr. Martin and community donors and organizations will bring life to this exciting opportunity to transform Memorial Stadium into a premier community facility.
Please visit our event photo gallery. (photos by Kelli Mayhew)
To see local media coverage of the ceremony visit:

Help us give our community home field advantage
This historic project will provide Grand Island with the capacity to host state athletic competitions, band competitions, youth soccer and football tournaments, as well as giving Grand Island an additional home for community-wide events. These events will bring visitor dollars to our local economy.
The time is now!  Opportunities of this scope and magnitude do not come along often. Our history shows that our community rises to the challenge. The Memorial Stadium Campaign is an opportunity for you to honor past tradition while leaving a lasting legacy to impact generations to come. 
...This is

 

OUR GRAND LEGACY

Photo Gallery