MAY 15, 2021
Grand Island Memorial Stadium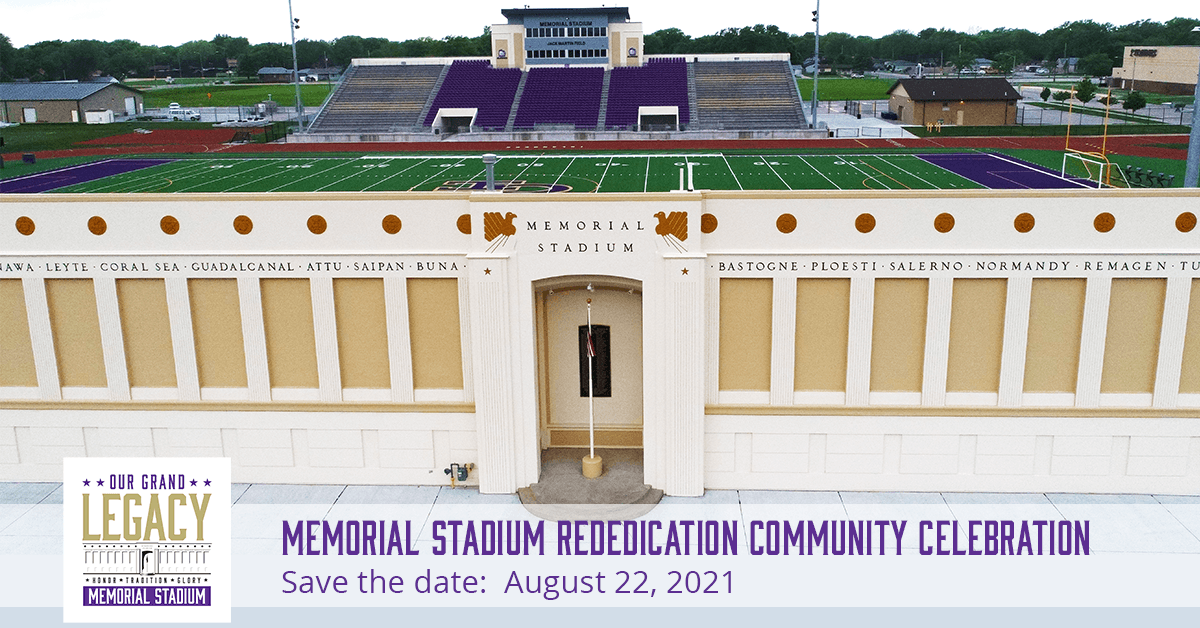 Memorial Stadium Rededication Set
"At the Top" article by George Ayoub
Rise Alumni Newsletter, May 2021 edition
The rededication of Grand Island's Memorial Stadium — Our Grand Legacy — is set for Sunday evening August 22. The festivities for this special community celebration will include tours, marching bands and short program that will begin at 7 p.m. The doors to the stadium will open at 6 p.m. so the public can tour the magnificent new facility.
The celebration, like many other community events, was delayed a year because of the pandemic.
On hand will be a number of community and state leaders and those prominent in fundraising for the Our Grand Legacy project, including Lanny Martin, Senior High Class of 1964, whose initial $10 million gift was the driving force behind the new stadium.
Memorial Stadium was originally dedicated on Sept. 16, 1947, with 4,000 in attendance. Three days later the Islander football team trounced Norfolk 45-0 in the first football game played at Memorial Stadium. The win was the first in an undefeated season for GISH. Click here for more on the history of how Memorial Stadium came to grace the southwest corner of North Lafayette and College streets.
Two areas of the stadium will be of particular interest to those in attendance on August 22: the Veterans Memorial Wall, under the East Stadium and the Donor Wall under the West Stadium.
The Veterans Memorial Wall will list fallen veterans from Hall County. An interactive touchscreen display will provide service information, awards and stories of our fallen veterans. A series of stories running in The Independent on Saturdays highlights ten of these heroes. That series concludes Memorial Day weekend.
The Donor Wall lists the names of those who donated at least $2,500 toward the Our Grand Legacy project. The Donor Wall will be prominent as visitors walk through the main gates on the stadium's west side.
The Grand Island Public Schools Foundation, who spearheaded the Our Grand Legacy project, is still accepting donations for those who want to be part of a "new history" for the community of Grand Island. That information is below.