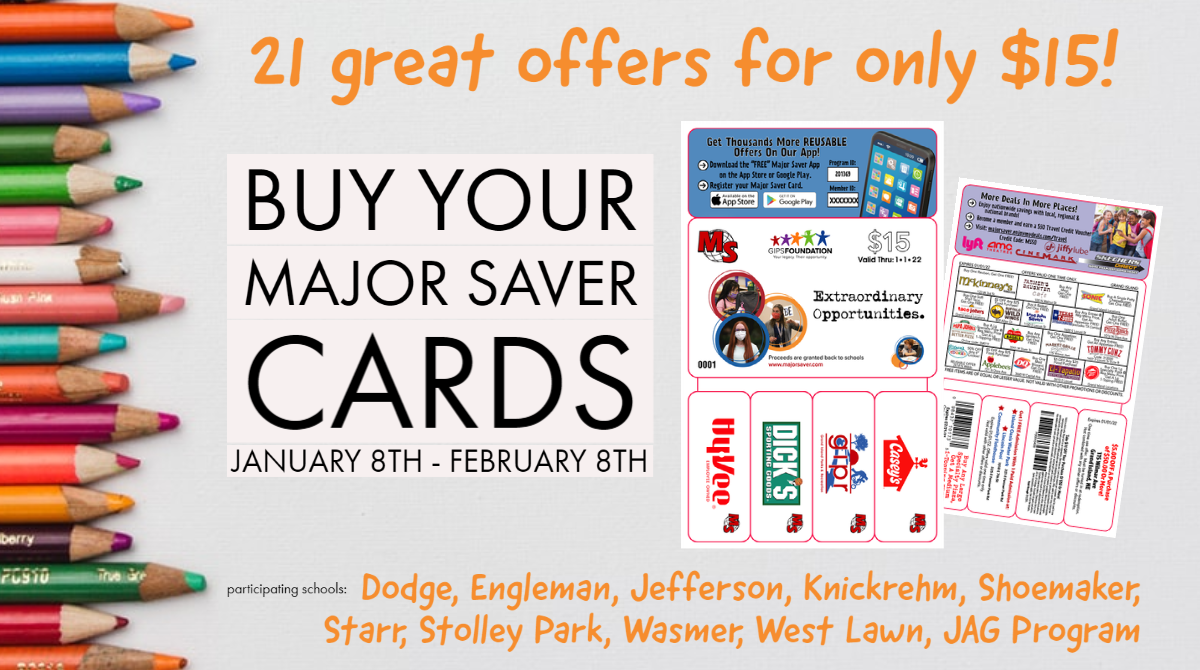 One little discount card, big dollars for local schools. Major Saver Cards return to schools, selling cards in a "contactless" way.
The Grand Island Public Schools Foundation is offering Major Saver cards for sale through participating elementary schools and the GISH JAG Program. Students will receive the online sales information on Thursday, January 7th and sell the $15 discount cards until January 29. Proceeds beyond expenses from the sale of Major Saver cards directly support the participating schools. Grand Island's Schools have realized over $81,000 in proceeds from these sales since 2016.
Students will participate in selling Major Saver cards ONLINE ONLY by sending family & friends to the Major Saver website: www.majorsaver.com/cards.
All cards purchased online will be mailed to the customer. Participating students can earn credit for online sales by generating a custom link to send to friends & family. Credit and debit cards are accepted.

The 2021 participating restaurants/establishments include: McKinney's, Farmers Daughter Café, Sonic, Taco John's, Buffalo Wild Wings, Long John Silver's, Texas T-Bone, Pizza Ranch, Papa Johns, Big Apple Bagels, HyVee Market Grille, Tommy Gunz, Eileen's Cookies, Applebee's, Dairy Queen, El-Tapitio, Pizza Hut, Casey's Pizza, Dick's Sporting Goods, Grand Island Parks and Recreation, and HyVee.
Please consider purchasing one or more Major Saver cards this year to help benefit of the Grand Island Public Schools Foundation and these participating schools: Dodge, Engleman, Jefferson, Knickrehm, Shoemaker, Starr, Stolley Park, Wasmer, West Lawn, and the JAG Program at GISH.

CONTACT: Traci Skalberg, Grand Island Public Schools Foundation, (308) 385-5900, extension 201170; tskalberg@gips.org