Staff Campaign Results
1,246 staff and board members or 93% gave a total of $111,142.73

GIPS Foundation Press Release
The Grand Island Public Schools Foundation held a press conference at 4:30 p.m. on Monday, May 15 at Bill Marshall/Five Points Bank Champions Hall- Memorial Stadium/Jack Martin Field to announce the results from the 20th annual Add it Up to Opportunity! staff and board member fund drive.
The press conference was at the Memorial Stadium/Jack Martin Field to celebrate 20 years of generosity and outstanding giving and support of the GIPS staff.
GIPS staff has 9,990 smiling reasons to give and invest in opportunities for students. The campaign included a $5,000 challenge gift from the Benson Family in honor of their mother, Janet Benson. Janet's children, Jeff Benson, Cheri Brown, Kim Wagner, Kathi Beebe, Kelli Jeffries, Jim Benson and Julie Wooden, have graciously chosen to honor their mother's legacy by pledging $5,000 in support of public education to match all new and increased gifts towards the 2023 Add it Up to Opportunity! Staff Campaign.
Benson family members have participated in and supported the staff campaign since its inception in 2004 and wish to encourage the staff and board of Grand Island Public Schools to continue giving to the Grand Island Public Schools Foundation. Members of the Benson family have been attending, working, coaching, or teaching in the district for an incredible 56 consecutive years and counting.
The campaign ran from March 20 to April 30. Staff and board members of Grand Island Public Schools and the GIPS Foundation raised $111,142 for the benefit of school district students. This was the third time in a row that the campaign has surpassed $100,000 given! This year had an incredible and record breaking 93% participation.
Proceeds from the campaign are used to expand Foundation programs such as the Academic Aristocrat Scholarship program and the Teacher of the Year program. The funds are also used to support Foundation operations, endowment, and the Classroom Grant program. During the 2022-2023 school year, the Grand Island Public Schools Foundation invested $1,184,062 into programs, scholarships and grants benefiting students.
---
Benson Family Challenge Gift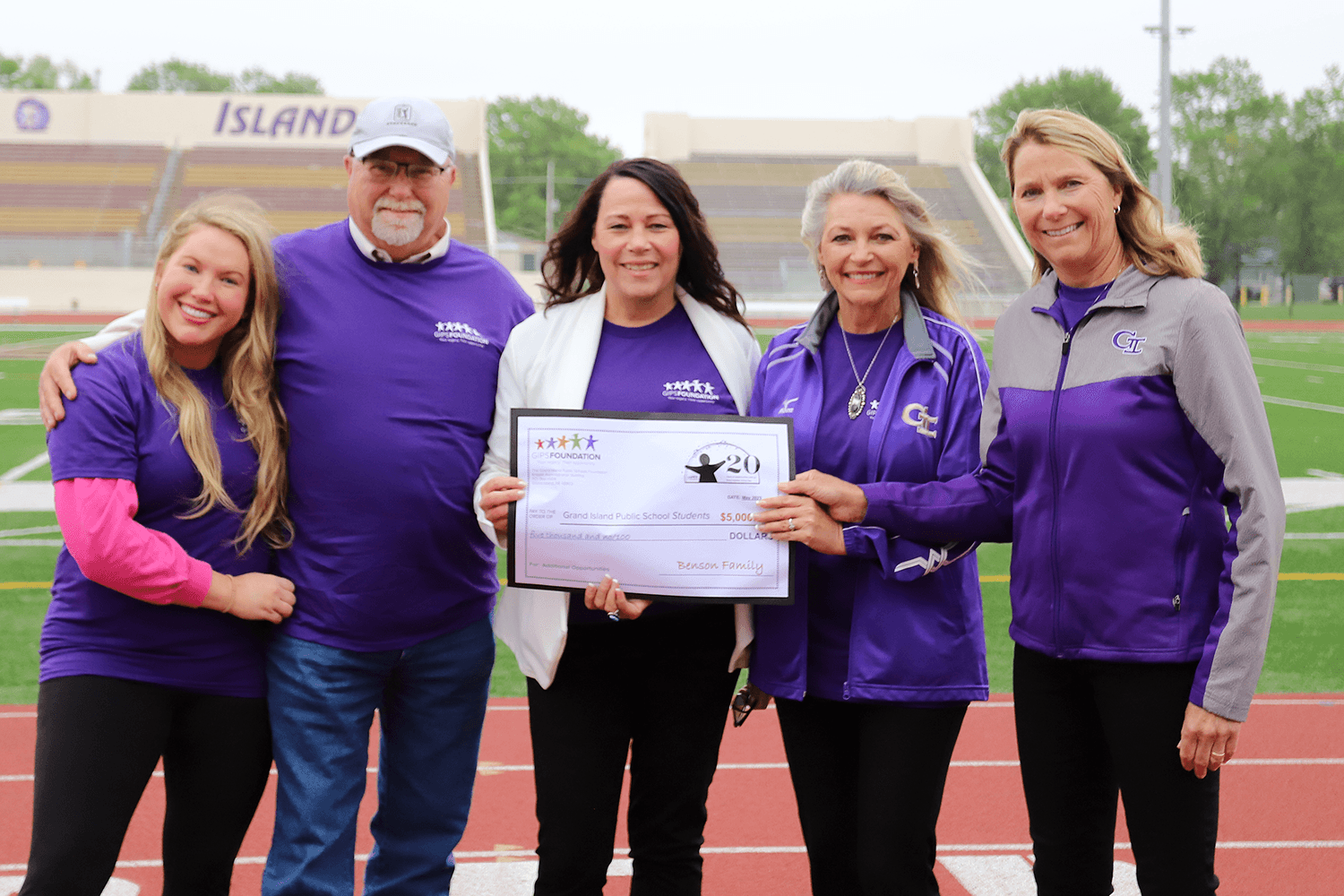 YOU make the difference!
The campaign included a $5,000 challenge gift from the Benson Family to celebrate their connection to the tradition of excellence at Grand Island Public Schools. 
The Benson Family Challenge Gift was used to encourage staff to give new or increased gifts to the campaign.
588 staff donors qualified for this matching opportunity. This was 40% of the gifts received. 
---
T-shirt Challenge

All who pledged $72 or more received a free T-shirt. We encourage staff to wear their shirt on May 15, the day of our press conference. This year 560 staff members earned a t-shirt!
---
100% Giving
There were 30 teams that had 100% or more as a giving rate! As promised, the Foundation delivered candy bars to the following teams: 
Barr Explorers
Barr Sixers
Dodge Elementary
Engleman Elementary
GIPS Special Education
Howard Elementary
Kneale - South
Kneale - West
Newell Elementary
Senior High Team 4 Medical + Nurses
Senior High Team 6 Special Education at GISH
Senior High Team 7 Special Education Other Locations
Senior High Team 9 Custodial & Food Service
Shoemaker Elementary
Starr Elementary
Stolley Park Elementary
Success Academy
Walnut Team 1
Walnut Team 2
Walnut Team  3
Walnut Team 4
Walnut Team 6
Walnut Team 7
Wasmer Elementary
West Lawn Elementary
Westridge Eights & CBI & Media
Westridge Explore & Paras
Westridge Office & Food Service
Westridge Sevens & Custodial
Westridge Sixth and Skills
Campaign Contest Winners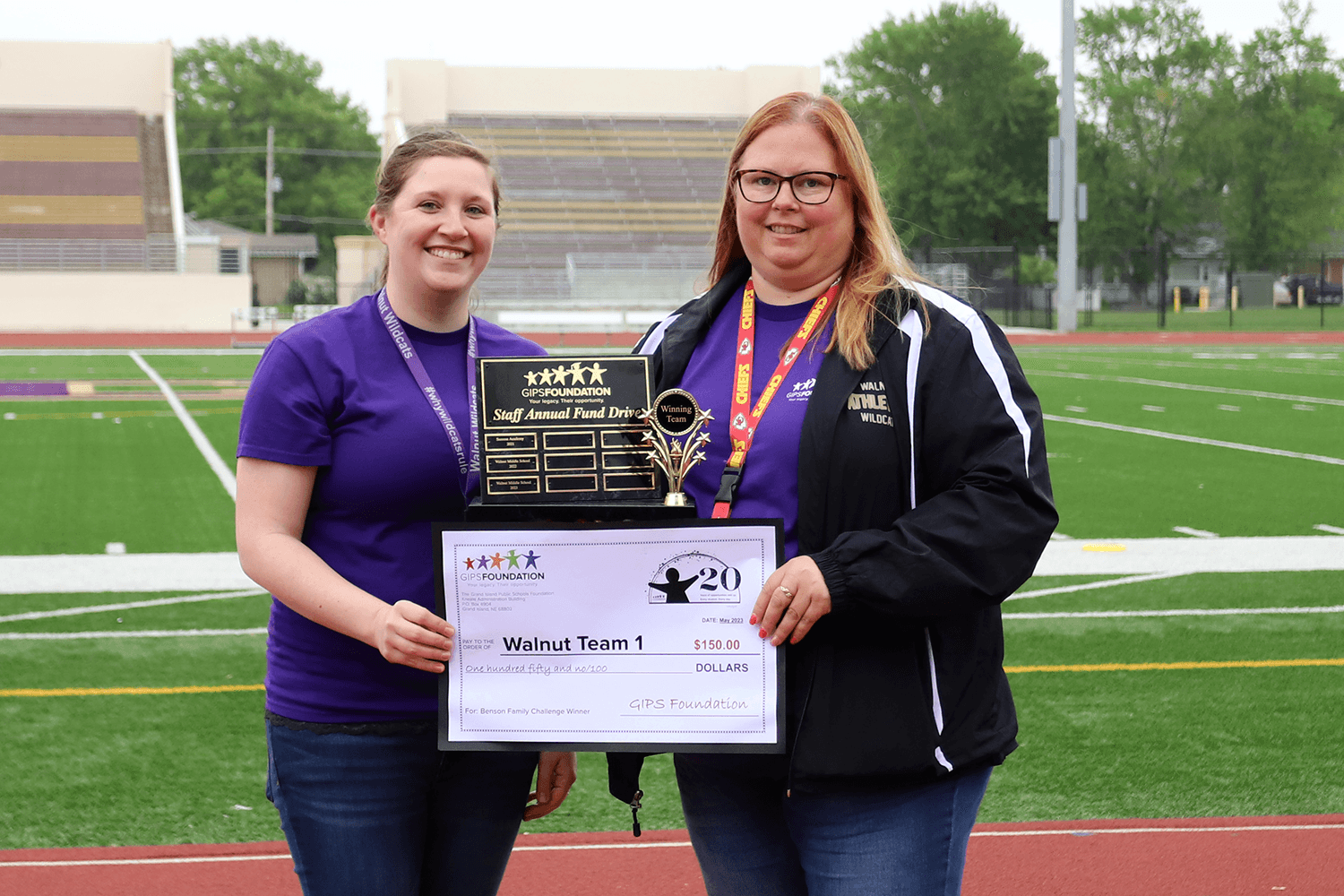 Benson Family Challenge
Qualifying as "new or increased" and meeting the Benson Family Challenge Award – includes a traveling trophy and a building prize (something fun or tangible to be worked out with their team leaders)... Walnut Middle School Team 1 led by Erin Brooks. Walnut Middle School Team 1 reached 165% participation! Raised $1,010.94 from 28 participants. 100% of the team's gifts qualified for the challenge.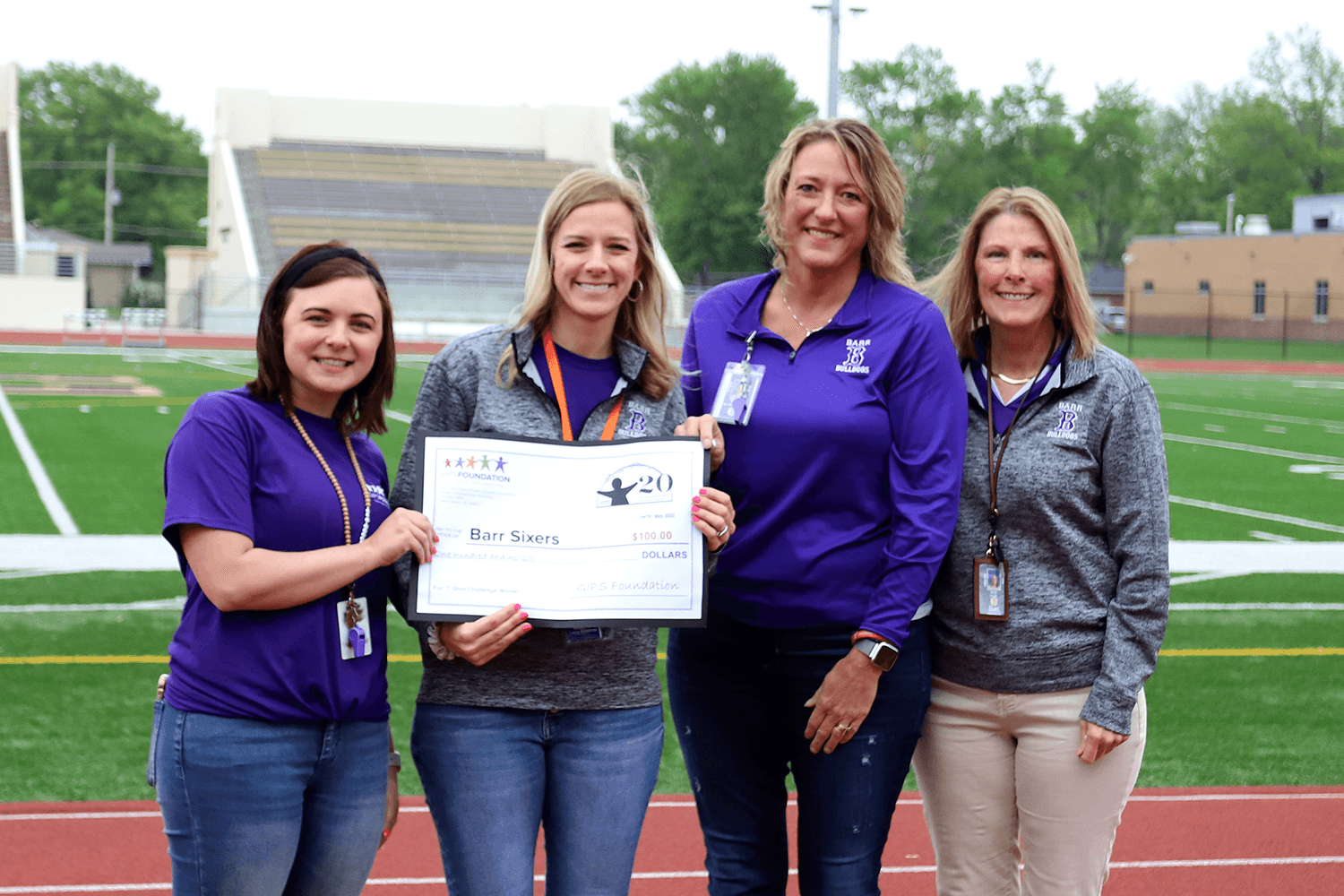 T-Shirt Challenge
Qualifying for the T-shirt Challenge - per contest rules this award is something tangible for the team that wins. Congratulations Barr Sixers led by Lacy Biberos. Barr Sixers gave at a rate of 100% with 79% of their gifts at the $72 or more level. They gave a total of $2,553 from 19 donors.
---
Honorable Mentions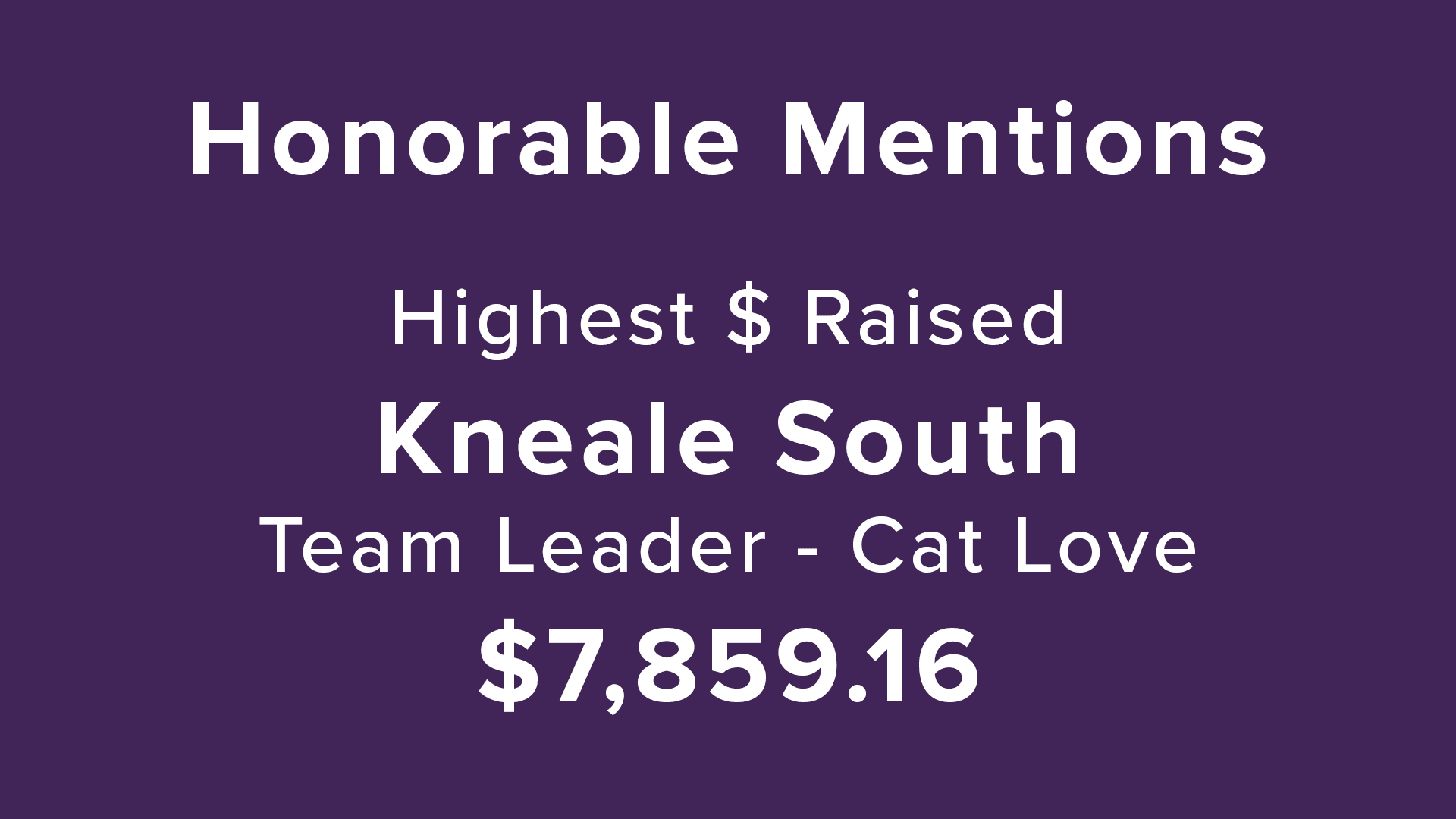 There are some people who always go above and beyond. The Kneale South team (aka Team Love), lead by Cat Love, brought in the highest dollar amount by any team this year - a whopping $7,859.16! In her first year as a Team Leader, Cat felt strongly about the mission of the GIPS Foundation so she made a point to connect one-on-one with each team member to encourage them to give.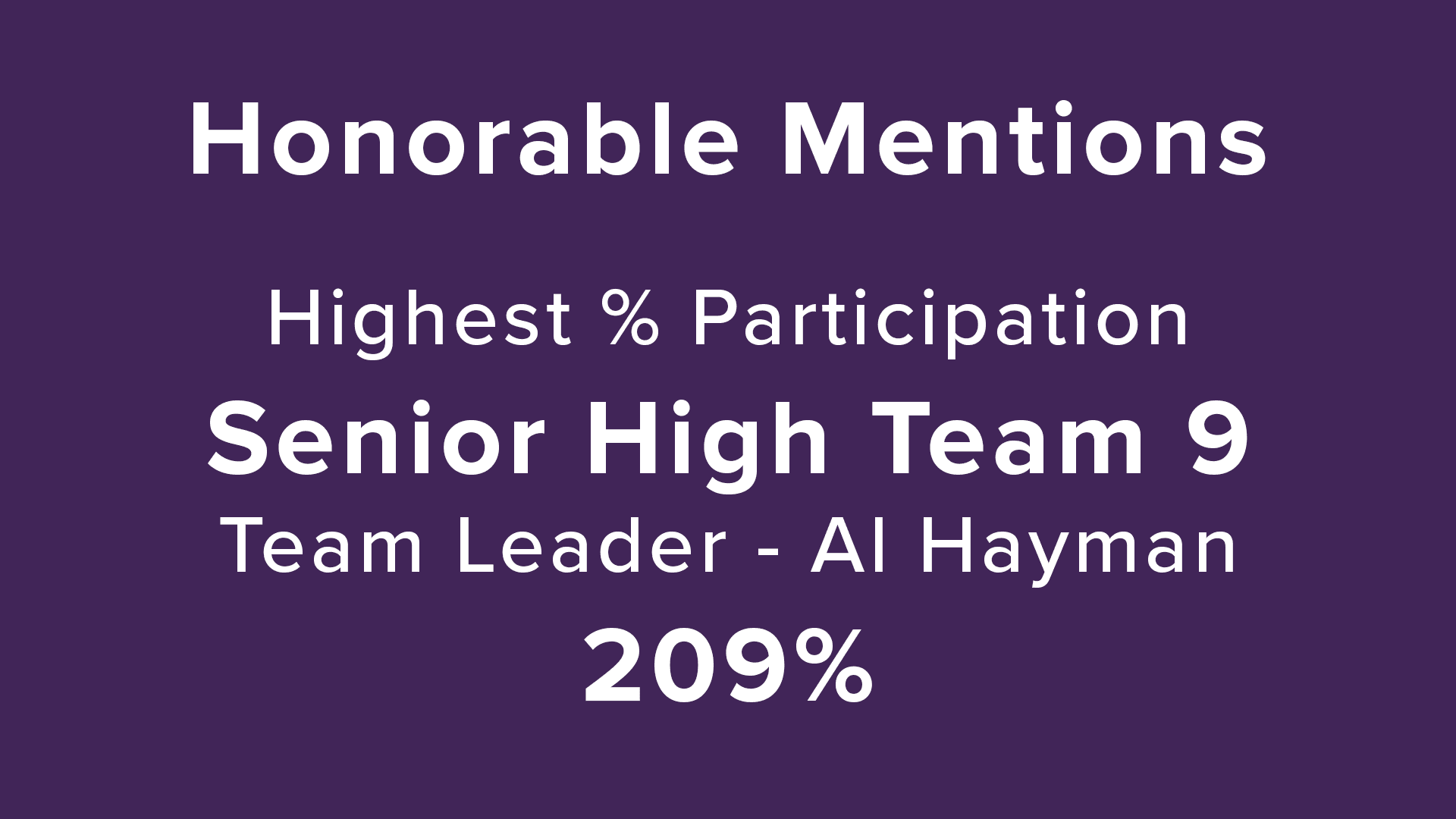 Senior High Team 9, lead by Al Hayman, had a giving rate of 209%! It is because Al is so passionate about investing in kids that he asks everyone he knows to give and he personally gives in honor of all of his kids and his grandkids. Al bleeds purple and gold and we wanted to recognize his effort. 
---
Personal Day Drawing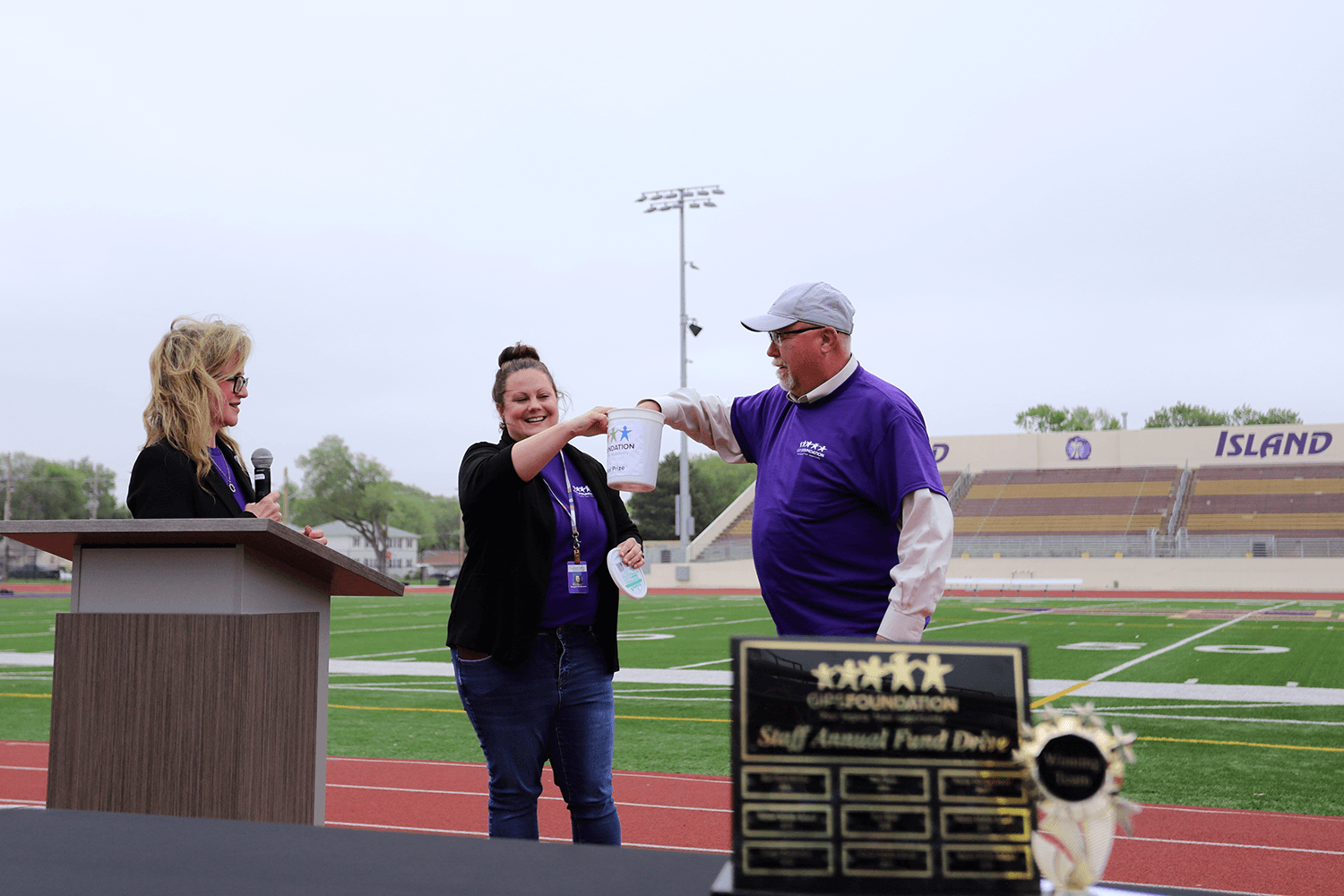 All Staff Members who give $132 or more were entered into a drawing to win an extra personal day to be added to next year's contract. Leadership for Learning Administrators will substitute for certified staff who require a sub. Classified staff are also eligible to win.
Three winners were drawn:
Al Hayman, Senior High Team 9
Jacqueline Proctor, Walnut Team 5
Michelle Enck, Senior High Team 3
---
Event Photos
Click image below to view photos