Give GRIT Staff Campaign Results
1,165 staff and board members or 90% gave a total of $108,561.97

GIPS Foundation Press Release
This year's campaign has been themed "GRIT - GRand Island Tenacity"  The campaign included a $10,000 challenge gift from Ann Marsh and the Marsh family in honor of their love of public education and in gratitude for the excellent teachers and staff of Grand Island Public Schools. 
The Marsh's gift was used to encourage staff to give new or increased gifts to the campaign.
The campaign had a new building incentive this year. All buildings that increased their total dollars given by 10% or more from the year prior qualified for a $500 student success grant. Each winning building will decide how to invest in their own students.
The campaign ran from March 24 – April 20.  Foundation Director Traci Skalberg said  "It is a measurable show of support from those who live the mission of caring for students when they also 'give' the mission." Skalberg called the campaign "a telling statement of the GRIT (GRand Island Tenacity) in our community. A supportive and giving staff is just one of the many reasons that Grand Island is a great place for our kids."
Last year (2021) staff and board members of Grand Island Public Schools and GIPS Foundation raised $102,714 for the benefit of school district students. This was the first time in the history of the campaign that the total dollars given surpassed $100,000!
Proceeds from the campaign are used to expand Foundation programs such as the Academic Aristocrat Scholarship program and the Teacher of the Year program.  The funds are also used to support Foundation operations and endowment and the Classroom Mini-Grant program. During the 2020-2021 school year, the Grand Island Public Schools Foundation invested $1,447,443 into programs, scholarships and grants benefiting students.
---
Marsh Challenge Gift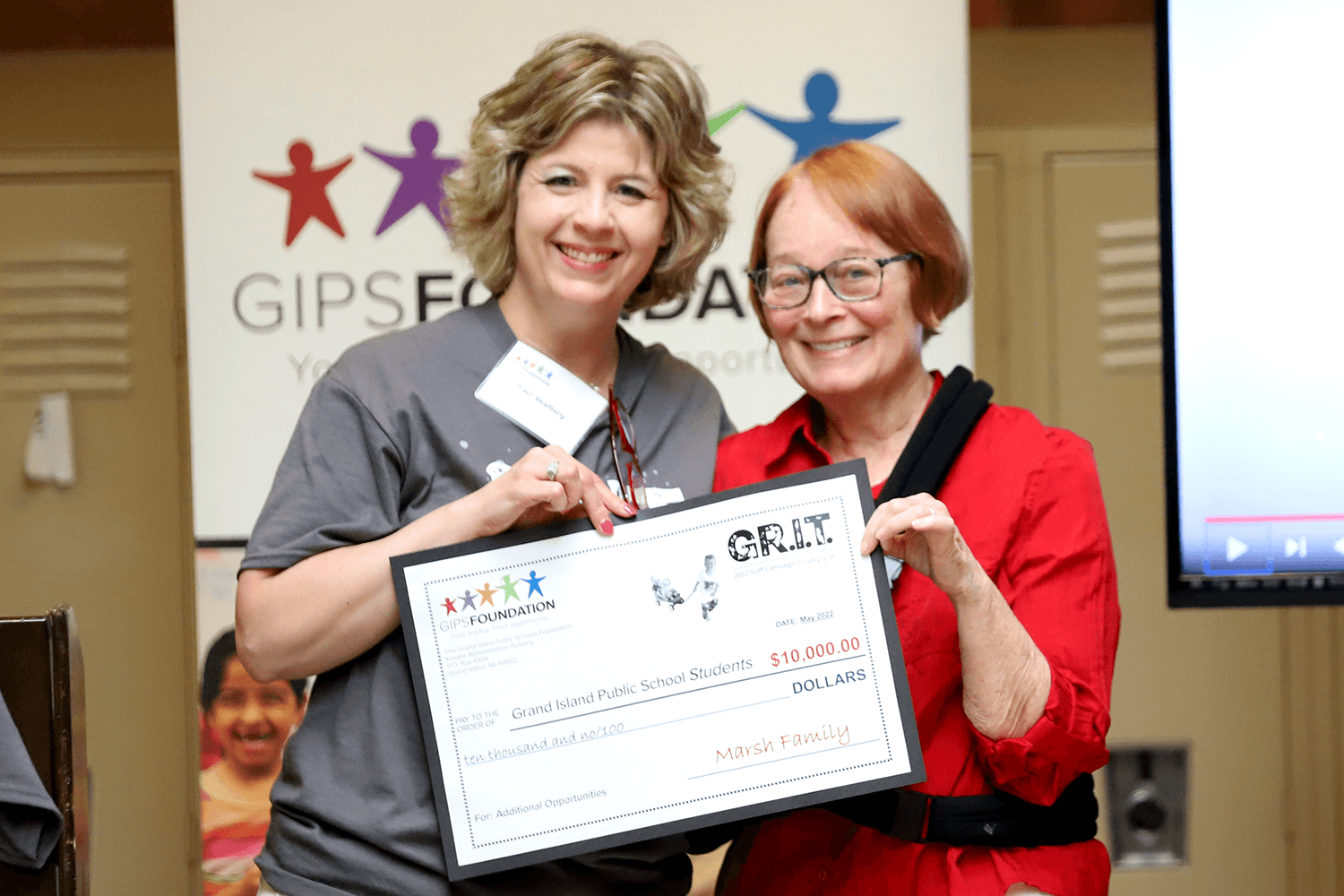 YOU make the difference!
The campaign included a $10,000 challenge gift from the Marsh Family to celebrate their connection to the tradition of excellence at Grand Island Public Schools. 
The Marsh Challenge Gift was used to encourage staff to give new or increased gifts to the campaign.
625 staff donors qualified for this matching opportunity.  This was 48% of the gifts received. 
---
T-shirt Challenge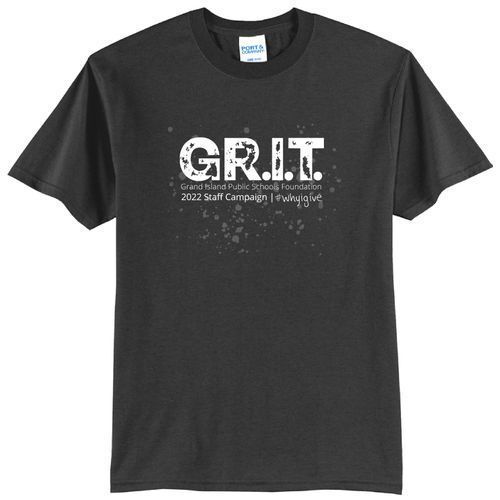 All who pledged $72 or more received a free T-shirt. We encourage staff to wear their shirt on May 17, the day of our press conference. This year 561 staff members earned a t-shirt!
---
Social Media Prizes
This year the campaign utilized social media to host weekly #whyigive Wednesday mini campaigns. The Foundation invited staff to interact with their social posts and drew a winner weekly to receive a $50 gift card to a local business.
Facebook - Week 1 | Deb Glover - Howard Elementary
"I give to the Foundation to support our future. The foundation has impacted our students, families, staff and our community in countless ways, and has made so many dreams possible"
Twitter - Week 2 | Ashley Meyer - Westridge Middle
"I love seeing what the Foundation does for students and teachers. Scholarships, Teacher of the Year, Grants, and the list goes on. I give to give back to the district that has provided my students and me whatever is necessary for us to be successful."
Instagram - Week 3 | Kelli Mayhew - Kneale Building
"I give because I see the impacts the donations have on our students and staff! For example, getting to see a mini-grant in action with students having new learning opportunities like simulation the Oregon Trail, or seeing a student receive a scholarship that allows them to reach their goals is what it's all about."
Facebook - Week 4 | Amy Schley - Gates Elementary
"I give because I have witnessed my students who have directly benefited from the foundation!"
---
10 Years of Shirts Drawing
We celebrated TEN years of campaign t-shirts and collected photo submissions from any staff member who still had a previous shirt. Winners received a gift card to The Chocolate Bar. There were 49 submissions!
Drawing winners:
2013 -

Lisa Allan - West Lawn

2014 -

Lisa Allan - West Lawn

2015 -

Sarah Nedrig - Howard

2016 -

Holly Love - Walnut

2017 -

Amanda Smith - Kneale Administration 

2018 -

Lisa Allan - West Lawn

2019 -

Erin Brooks - Walnut

2020 -

Sarah Nedrig - Howard

2021 -

Holly Love - Walnut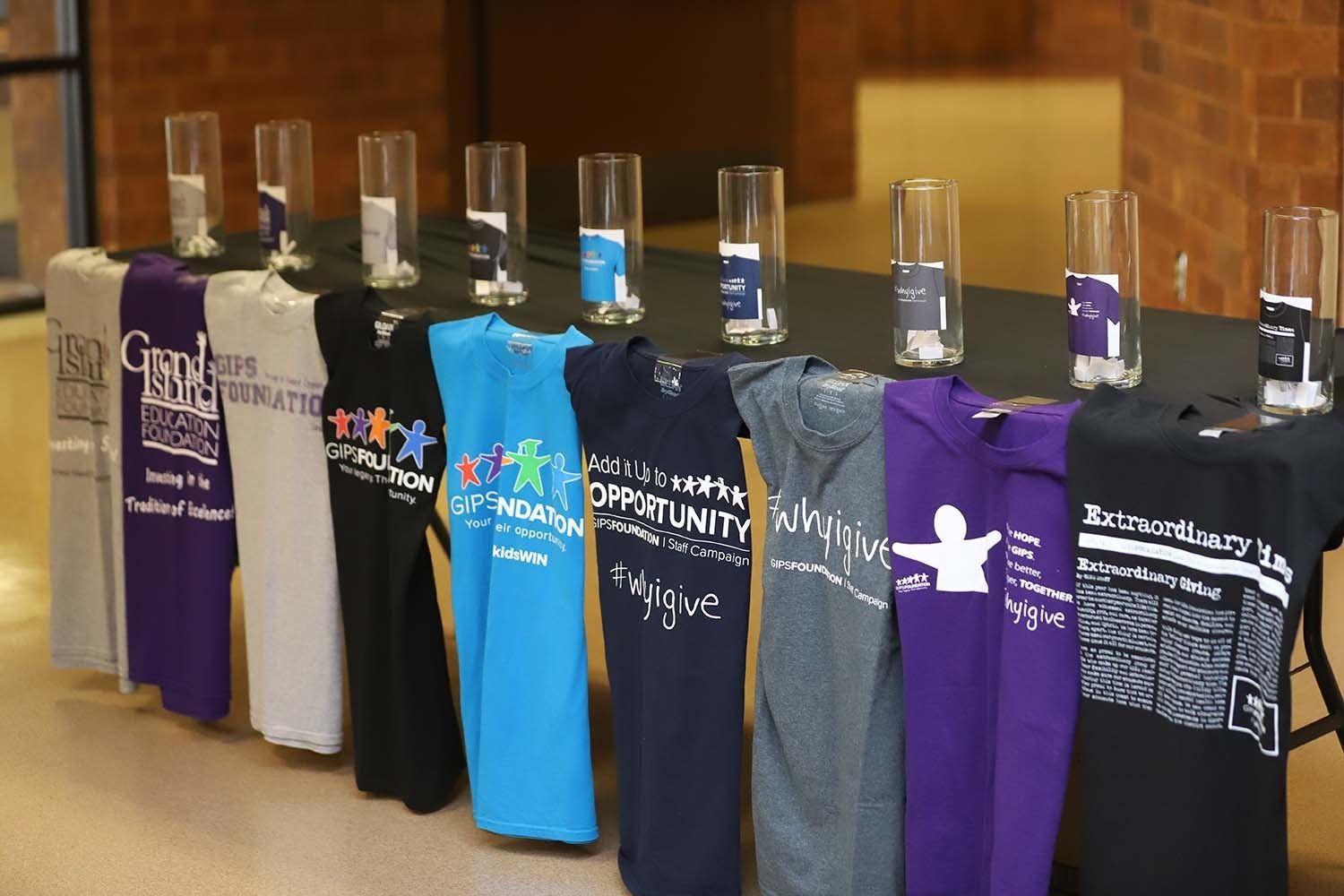 ---
Personal Day Drawing
All Staff Members who give $132 or more will be entered into a drawing to win an extra personal day to be added to next year's contract. Teaching & Learning Administrators will substitute for certified staff who require a sub. Classified staff are also eligible to win.
Drawing Winners:
Catherine Breuer
Melissa Sears
Toni Palmer
---
100% Giving
There were 24 teams that had 100% or more as a giving rate! As promised, the Foundation delivered cookies to the following teams: 
Kneale - West
GIPS Special Education
Engleman Elementary
Gates Elementary
Shoemaker Elementary
Wasmer Elementary
West Lawn Elementary
Barr Sixers
Barr Explorers
Walnut Team 1
Walnut Team 2
Walnut Team 7
Westridge Office & Food Service
Westridge Explore & Paras
Westridge Eights & CBI & Media
Senior 1 Freshman Academy
Senior 2 Education & Business
Senior 3 Engineering & Technical Sciences
Senior 4 Medical & Nurses
Senior 5 Global
Senior 6 SE at GISH
Senior 7 SE Other Locations
Senior 8 ELA Student Support
Senior 9 Custodial & Food Service
Senior 10 Admin & Counselors
Success Academy
Campaign Contest Winners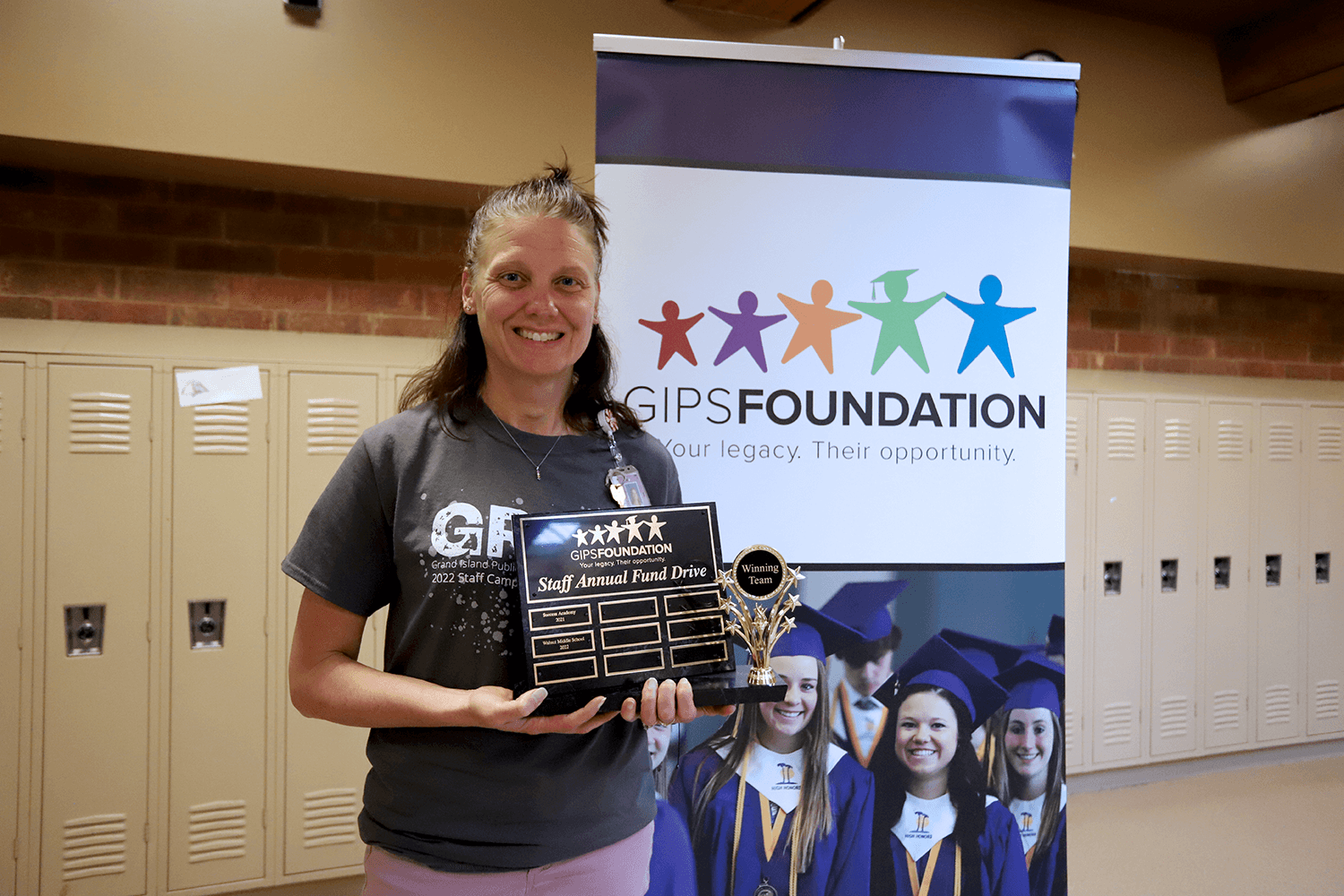 Highest Percentage of Gifts
qualifying as "new or increased" and meeting the Marsh Challenge Award – includes a traveling trophy and a building prize (something fun or tangible to be worked out with their team leaders)... Walnut Middle School Team 2 led by Angie Wiegert. Walnut Middle School Team 2 reached 100% participation! Raised $1,481 from 14 participants. 79% of the team's gifts qualified for the challenge.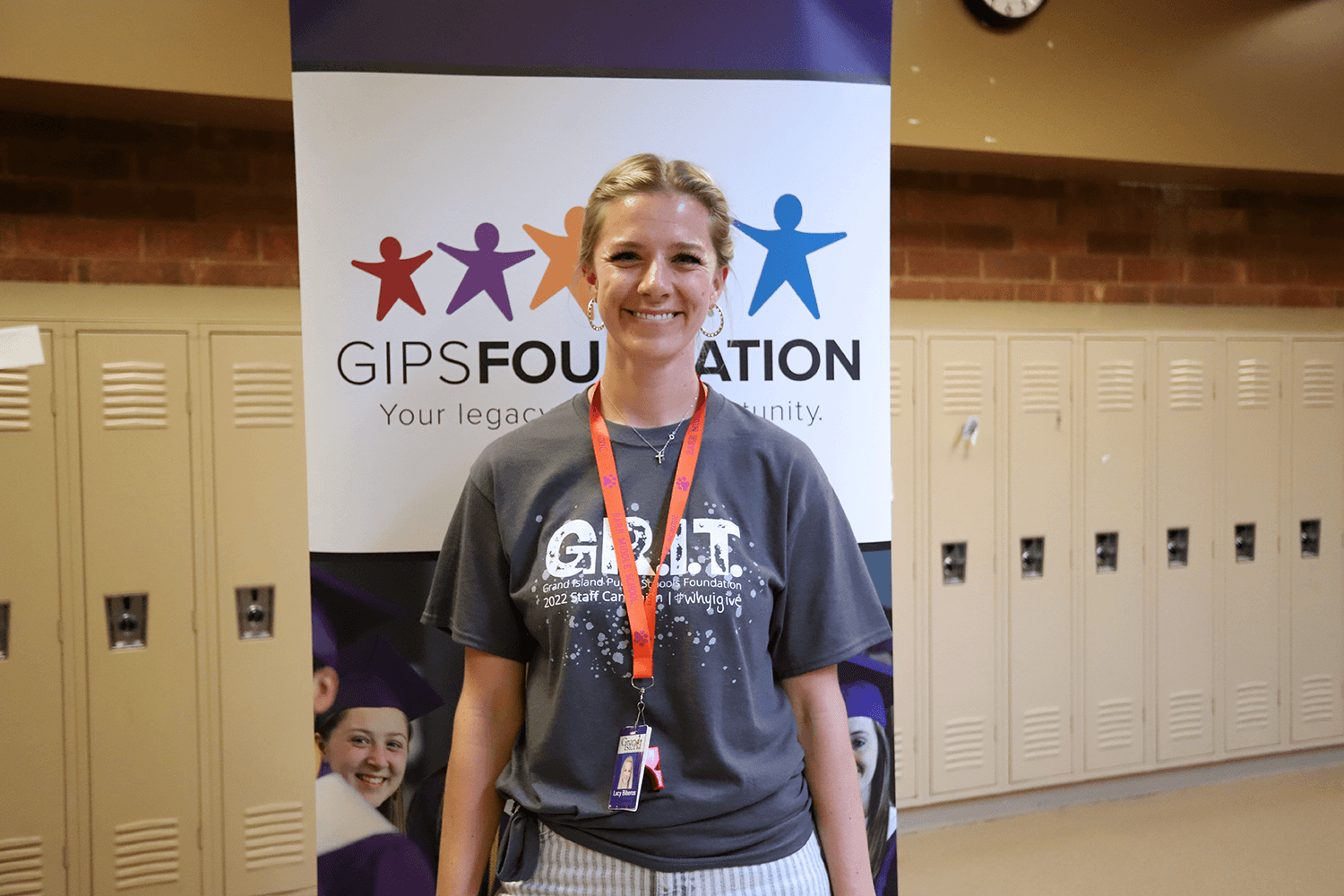 Second Highest Percentage of Gifts
qualifying for the T-shirt Challenge - per contest rules this award is something tangible for the team that wins. Congratulations Barr Sixers led by Lacy Biberos. Barr Sixers gave at a rate of 100% with 84% of their gifts at the $72 or more level. They gave a total of $2,684 from 19 donors.
Building Prizes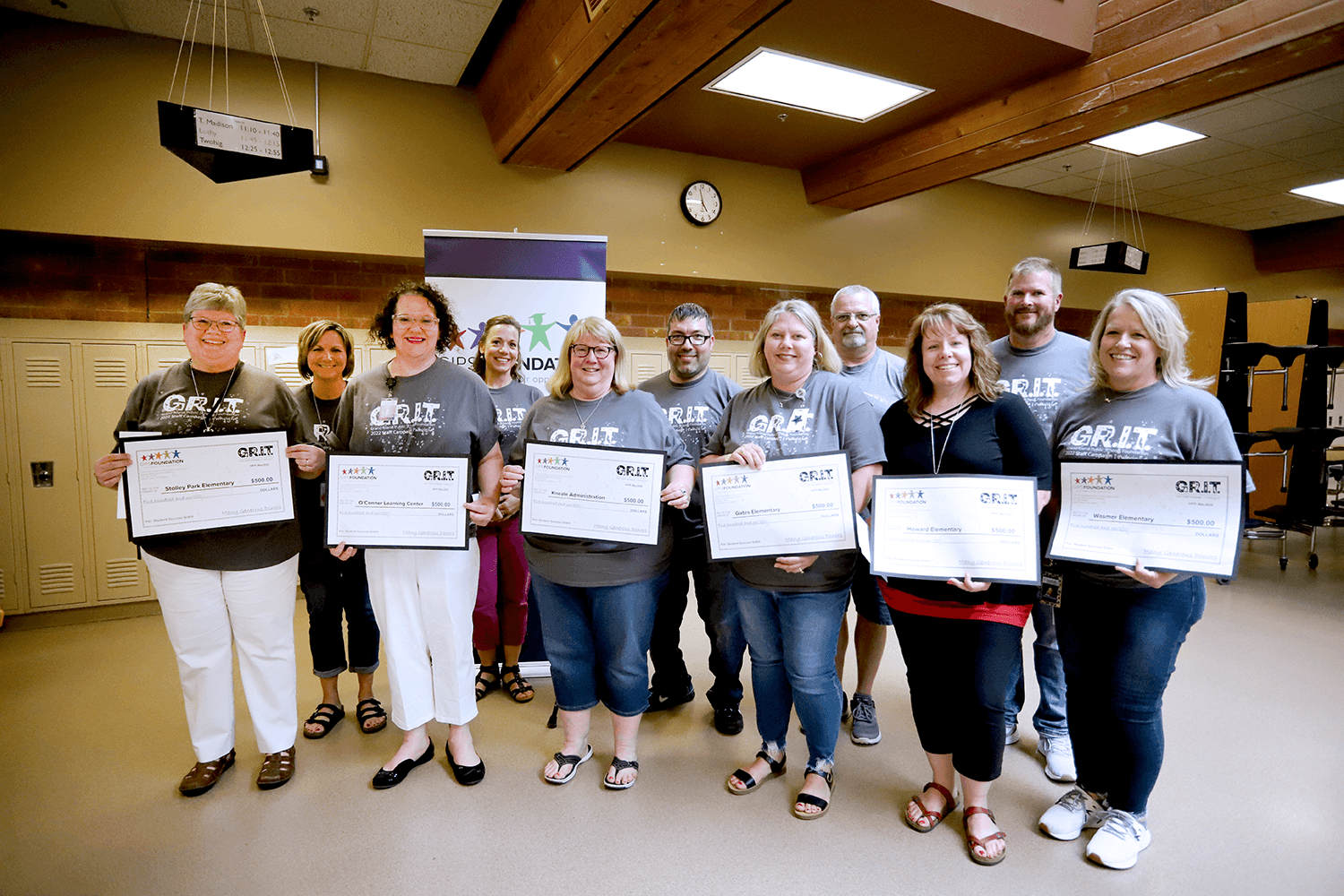 Third Prize is new this year. It went to any building who increased their dollars given by 10% from the previous year. There were six buildings who achieved this goal! These buildings increased their dollars given by a combined $4,571.80 over their 10% increase goal. In total, these six buildings gave $29,335.71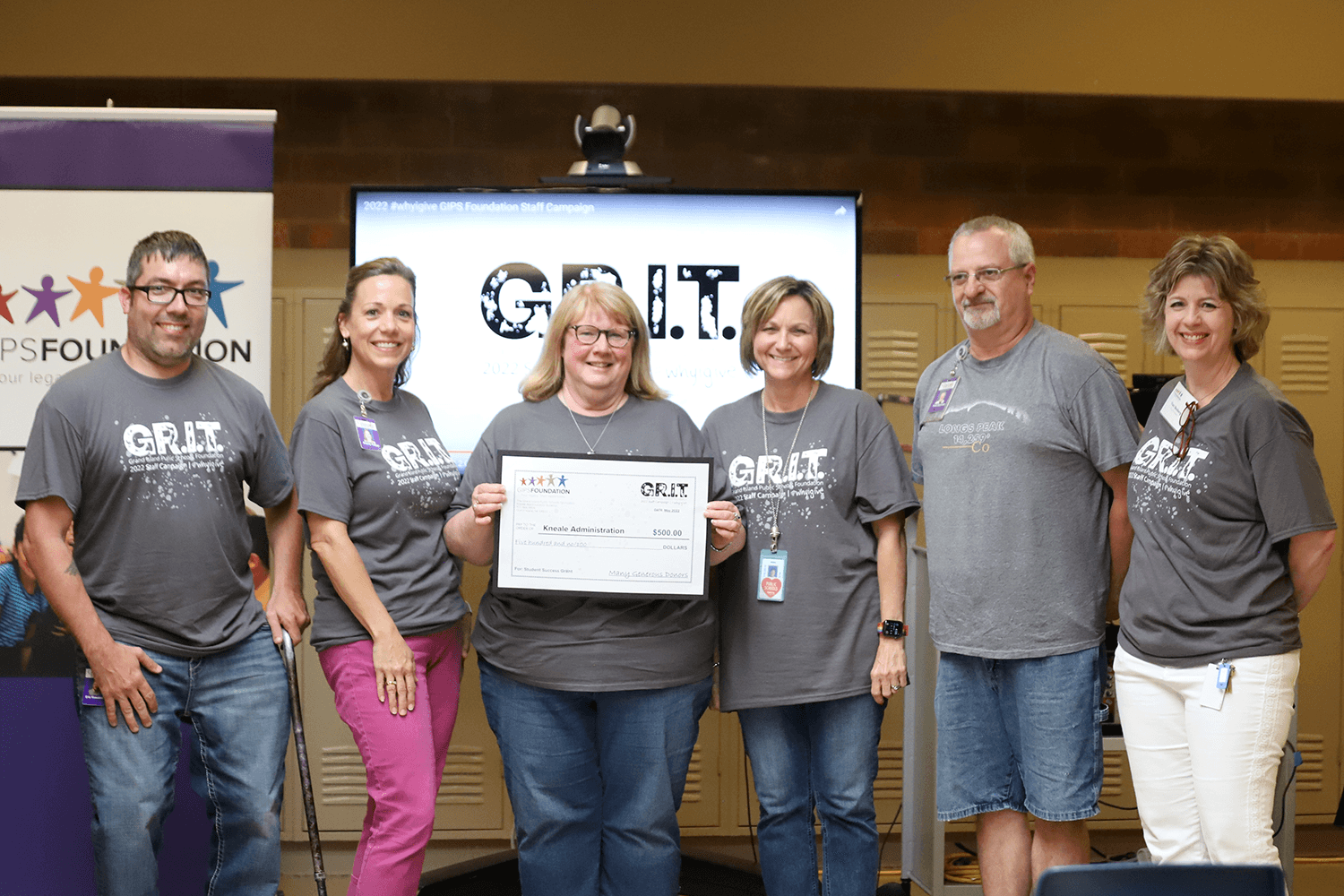 Kneale Administration - led by Phil Kuhl, Cara Kuhl, Cindy Beran, Todd Bennett, Lisa Moss, Karma Lewandowski and Stacie Faber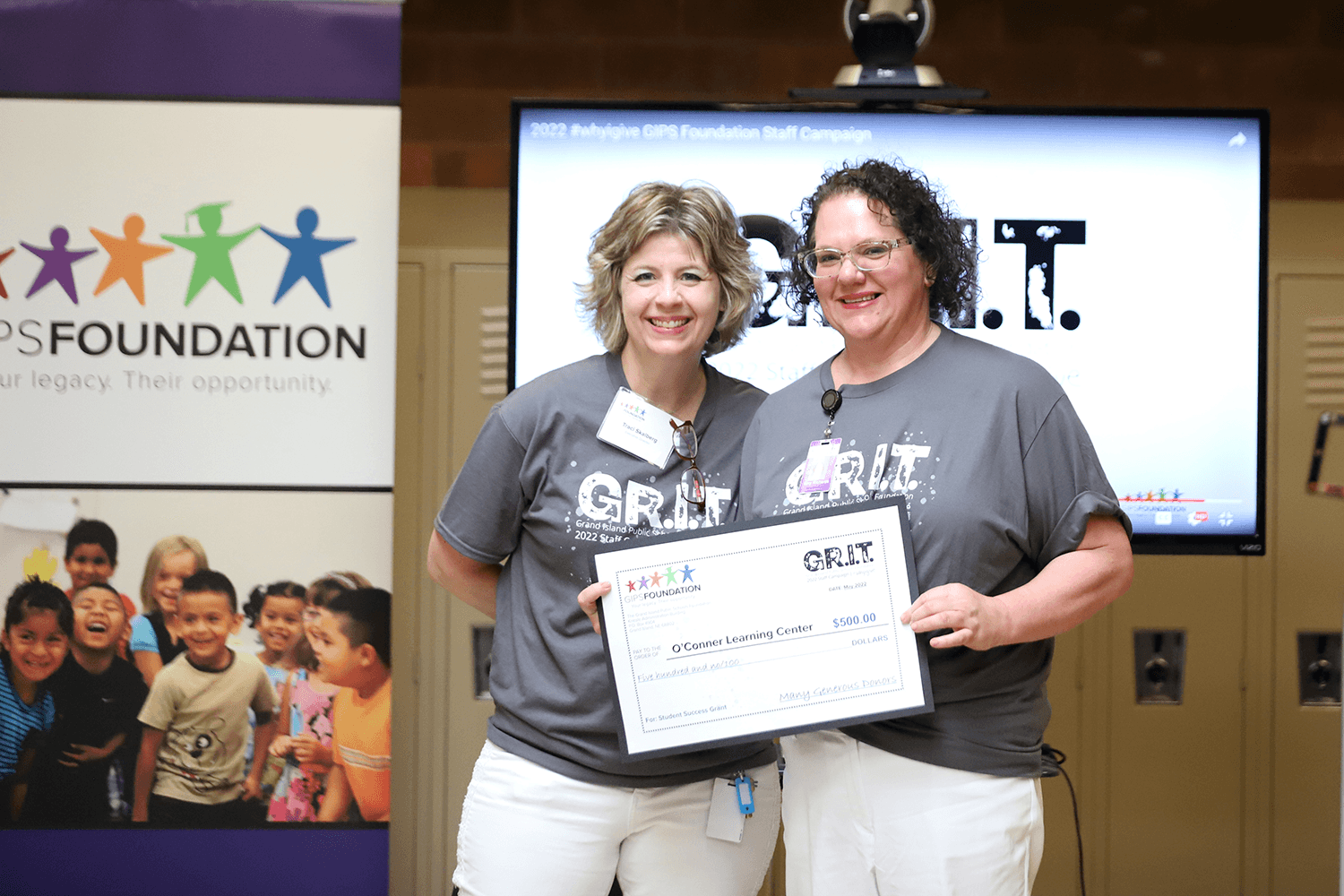 O'Conner Learning Center - led by Valerie Porto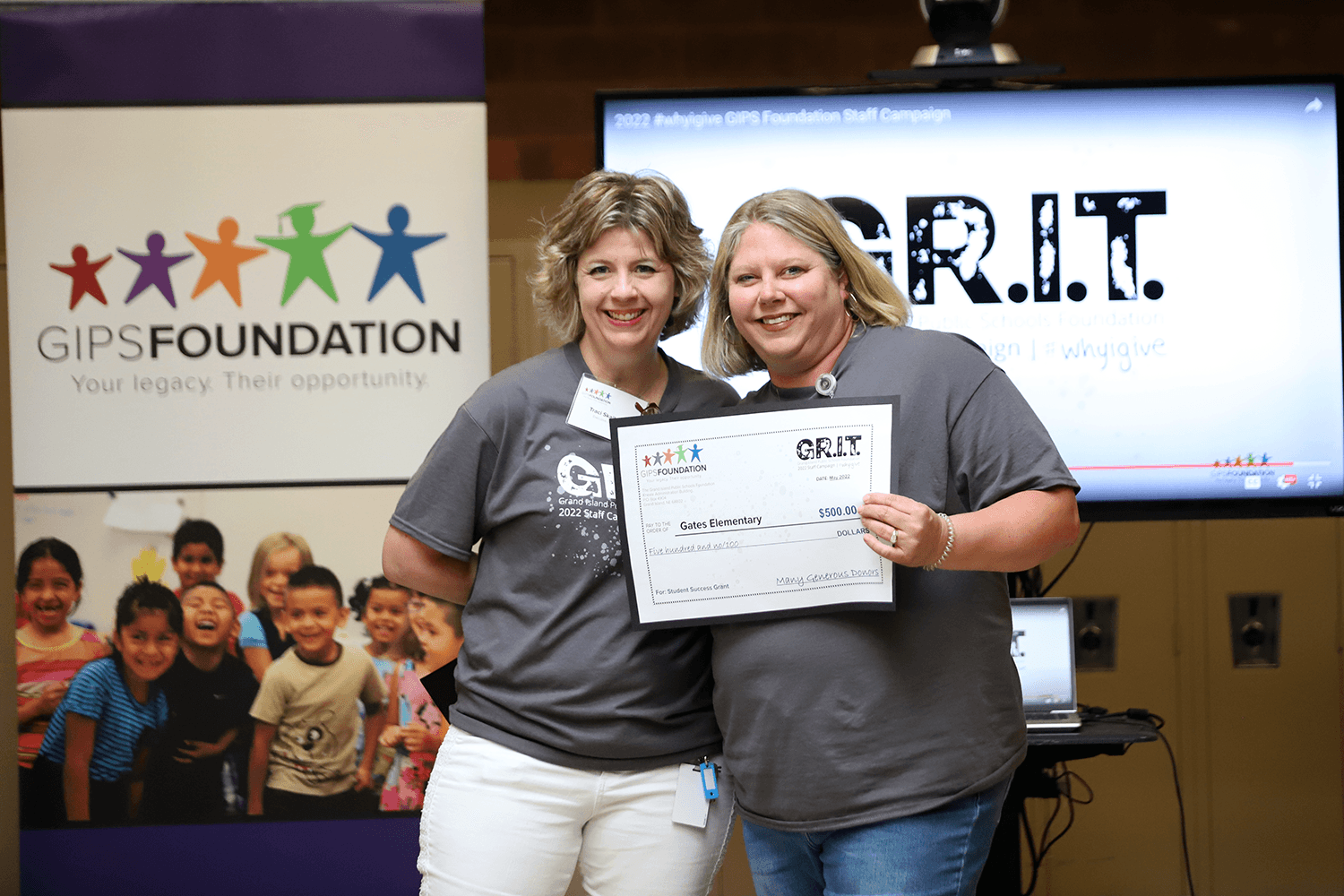 Gates Elementary - led by Amy Schley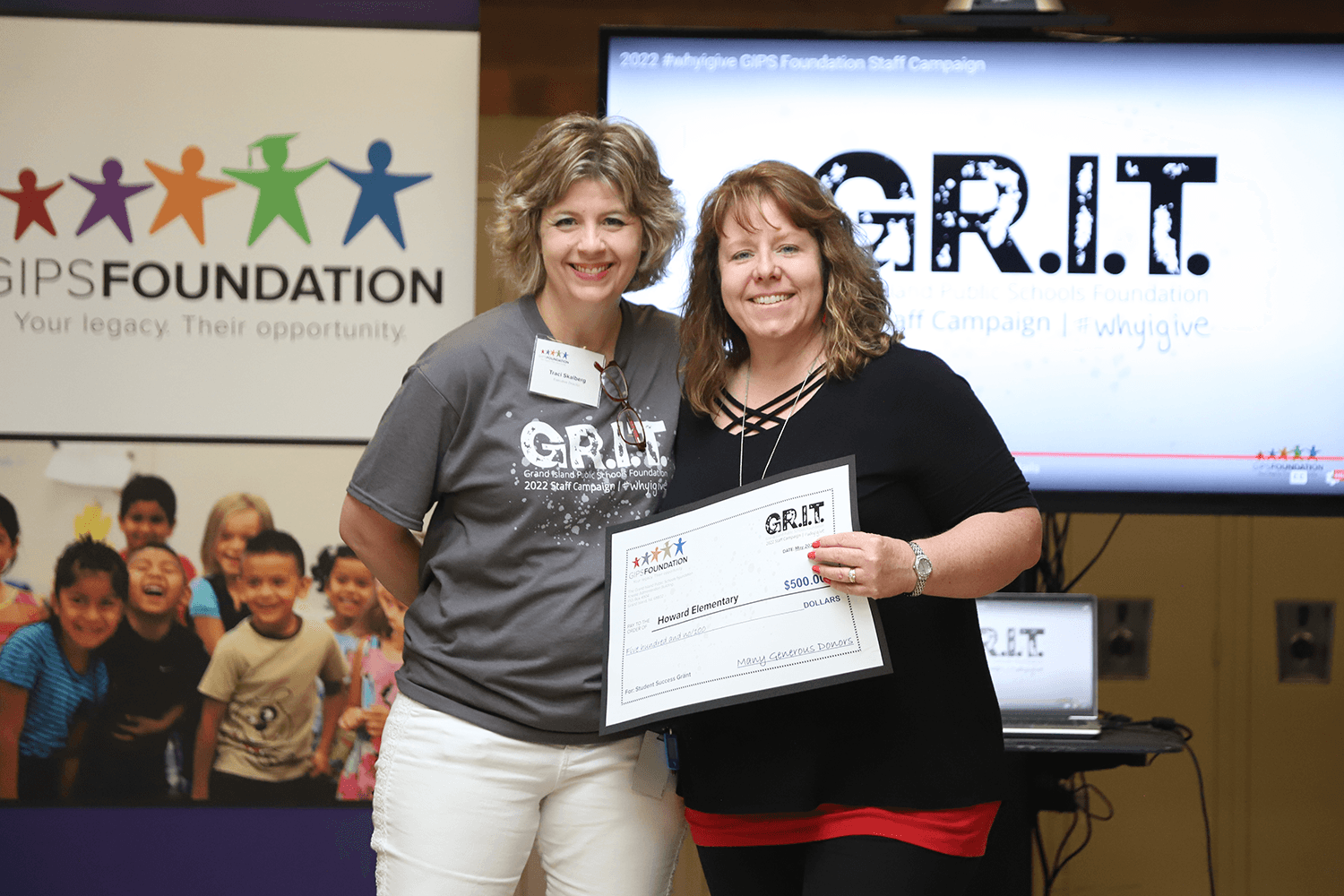 Howard Elementary - led by Deb Glover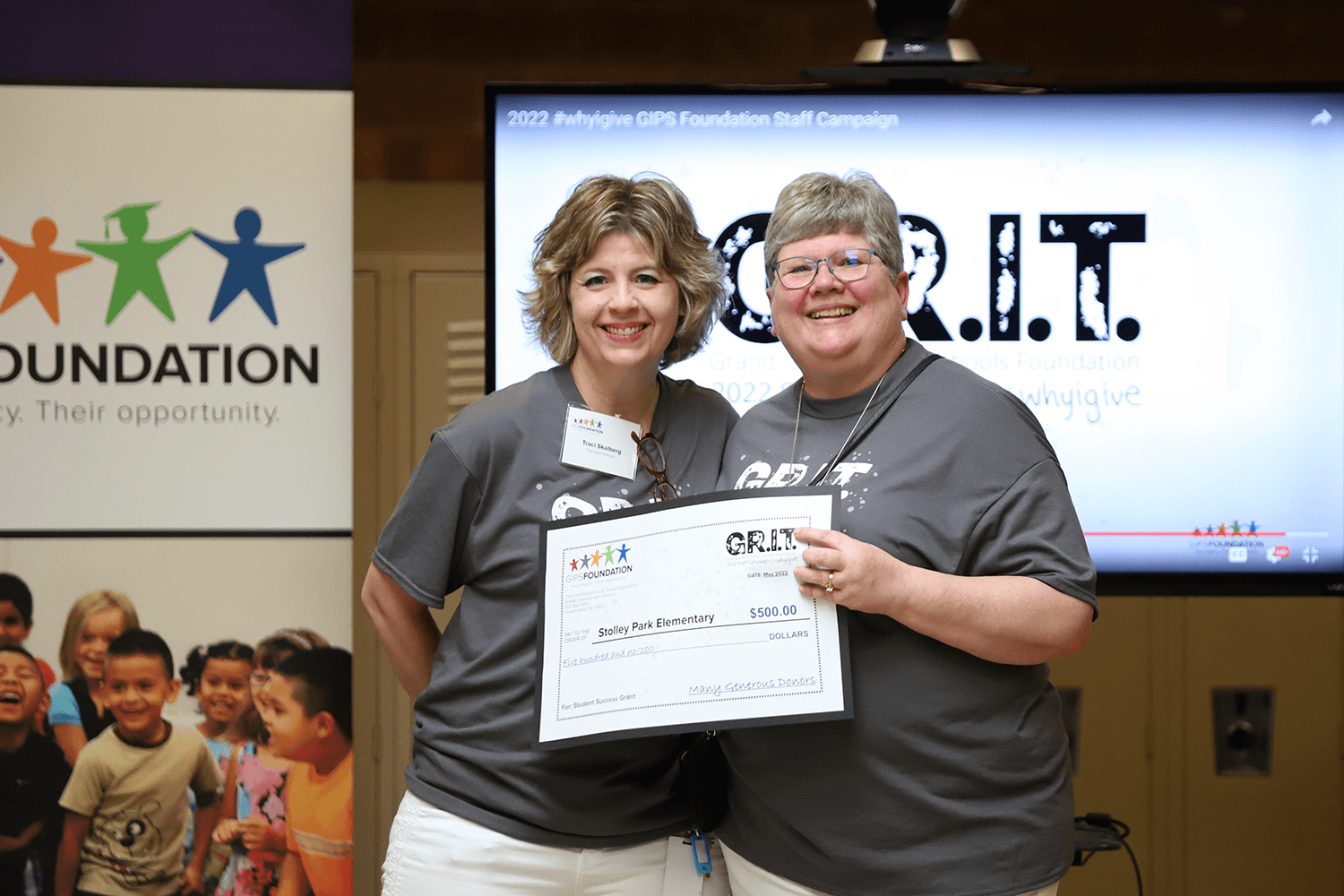 Stolley Park Elementary - led by Nikki O'Hara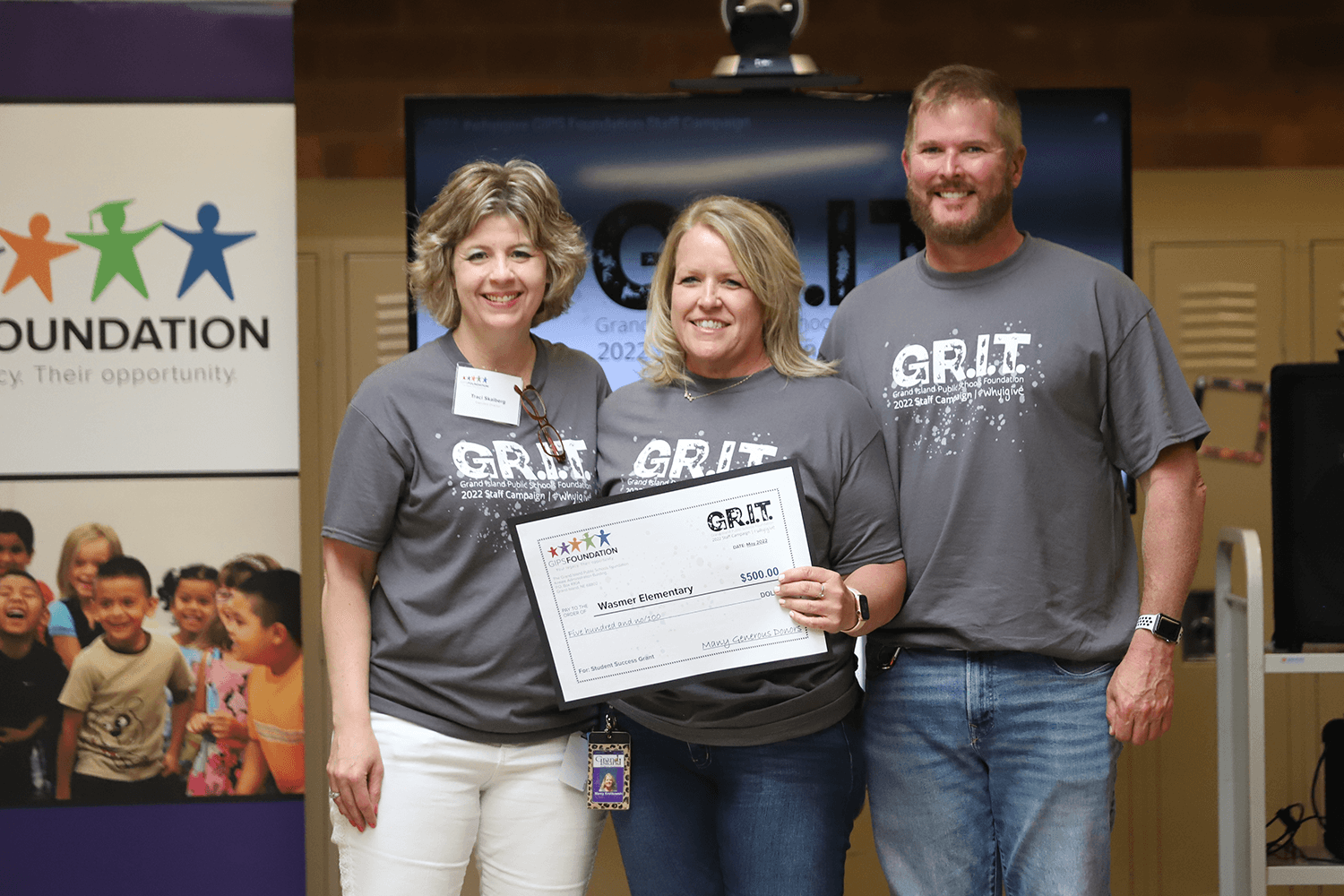 Wasmer Elementary - led by Marcy Krolikowski
Over the Top Prize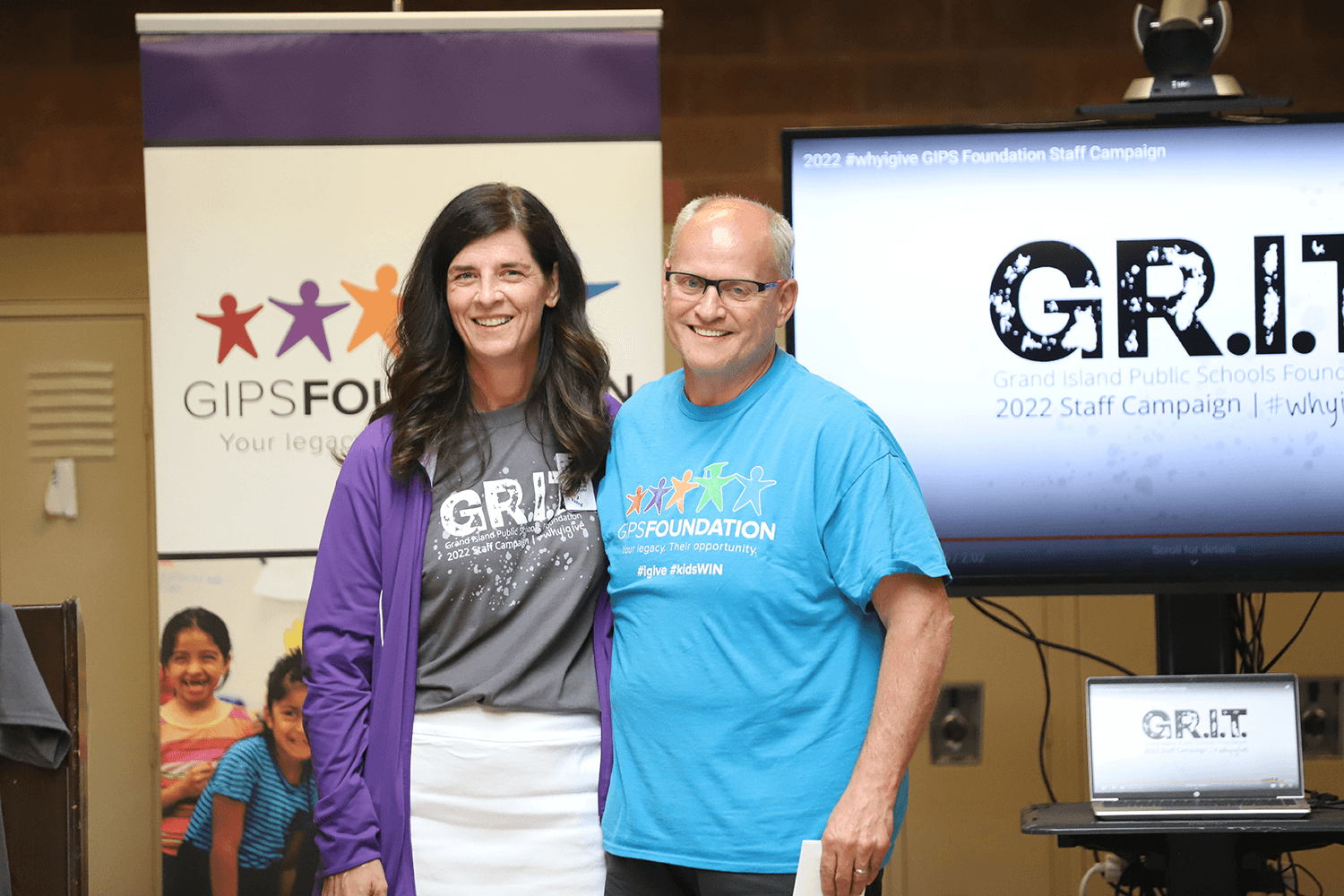 Some people always go above and beyond and though he didn't win a campaign prize, we wanted to recognize Al Hayman from Grand Island Senior High. His Team had a giving rate of 194%!  It is because Al is so passionate about investing in kids that he asks everyone he knows to give and he personally gives in honor of all of his kids and his grandkids. Al bleeds purple and gold and we wanted to recognize his effort. 
Press Conference Attendance Prize Drawing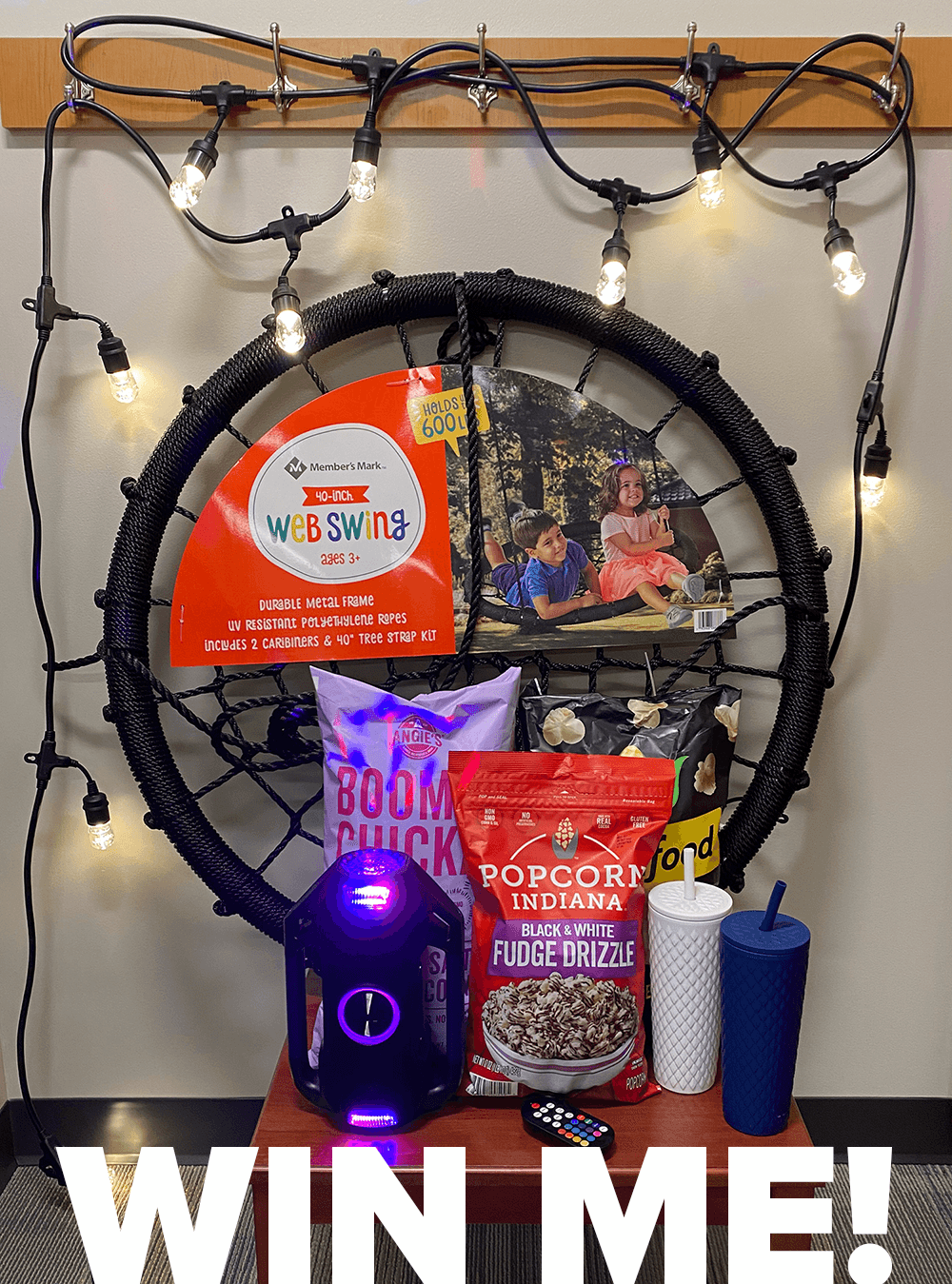 GIPS Staff who attended the Staff Campaign Press Conference could enter a drawing. Prize included: Web Swing, Party Splash Speaker, LED Cafe Lights, Insulated Tumbler Set, and Assorted Popcorn.
Attendance Drawing Winner: