Volume 3 | Number 3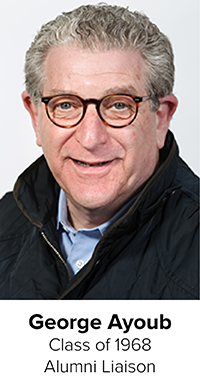 Welcome to the May 2018 edition of Rise Grand Island the alumni newsletter for Grand Island Senior High published every other month by the Grand Island Public Schools Foundation. Rise is where we connect with thousands of Islanders across the globe, keeping you and them informed on what's happening in Purple and Gold land, and reminiscing a little bit as well.
This is Volume 3, Number 3, the third edition of Rise this calendar year, our third year as the official publication for alums of Islander Nation. Thanks for reading us and for your comments and support.
We really enjoy hearing from those of you who find Rise in your in-box every other month. Give us a shout, especially if you or a GISH alum you know has done something new, newsy, or newsworthy. You can reach us at alumni@gips.org.
We're trumpeting our At the Top feature this issue as it announces an incredible new project to renovate Memorial Stadium. GISH alum Lanny Martin (1964) has generously donated $10 million to the effort.
Also in this issue, Foundation Executive Director Traci Skalberg announces the winners of the second "Decade Challenge" among the GISH graduating classes during Go Big Give earlier this month. This is all about street cred, and Traci has the winners and the details in her Legacy update.
Traci also gives you what you need to know — including criteria and who is in — about Senior High's new Academic Hall of Fame in her Shaking the World article.
Our Class Reunion Update lets you know who is going to party and when in case your class is on deck or maybe you just want to crash another class's soiree and see a few old friends.
Our From the Island correspondent Taylor Keyes writes a heartfelt farewell to Grand Island Senior High as she and her senior classmates stand on the threshold of entirely new chapters in their lives.
Our Distant Mirror correspondent Mike Monk followed his daughter and her husband to Bean Town last month as they ran this year's Boston Marathon. The runners were successful, and the trip rekindled many fond memories of Boston for Mike who went to school at Harvard College.
My I've Been Thinking column both praises and picks on Grand Island's "spring" environment — especially how it affects high school graduation, Islander sports, and our attitudes.
As we do every issue, we honor those Islanders who passed the last couple months in our In Memoriam section.
As usual, we'll see what songs were popular on the radio, what movies were wooing us to the big screen, and what television shows kept us from our homework each decade during May.
We hope you enjoy this Rise as we head toward "summertime, summertime, sum, sum, summertime," the perfect time to keep pushing on.
George Ayoub, Class of 1968
Editor, Rise Grand Island
---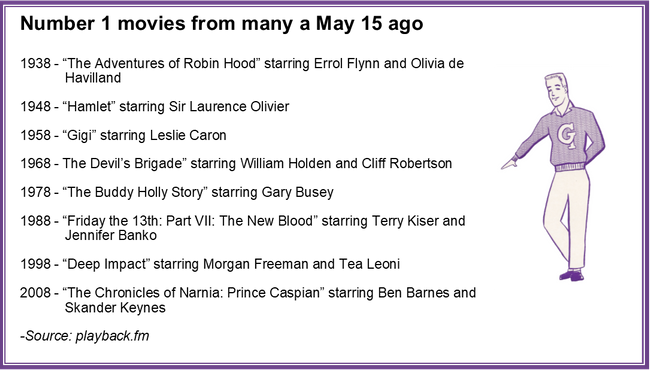 ---
Memorial Stadium Project Ready to Move Forward
Inspired by a $10 million gift from 1964 Senior High graduate and Hall of Honor member, Lanny Martin, the Memorial Stadium Project now looks to raise an additional $5 million to restore Grand Island's venerable Memorial Stadium, creating a magnificent legacy for the city.
The third leg of the project's "stool" is the Grand Island Public School, already committed to spending $2 million on Memorial Stadium.
Project plans for the stadium, built in 1947 and suffering from both age and the demands of outdoor venues in the 21st Century, are twofold. The first is focused on restoration of the facility: a brand new West Stadium built from the ground up, all new seating for both the West and East Stadiums, new restrooms, new concession stands, new locker rooms, new field turf, track resurfacing, a state-of-the-art two-level press box, meeting rooms, a new addition to the East Stadium that would add nearly 500 seats to Memorial Stadium's total capacity, and technology and amenities throughout to meet the needs of events in modern stadiums.

Equally important to planners will be the preservation of the East Stadium's iconic facade on which are permanently etched historic battle sites from Guadalcanal to Bastogne to Salerno. From the outset Memorial Stadium, true to its name and its linage, has a deep and abiding respect for those men and women who have served in the military. You can take a virtual tour and view images and plans for the new stadium at the stadium website: GI Memorial Stadium.
Also at that link you'll find the moving video "Home Field Advantage," which introduces the Memorial Stadium Project and its leadership: Super Bowl champion Tom Rathman and Holly Yencer Rathman, both 1981 graduates are the project's Honorary Chairs. Co-Chairs are Jeff Richardson and Jane Jeffries Richardson, both from the Class of 1983, and Jim and Maureen Karhoff, Jim from the Senior High Class of 1960 and Maureen from the Grand Island Central Catholic Class of 1960. The video includes rare and historic footage of All-American Bobby Reynolds breaking tackles for the Islanders.
Finally, the site has the plenty of history, too, including  the story behind Memorial Stadium's beginnings, which started over a cup of coffee.
The new field in the restored Memorial Stadium will be known as Jack Martin Field. Lanny Martin's generous lead gift is to honor his father, Jack Martin, a tireless supporter of all things Grand Island and — through hard work and service to others — a mainstay in giving back to his community. A former vocational agricultural teacher at Senior High, Jack Martin went on to establish a successful business and become Grand Island's mayor. He and his wife Lucile raised six children, all Senior High graduates. The family established the Jack Martin Scholarship Fund in 1998 and the Lucile Martin Dream Scholarship in 2012. In all, the Martin family has awarded over 100 scholarships since 1998.
Senior High is no stranger to the generosity of Lanny Martin. He established the Bob Hamblet Scholarship to Northwestern University, his alma mater. The scholarship is a full, four-year scholarship to one of the nation's premier academic institutions. Bob Hamblet was Lanny's counselor at Senior High and who encouraged Lanny to consider going to Northwestern.
Using Lanny Martin's gift as the bedrock on which to move the project forward, architects, engineers, and planners have developed two approaches: a primary project and expanded project.

The primary project includes all the renovations and preservations listed above, enough to make Memorial Stadium the premier outdoor venue between Lincoln and Denver.
The expanded project adds the new addition to the East Stadium, giving Memorial Stadium the seating capacity to host statewide championship sporting events including track, football, and soccer; be the perfect venue for huge marching band field competitions having already been the host for decades of the Harvest of Harmony field competitions; and be a community gathering spot for all of Grand Island, the unifying force that Memorial Stadium was when the city gathered to celebrate its completion on September 16, 1947, three nights before the first football ever played there.
Lanny Martin recognizes the "Grand Legacy" that is Memorial Stadium. His gift and foresight have fueled the imaginations and energy of the Memorial Stadium Project's leaders and created a buzz in the community. Rise connects the thousands of Senior High alumni where we hope the project will also create a buzz … and some action.
The website details how you can be involved in supporting the Memorial Stadium Project, how you can play a role in restoring a piece of our shared history and honoring American veterans, and how you can be part of creating the new Memorial Stadium, our "Grand Legacy."
---
Islanders Play Snow Ball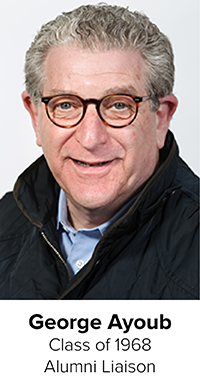 The last thing you need from me is a turgid think piece on the weather. So many other important things should occupy your and my time: world peace, climate change, global economic stresses, a snarly and divisive political atmosphere, why the sandwich always falls peanut butter side down.
Despite the pressing problems of the planet, I have to tell you: The weather this spring here in the capital of Islander Nation, in a word, sucked.
Like an industrial strength Dyson.
I say that as a human being, susceptible to frostbite; as a Nebraskan, schooled in the wicked ways of capricious weather; and as an assistant Islander baseball coach, decked out in five layers of purple.
Hope is the thing with warm fronts, however. As I pen this benign (and maybe pathetic) complaint about phenomena over which I have no control, the sky is blue, the temperature is 81, and a light southerly breeze works to thaw our bones.
Spring sprung like a shower leaking misery this year. That included a snowstorm on Easter Sunday and a stretch of days in early April that failed to make it to 40.
An hour before we played a Saturday doubleheader with Creighton Prep in Omaha, a snow shower arrived, wafting through the air as we contemplated just what the heck were we doing. When we told the boys to warm up, half ran to the school, the other half to the bus. (By the way we split the two games.) Feeling returned to my extremities the following Tuesday.
Graduation season is upon us and even though Senior High has taken the weather out of the equation by handing out diplomas indoors at the Heartland Events Center, graduation party planners are at the mercy of the elements. Which, if this spring is any barometer, could mean heat, tornadoes, snow, rain -- all in the same afternoon. You might want to batten down the folding chairs in the garage or warn the FAA that your party tent may be taking flight.
You Islanders in Southern California may remember Nebraska weather: Always a toss up for event coordinators from weddings to graduation to any kind of hootenanny planned for the great outdoors.
I lived in Los Angeles for 10 years and aside from the occasional earthquake, winter rains, Santa Ana winds, or smog alerts, the climate was indeed settled … and dependable. Many here laugh aloud when someone trots out the beaten-to-a-pulp chestnut, "If you don't like the weather in Nebraska, stick around for 15 minutes. It will change."
I see no humor in it. But then it could be that the long johns I've been wearing for the past six months have pinched off part of the oxygen supply to my brain.
My graduating class is gathering in June for our 50-year reunion. When we stepped across the stage inside Memorial Stadium on May 20, 1968, the day was one of those picture perfect postcards: Green grass, a sunlit crowd, warm temperatures.
Our reunion activities are all indoors. Wisdom comes with age?
I've also attended graduations in Memorial Stadium where we've had to make a run for the gym, where far fewer seats meant grandma and grandpa, aunties and uncles, even brothers and sisters didn't make the cut.
While the move to the Events Center nicely accommodates both the weather and the size of the crowd, some still believe that graduation should be on campus.
Hmmm? Elsewhere in this "Rise" you may have read about the remarkable project in the works to renovate Memorial Stadium. All that planning and not once, to my knowledge, did someone mention a dome. Hey, just saying. Don't hold me to it. My brain's been on ice -- along with the rest of me -- for a long time.
---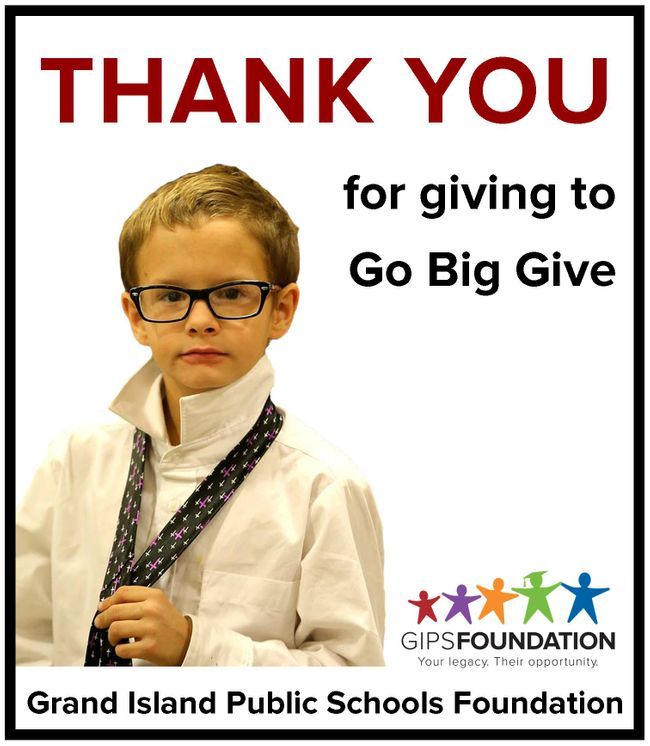 ---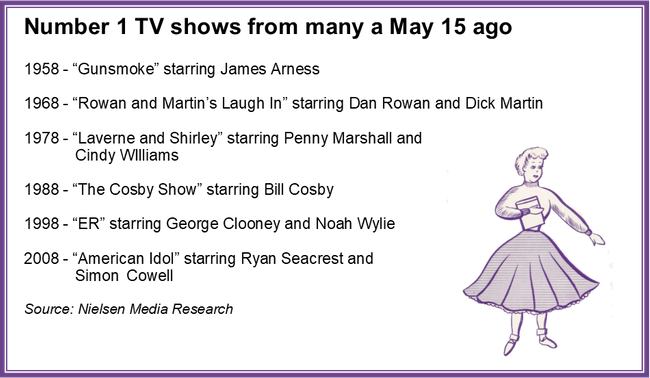 Planning a class reunion?
We can help get you started!
Contact us for your class list and send us information about your reunion. We will post it to our website.
Kari Price, Alumni Coordinator
kprice@gips.org
308.385.5900 ext. 1148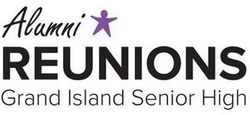 NOTE: Reunion information in this newsletter is current as of the publication date. To see Reunion updates and additions go to our Alumni Reunions page.
Class of 1951
The class of 1951 will hold their bi-annual reunion at the Liederkranz on Friday, October 5th, 2018, Harvest of Harmony weekend. Please contact Jim Marsh for details at 
(702)946-1000.

Class of 1956
The Class of 1956 wishes to extend an invitation to fellow classmates to join them at their monthly gathering. They meet on the 2nd Tuesday of each month at the Midtown Holiday Inn at 6:00 pm. For more information please contact Ed Felske at (308) 382-3111.

Class of 1966
The Class of 1966 wishes to extend an invitation to fellow classmates to join them at their monthly lunch gathering. They meet the 3rd Wednesday of each month at the Platt Duetsche at 1:00 pm.

Class of 1968
The Class of 1968 will hold its 50th Reunion on June 22-23, 2018. Both nights will be at Riverside Golf Club. The cost for the weekend is only $50 a person including dinner each night. ($60 after May 1) A class booklet with information and addresses of classmates is also available for $10. Check out and like our Facebook page — "GISH Class of 1968."

Registrations should be sent to 'Class of '68 50th Reunion, PO Box 5201, Grand Island, NE 68802.' Make checks payable to 'Class of 1968.' Be sure to include the additional $10 if you want a booklet. Please include a short (100 words or so, at most) newsy "update" on your life and include any contact information you want to share: phone, address, email, social media. Tours of Senior High will be available at 10 a.m. on Saturday, June, 23.

Questions should be directed to kbbart@charter.net or via Facebook.

Class of 1973
The Class of 1973, 45th Class Reunion will be the first weekend in August, 2018.

August 2: Thursday is a Bar Crawl that begins at the Bartenbach Gallery and will continue to a few 'sites' in the downtown area.
August 3: Friday night we will be gathering in the Beer Garden at the Liederkranz.
August 4: Saturday will begin with George Bartenbach hosting a golf outing, please contact him directly, asap if you are interested.  bgallery7@gmail.com
Saturday night will be dinner and dancing at the Saddle Club.

For more information; contact Linda Syverson Guild, syverson.guild@outlook.com    
301-320-6055

Class of 1998
The Class of 1998 will hold its 20th Reunion the weekend of July 13-15, 2018 with the main event on Saturday evening at Kinkaider Brewery. Join our Facebook group "Grand Island Senior High Class of 1998" for the latest reunion details and to reconnect with classmates. Any questions can be emailed to gish98@gmail.com.

Class of 2008
The Class of 2008 will hold its 10th Reunion Saturday, June 9th, 2018. There will be yard games from 11:00-3:00 at the GISH practice field. A tour of GISH is scheduled at 1:30. Saturday evening will be a gathering at Infinity Lounge at Boarders Inn and Suites from 7:00 - 10:00. For more information, contact Vanessa Gauthier at vgauthier@cmsd12.org.
---
Inaugural Academic Hall of Fame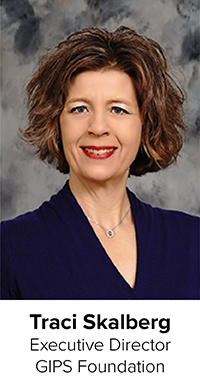 It has long been a dream of Grand Island Senior High Counselor Larry Uhing to establish the Grand Island Senior High Academic Hall of Fame.  With the help of Senior High Alumna Lisa McAloon Albers ('83) and several generous donors, this dream became a reality on Monday, April 16. 
Fifty four (54) alumni were part of the inaugural class inducted into the Academic Hall of Fame as part of the annual Academic Honors Night.
Criteria to be included in this prestigious group follows:
Students who graduated from Grand Island Senior High in 2000 or later and attended for a minimum of four semesters or two years, are eligible.
Students must score in the 99th percentile or above on the ACT or SAT college admission exam and rank number 1 in their class.   Starting with the class of 2020, students must graduate Summa Cum Laude distinction along with the required SAT or ACT score. 
Students must have participated in at least one approved school club or organization.  Candidates with flagrant violations of school rules or the law will not be considered.
The Academic Hall of Fame is located on the East side of the school near the Auditorium.  Each member is featured on a digital touchscreen display that bears a photo and brief biography of accomplishments.  This Hall of Fame will be added to each year as students meet the criteria. 
The inaugural inductees to the Grand Island Senior High Academic Hall of Fame are:
Audreana Aguilar, 2010
Johnathan Albers, 2014
Chelsey Bartels Liess, 2003
Sarah Bauer, 2010
Reagan Bowen, 2017
Kara Brostrom, 2009
Courtney Cahoy, 2010
Jerome Campbell, 2015
Timothy Carmann, 2002
Bret Clark, 2002
Olivia Exstrum, 2013
Preston Fegley, 2013
Melissa Fladseth Truelson, 2000
Broc Forbes, 2008
Kevin Frankforter, 2006
Anna Galbraith, 2005
Hana Gomes, 2001
Margaret Gregory Lambie, 2009
John (Jack) Higgins, 2004
Ryan Homan, 2003
Anna Hornbacher, 2017
Reuben Houser, 2007
Shane Jacobs, 2016
Zachary Kneale, 2016
Sarah Koubek, 2016
Matthew Kruse, 2002
Amber Kunze Liggett, 2009
Sienna Kunze, 2017
Tiara Kush Brown, 2009
Sarah Kuta, 2008
Abigail Kutlas, 2014
Jonathan Lentz, 2001
Danielle Mettenbrink, 2012
Kari Mettenbrink Rushlau, 2010
Emily Meyer, 2010
Sarah Mirza, 2011
Hunter Moural, 2017
Sara Robbins, 2010
Brigette Root Pettepier, 2008
Jordan Schleif, 2006
Kyle Schutte, 2006
Tanner Shuck, 2015
Nicholas Spintig, 2006
Evan Stewart, 2010
Caroline Swift, 2007
Lane Uhing, 2014
Leigh Uhing, 2014
Tucker Vahle, 2016
Addie Voss, 2011
Stephanie Wagner Hulme, 2006
Alyssa Wells, 2017
Taylor Whipple, 2007
Valerie Williams Valdiviez, 2003
Susan Zlomke, 2002
Grand Island Senior High Athletic Hall of Fame

You can nominate your favorite outstanding athletes of yesteryear to the newly formed Grand Island Senior High Athletic Hall of Fame. Forms are found at the GIPS website: GISH Hall of Fame. The nominations will be submitted to the Activities Office at GISH.  Thank you.
---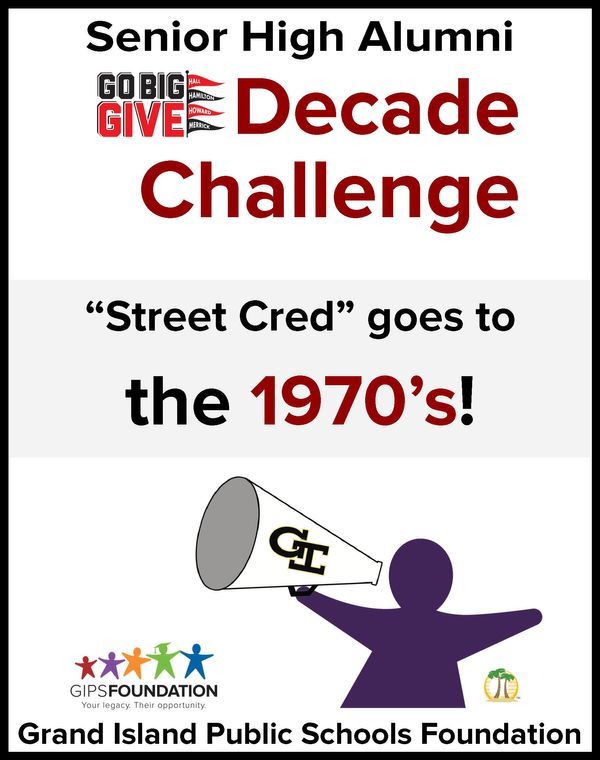 ---
It's That 70's Show All Over Again!
Well friends, the 1970's have done it again.  They won the coveted Street Cred associated with the Go Big Give effort.  But, before they get a big head…with the street cred and all…we want to tell you about the valiant effort of the 1960's too.  Our 1960's friends deserve a shout because more of them stepped up to the plate and gave that day.  In fact, they outnumber their closest competitors 3 to 1.  So, if we were playing on the playground…the 60's would be the team to beat.
In all, we are so proud of the effort from our alumni and supporters who went big and gave to our students through the 2018 Go Big Give effort.  Our totals that day grew to $15,494.25 from 52 donors.  Of that total, $9,282.75 came from alumni with seven decades represented.  And, $4,752.75 will be added to the Purple and Gold Fund as this was the amount that was given by alumni and not restricted to a specific project such as scholarships or the stadium.  Watch for grants and scholarships over the next year from the Purple and Gold Fund. 
Here is how the day shook out:
1940's – 2 gifts for $1,600
1950's – 1 gift for $200
1960's – 12 gifts for $2,387.75
1970's – 4 gifts for $3,330
1980's – 3 gifts for $652.50
1990's – 2 gifts for $577.50
2000's – 4 gifts for $535
Thank you.  Thank you. Thank you for supporting opportunities for our students!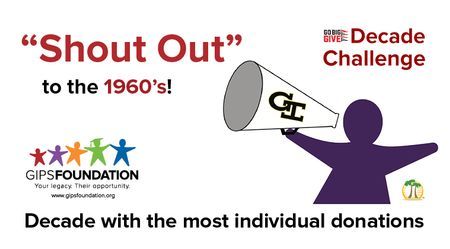 ---
News From the Halls of Senior High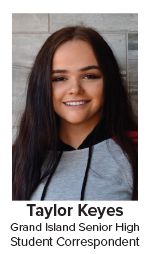 While high school has been a rollercoaster, full of ups and downs, it has been a rewarding period of personal growth and self discovery. People say that high school goes by in the blink of an eye, that four years will seem like one: they were certainly right. As I check my planner, realizing there are only a couple weeks until graduation, I am unsure how to feel. This semester has gone as fast as it has come; it is surreal. Less than four years ago, we were timid freshmen who struggled to make our way around the building, hesitant and apprehensive in many respects. Today, as I sit in my Senior Projects art class, overwhelmed with finals, AP exams, and my lack of time, I have begun my reflection on my time here at Grand Island Senior High. While the future will bring many new experiences and important opportunities, leaving Senior High, a place that has supported me through four pivotal years of my life, is quite daunting.
As freshmen, many of us had no idea what we wanted to pursue after graduation. We were not yet expected to know. High school is the time for young adults to explore interests and discover deep-rooted passions that will drive them to greatness. Four short years later, most of my class has big plans for the future. It was not until junior year that I decided what path I wanted to take, the path that I will follow for the next eight years and beyond. As I venture into the field of veterinary medicine, I am confident that I have been prepared well by the support team at Grand Island Senior High. This extensive network of teachers, administrators, and peers have all contributed to my success and development, both academically and personally.
The amazing people I have met along the way will certainly be missed: Sierra Voglewede, Maggie Roudebush, and everyone in between. Leaving my beloved underclassmen friends and going to different colleges than the people I have grown up with will be one of the greatest challenges yet. It is alarming to think that my favorite people will no longer be a part of my daily routine.
Although these four years have been incredibly stressful, they have been very enjoyable, as I could not imagine going to any other school. I will miss my classes, teachers, activities, and the high school experience in its entirety. The atmosphere at Grand Island Senior High is astonishing; it will certainly be an emotional departure for me and many of my peers.
While I have witnessed and been a part of several changes during my time at Senior High, I know that change is constant. The Preparatory Academies being instituted this fall at GISH will certainly bring many new challenges and opportunities for students and teachers. As a graduate, I will be hearing first hand about them from my underclassmen friends and brother.
I am proud to be graduating from such a phenomenal school, it will always be a part of me, and I will forever be an Islander. The torch will be passed in writing this publication, and I will be moving forward with the next chapter in my life, as a GISH alumni myself.
Here's to the halls of Senior High.
Wear purple. Be gold.
---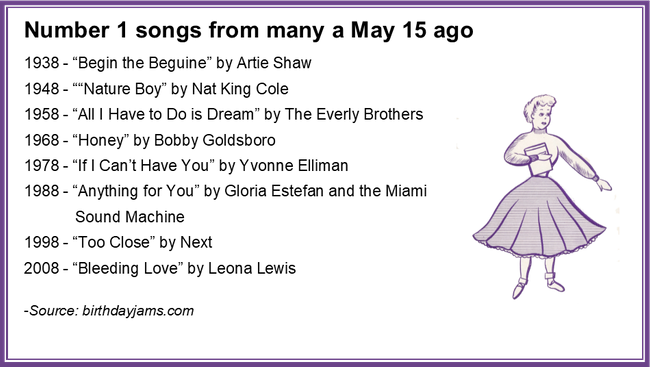 ---
Letter From Boston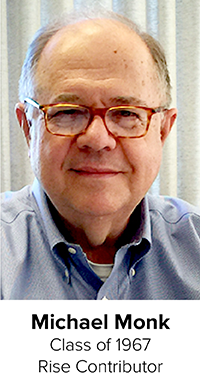 The initial reflection in today's Distant Mirror is from 1967.  After graduating from Grand Island Senior High, my mother and grandmother, with tears in their eyes, drove me to Omaha where I boarded a United flight and flew to Boston for my freshman year at Harvard College. It was September, 1967.
This was a day of many firsts for me: the first time I ever flew in an airplane, the first time I was ever east of the Mississippi, and as our plane landed near the Atlantic Ocean, the first time I ever saw an ocean. After getting settled in my dorm room, on the same night, I then joined a group of fellow freshman and took the subway (another first) to Fenway Park to see the Boston Red Sox play the Kansas City Athletics. This was a huge first, the first major league baseball game I ever attended. A few weeks later, I snuck into the first game of the World Series and saw Bob Gibson and the St. Louis Cardinals defeat my new favorite team, the Red Sox.  A life long Red Sox love affair had begun. The first cut is the deepest.
In 1967, I fell in love not only with the Red Sox, but also with Harvard, the Boston area, and in the spring, the Boston Marathon. I learned that the Boston Marathon is run on the Monday nearest April 19, which is Patriots Day, and which is also my late mother's birthday. Also, on Marathon Monday there is an early Red Sox game that begins at 11 a.m. The game generally ends just as the first marathon runners go by Fenway Park, at mile 25 of the marathon. I learned that the Boston Marathon is one of the oldest, and arguably the most prestigious marathon in the world. A runner must run a very challenging qualifying time to run Boston, and only about the  top 10 percent of all marathoners now qualify.
My junior year at Harvard, I met Janet Bogle, also a junior at nearby Wellesley College. This August will mark our 44th wedding anniversary. In April of my senior year I joined Janet and some of her friends at Wellesley to watch the marathon runners pass. We dressed up as mythological figures and cheered the runners as they passed the 14 mile mark. I think I wore some sort of stupid toga or something. Decades later, my daughter Susannah also attended Wellesley College, and amazingly, in 1998, she lived in the same dorm, Munger Hall, in which her mother had lived 27 years earlier. So in April of 1998, I watched the marathon with Susannah, in front of the same Wellesley dorm, and the crowd was even larger and more vocal than 27 years earlier. The cheering Wellesley crowd has become so massive and loud they now call it the "Wellesley Tunnel" of sound.
In the 1980's I began to run some 5 k's and 10 k's to try to stay in shape. In 1986, my daughter Susannah, who was born in Boston in 1976, just before Janet and I moved to California, began to run with me. She became a very successful competitive runner, captain of both her high school and Wellesley College cross country teams. She had been entered in the 1998 Boston Marathon by the Wellesley cross country coach, but she was unable to run due to an injury. For the next 20 years, she regretted not running Boston, and it became her mission in life to qualify for Boston and run it. Her husband Caesar qualified in 2016 and ran it, and then in 2017, after much hard work, Susannah also qualified, running a 3 hour, 31 minute marathon as a 41-year old. She was ecstatic! So this year, 2018, both Susannah and Caesar would run the Boston Marathon. She would fulfill one of her dreams and run it with her husband.  
So two weeks ago, Janet and I, and daughter Susannah, and son in law Caesar, our grandchildren Victoria and Leo, along with cousin Randy Garroutte (GISH Class of 1970) and Randy's daughter Erica and his son-in-law John, all came to Boston to root on Susannah and Caesar.
The six days in Boston were a total joy. We had lots of time with our seven-year old granddaughter Victoria and our five-year old grandson Leo. Our hotel had a pool, so Grandpa Mike went swimming with Victoria and Leo on three separate days. On the Sunday before the Marathon, we swam for about three hours. Among the wonderful moments were when Victoria met a boy her age and they were swimming together, racing and goofing around. She soon came over to me and said, "Grandpa, I think that boy likes me." At dinner that night the boy and his family were at the table next to ours and when Victoria and the boy saw each other, they each gave a big wave.
Another highlight was when I took five year old Leo to his first Fenway Park game on Saturday. My college buddy Tom Werner, now one of the Red Sox owners, got us seats on the field level in the very front row, just four seats to the left of the Sox dugout.  Leo had a wonderful time, was given a ball from the clubhouse by an usher, and even chatted with the Red Sox mascot. Leo is at a stage where he asks everyone, including complete strangers, how old they are. The Mascot, from inside his costume, said that he was 20. Leo had a light lunch of popcorn, a hot dog, peanuts, an apple, French fries, frozen lemonade and hot chocolate. After the game, the loud speaker blared out "Dirty Water" by the Standells (you know the song, " I love that dirty water, Boston you're my home"). Leo was so pumped that he was dancing big time as we walked out, and about 20 people were smiling at this bold little dancer. All day long Leo kept telling strangers that Fenway Park was the oldest baseball park in the majors. And he proudly told every stranger, "My mom and dad are both running the marathon."
The marathon itself was wonderful and horrible. Horrible since it was run in a total monsoon, the temperature was about 38 degrees, runners leaned into a 25 mph headwind. It would rain steadily, then totally pour buckets for 20 minutes, then lighten up and then pour even more heavily. It never stopped raining all day.  Over 100 runners ended up in the hospital with hypothermia and other problems. About 50 dropped out in Wellesley at the half way mark and went to the Methodist church for warmth and food. Janet and I and the kids and Randy, Erica, and John stationed ourselves at mile 24, in Coolidge Corner (two blocks from the apartment we lived in when Susannah was born). We watched for a half hour or so and were miserable. The wind was messing with our umbrellas, we were soaked, and Victoria said the water in her shoes had turned warm from her body heat.  
So we retreated to a nearby Peet's Coffee and hung out there for an hour, watching Susannah and Caesar's progress on our runner tracking apps. We went back out about 20 minutes before Sue came by, saw her go by and even got a picture. She looked very wet, but surprisingly fresh. Caesar ran with Sue for most of the race, but he had bathroom problems and eventually Sue went on ahead of him.  
And the wonderful part of the marathon is that they both finished. Sue was euphoric. She said the race was so hard that she considered quitting many times.  She told herself, she said, that she would never have to run another marathon and that she had to finish. But after finishing and getting the medal and the hundreds of Facebook congratulations and love, she said she was already planning for another Boston Marathon. Caesar, a true gazelle, whose PR is 2 hours, 58 minutes, and who has run maybe 16 marathons, said it was the most miserable race of his life. I am very proud of them both. This was a life time goal for daughter Susannah, a native Bostonian, and it was so satisfying to see it come true.  
Boston, the Red Sox, Fenway Park, and the Boston Marathon are all very special to me from my days at Harvard and thereafter. So a weekend that combined my grandchildren, Fenway Park, the Red Sox, and my own flesh and blood making a dream come true by completing the Boston Marathon, was as good as it gets.  
Mike can be reached at m.monk@mpglaw.com.
---
March and April memorial list of GISH Alumni
RICHARD "DICK" HOLTZ, Class of 1960, died Feb. 26, 2018, in Boise, Idaho. Hewas 75.
GARY PICHLER, Class of 1966, died March 1, 2018, in Norfolk. Gary lived in Winside. He was 70.
EVELYN (FREDERKING) LEWIS, Class of 1944, died Feb. 23, 2018, in Murrieta, California. She was 92.
ELEANOR (LUEBS) RUGE, Class of 1944, died March 5, 2018, in Omaha. She was 90.
MARY MARGARET (WILES) DUBBS-LORE, Class of 1963, died March 7, 2018, in Grand Island. She was 72.
CHESTER FELSKE, Class of 1941, died March 14, 2018, in Grand Island. Chester lived in Cairo. He was 93.
MIKE SHRINER, Class of 1961, died March 15, 2018, in Grand Island. He was 75.
RICHARD "RICH" KEMERLING, Class of 1985, died March 15, 2018, in Grand Island. He was 50.
CINDY (DUBBS) BETHUNE, Class of 1972, died March 23, 2018, in Grand Island. She was 64.
NAOMI (FUERSTENAU) ERICKSON, Class of 1949, died March 27, 2018, in Grand Island. She was 86.
MICHAEL CUMMINGS, Class of 1966, died March 30, 2018, in Lee's Summit, Mo. He was 70.
CAROLINE (REHER) RUZICKA, Class of 1956, died April 3, 2018, in Omaha. She was 79.
LORRAINE (KNUTH) STOLTENBERG, Class of 1934, died April 4, 2018, in Grand Island. She was 100.
DOROTHY (HUGHES) KNIGHT, Class of 1944, died April 13, 2018, in Chapman. She was 92.
GERALD "GERRY" HYDE, Class of 1951, died April 19, 2018, in Round Rock, Texas. He was 84.
STEPHANIE (LEISINGER) THOMSEN, Class of 1986, died April 21, 2018, in Lincoln. Stephanie lived in Grand Island. She was 49.
LEANN (LORANCE) CLEGG, Class of 1957, died April 26, 2018, in Grand Island. She was 78.
To report an alumni death since April 30, 2018, please send an email with the first name, last name, class year and maiden name if applicable to alumni@gips.org