Volume 6 | Number 1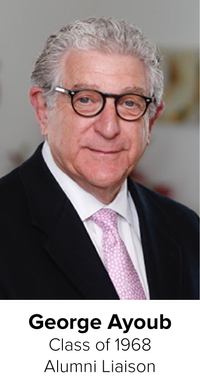 Welcome to the January, 2021, edition of Rise Grand Island the alumni newsletter for Grand Island Senior High published every other month by the Grand Island Public Schools Foundation. Rise is where we connect with thousands of Islanders across the globe, keeping you and them informed on what's happening in Purple and Gold land, and reminiscing a little bit as well.
This is Volume 6, Number 1, as we begin our sixth year as the official publication for alums of Islander Nation. Thanks for reading us and for your comments and support.
We really enjoy hearing from those of you who find Rise in your inbox every other month. Give us a shout, especially if you or a GISH alumni you know has done something new, newsy, or newsworthy. You can reach us at alumni@gips.org.
Our At the Top lead story this issue looks back at the first five years of publishing Rise, including its origins, its evolution, and its future.
From the Grand Island Public Schools Foundation office, Executive Director, Traci Skalberg, shares with us Foundation Board President, Kirk Ramsey's thoughts about this year. She'll also introduce the annual report.  The report's theme is Extraordinary Times. Extraordinary Resilience. Extraordinary Opportunities. — Your Legacy. Their Opportunity. Her Shaking the World piece introduces Senior High's Medical Academy project and its partnership with CHI-Health St. Francis.
This issue, Milestones takes a look at the newly published, "What a Life," a book about the Coney Island Lunchroom, an institution in downtown Grand Island.
On the Island correspondent Jackie Ruiz explains the role of Senior High's Academy Ambassadors and introduces the seven student leaders.
Our Distant Mirror correspondent, Mike Monk, Class of 1967, recalls the games he played (and in some instances still plays) with his children and grandchildren, paying close attention to the games' details, the myriad special rules and their corollaries, but best of all, the years of wonderful memories.
My I've Been Thinking column chronicles my personal futility with New Year's resolutions, highlighting one epic failure.
Our Class Reunion Update lets you know who is going to party and when, in case your class is on deck or maybe you just want to crash another class's soiree and see a few old friends.
As usual we'll see what songs were popular on the radio, what movies were wooing us to the big screen, what novels we were reading, and what television shows entertained us from each decade during January.
Finally, as we do every issue, we honor those Islanders who passed away the last couple months in our In Memoriam section.
We hope you find this Rise to your liking.
Remember Islanders: Keep pushing on.

George Ayoub, Class of 1968
Editor, Rise Grand Island
alumni@gips.org
---
'Fix' Moved Alumni Newsletter from Discussion to Realty
As Rise moves smartly into year six, a look back at its first five years seems entirely appropriate. Such publishing anniversaries are common although Rise's backstory and beginnings have some unique qualities.
Our little enterprise, now sent to over 6,000 email addresses every other month, began as a discussion during a Grand Island Public Schools Foundation board strategic planning retreat a little more than six years ago. I was just finishing my last term as a board member and was part of the session.
The consultant with us that day divided us into groups by topics pressing at the time. There we spent the better part of an hour kicking around ideas from how to support GIPS students in a more timely way to developing an online application form for the Foundation's scholarship program. 
I'm pleased to report that each of those examples have been realized as the Foundation has a process to quickly help where it can, and its scholarship application is routinely studied by other foundations as a model for streamlining a laborious process and infusing it with efficiency at every step.
A group discussing how to increase alumni engagement reported its findings last as the retreat consultant and Foundation Executive Director, Traci Skalberg, huddled with those board members. When the group leader finally spoke, he said the consensus was that the GIPSF needed to start an alumni email newsletter, a piece of connective tissue for thousands of Islanders around the world.
"And," the consultant interjected, "It needs to be edited by someone from the Class of 1968."
At that, the entire room turned and looked at me, giggling and smiling. The fix was in. The board had talked previously about an alumni newsletter in other meetings, but that moment called for some sort of reaction from the only member of the Class of 1968 in the room. 
Me.
If it was coercion, it was gentle — and it worked. We started to put the inaugural Rise together shortly afterward.
I first called my lifelong friend, Mike Monk, who agreed to write a column for Rise. Candi Weimers from the Foundation office was indispensable in putting us together as a publication and as an electronic publication. Traci contributed two pieces (and still does). We developed the "Milestones" and "In Memoriam" sections right from the get go and started hearing from a Senior High student, too.
Five years later we're going strong, providing a voice for Islanders everywhere. We've kicked around new format ideas, considering perhaps a flip book format that would give Rise more of a "real" magazine look. We wondered aloud about allowing advertising. We've considered making guest columns a regular feature. We're a work in progress.
Most important, though, is that for five years, 30 issues, we've shown up every other month in your inbox. 
And we just did again.
---
Top Rated Television Shows
from many a January 15th ago
1951

"Texaco Star Theater" starring Milton Berle

1961

"Gunsmoke" starring James Arness

1971

"Marcus Welby, M.D.l" starring James Young

1981

"Dallas" starring Larry Hagman

1991

"Cheers" starring Ted Danson

2001

"Survivor" starring Jeff Probst

2011

"American Idol (Wednesday)" starring Ryan Seacrest
Source: Nielsen Media Research
---
Medical Academy at CHI-Health St. Francis Hospital Will Give Students Hands-On Opportunities.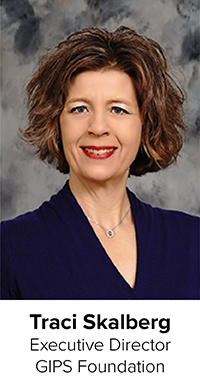 Note: This article is an excerpt of a news release and other publications released on this topic. Traci Skalberg was a collaborator and editor, but not the author. 
"Not having enough staff to care for our sick and injured patients, that's what keeps me up at night. I hear it from my fellow hospital administrators across the state." –Ed Hannon, president CHI-Health St. Francis, Grand Island.
The prospect of the 2022-2023 school year is a little more exciting for 456 area high school students as a "school within a school" will become a "school within a hospital."
Grand Island Public Schools (GIPS), in partnership with CHI-Health St. Francis, and their higher learning partner Central Community College, is finalizing plans to transform the 8th floor of the hospital tower into a 20,522 square-foot learning lab of the future. When complete, the Grand Island Senior High (GISH) Academy of Medical Sciences at CHI-Health St. Francis, a $5.92 million project, will provide juniors and seniors training and exposure to a variety of health care careers.
"You can't strive to be a medical dosimetrist, if you don't know such a career exists. Students will be exposed to a variety of careers, and maybe more importantly, they'll forge connections with mentors: Someone who has been in their shoes, and now, is their corner," said Hannon.
"Allowing students to learn on-site at the hospital, in a larger space that's specifically-designed to compliment our current pathway, will do more than we could ever imagine," says Dr. Tawana Grover, superintendent, GIPS. "Working side-by-side with St. Francis health care professional will provide fun and relevant learning opportunities that will make a huge impact on our students' futures."
The academy build-out will take an estimated 12 months to complete once funds are raised. It will include four large simulation pathway labs, two additional labs, two classrooms, several smaller break-out rooms and large gathering lab and lobby. 
Students will alternate days of hands-on learning at the hospital with traditional in-classroom days at GISH. While at the hospital, students will simulate bedside care using electronic patient mannequins, work through emergency care protocols in an ambulance, learn how physical therapists assess sports injuries and repair high-tech medical equipment. 
"COVID-19 showed the nation how vital skilled medical providers are for the health and safety of any community," says Ed Hannon, president, CHI-Health St. Francis. "The academy, and the opportunity to 'grow our own,' is a forward-thinking way for St. Francis to give back to the community which has supported our hospital for 133 years. This partnership with the Grand Island Public Schools will benefit the community well into the future." 
Twenty faculty members, collaborating with CHI-Health St. Francis providers and employees, will teach in the new space. Job shadowing and mentoring opportunities at the hospital will also be offered as part of the curriculum. 
The free program is open to area high school students interested in the medical field. 
The Academy of Medical Sciences at CHI-Health St. Francis will be funded through business and private donations. CHI-Health St. Francis intends to lease the space, a $7.2 million value, to the school system for 20 years for a token fee.
"We are thrilled to be able to partner with our friends from the CHI-Health St. Francis Foundation to make this dream a reality to our students," says Traci Skalberg, GIPS Foundation
CHI-Health St. Francis and GIPS join with partners Central Community College and the Aksarben Foundation to launch the fundraising process. In total $5.92 million needs to be raised and to date $3.5 million has been committed to the project. For more information about the academy or to pledge a gift, contact the CHI-Health St. Francis Foundation at (308) 398-5400.
Academy of Medical Sciences
---
Extraordinary Times. Extraordinary Resilience. Extraordinary Opportunities.
We are indeed experiencing Extraordinary Times! We are in a moment in history where no one really has experience navigating the road ahead.  We have witnessed Extraordinary Tenacity and Extraordinary Resilience.  When our schools closed their physical doors in March, they didn't close the door on learning.  They pivoted to deliver content in an online environment.  It wasn't perfect…but they learned and navigated new ways to reach students.  Their flexibility, tenacity, and determination to take care of students' needs continues.  
Since August, the doors to the Grand Island Public Schools have been open!  The environment is different, but it is physical, and student safety is THE priority. 
I wanted to share with you that YOUR GIPS Foundation has done the same. We have pivoted, navigated new realities, and charged into the moment to assist our students, families, and schools. In March, we created a COVID-19 Emergency Fund to help our families with things like the internet, mental health, and other bills.  We also didn't stop our regular programming. The Class of 2020 was awarded scholarships and opportunities as in the past. The ceremonies looked different, but the benefit remained.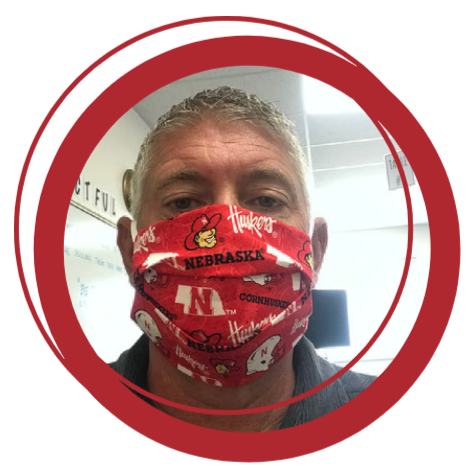 This fall we opened our classroom grant program once again so that teachers would have the opportunity to fill gaps and meet the needs of their students in a reimagined way. I am proud to have been involved in this Foundation during these times. We have continued to do whatever it takes to pivot, navigate, and fulfill needs and opportunities during this pandemic. Our students are Extraordinarily Resilient! We owe them the same tenacity and resilience and we have been able to deliver because of donors like YOU who believe in giving them opportunities.
I am pleased to present our mini-annual report that shares the numbers and financial picture of this effort. The stories of course are numerous and sometimes heart-wrenching. All of it adds up to a job well done and a renewed sense of hope for the year ahead. 
On behalf of our entire board of directors, thank you for being part of our Extraordinary Story and may your 2021 be blessed.
Kirk Ramsey, GIPS Foundation Board President 2020
---
Top Rated Songs
from many a January 15th ago
1941

"Frenesi" by Artie Shaw and His Orchestra

1951

"The Tennessee Waltz" by Patti Page

1961

"Wonderland by Night" by Bert Kaempfert and His Orchestra

1971

"My Sweet Lord" by George Harrison

1981

"Starting Over" by John Lennon

1991

"Justify My Love" by Madonna

2001

"Independent Woman Part I" by Destiny's Child
Source: playback.fm
---
New Book Chronicles Coney Island Lunchroom
Few are those Senior High grads who never set foot in Coney Island, the longtime Third City eatery that remains an institution in downtown Grand Island. Now a new book traces Coney Island's history and its prominence as a Grand Island landmark.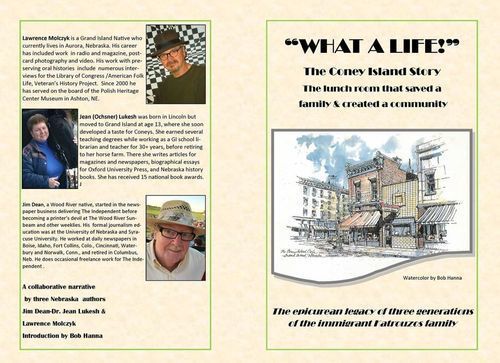 "What a Life," published in December, is 100 pages of words and pictures detailing the world of coney dogs, bowls of chili, malts, and the friendly atmosphere where, as the saying goes, no one seems to be a stranger.
The book was a collaborative affair, written by Dr. Jean Lukesh (Class of 1968), Lawrence Molczyk (Class of 1970), and Wood River native Jim Dean. Bob Hanna (Class of 1957) provided the cover art and the introduction.
"What a Life" is available from Susan's Books and Gifts in Aurora or online at "What a Life". You can also purchase the book at Coney Island. A portion of the book's profits will be donated to the Hall County Historical Society.
For more on "What a Life,"click on the following link to a story in The Independent at Story of "What a Life".
---
Fiction Bestsellers
from many a January 15th ago
1941

"Oliver Wiswell" by Kenneth Roberts

1951

"Joy Street" by Francis Parkinson Keyes

1961

"Hawaii" by James Michener

1971

"Love Story" by Erich Segal

1981

"The Covenant" by James Michener

1991

"The Secret Pilgrim" by John le Carré

2001

"From the Corner of His Eye" by Dean Koontz

2011

"What the Night Knows" by Dean Koontz
Source: playback.fm
---
Academy Ambassadors
Jacqueline Ruiz-Rodriguez, Class of 2023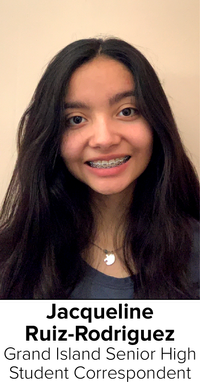 Academy ambassadors play an important role at Grand Island Senior High. They provide leadership and act as role models for fellow students.
Thirty to forty students apply each year to be an academy ambassador but only six are accepted. 
Academy ambassadors are also held to high expectations. Senior High's academy ambassadors represent all academies on every level, freshmen through seniors. One person per academy represents every student in that career field.
According to Nichole Stoltenberg, the Academy Partnership Liaison, the ambassadors play a critical role in our school. They are the "faces" of the academies.
"They give tours to members of the community and to eighth graders looking for a high school. They also give tours to folks around Grand Island that are thinking of enrolling their students at GISH," she said.
Stoltenberg said ambassadors live not by a specific goal but by the following oath: 
As an Academy Ambassador, I vow to positively represent the Academies of Grand Island Senior High and encourage others to do so by advocating for the wants and the needs of students in the best way possible. I will respect other opinions, listen to my peers, and use my leadership skills to effectively motivate fellow Islanders in a positive way at school, in public and on social media.
Academy ambassadors are currently looking into creating a virtual tour for students since in-person tours are difficult to schedule because of COVID-19.
"We are hoping to be able to show off every aspect of the school like CPI (Career Pathways Institute) and the rest of Senior High's facilities," Stoltenberg said.
According to Stoltenberg, when looking for an ambassador she often picks the students with a good sense of judgement, are reliable and dependable, take initiative, respect authority and are willing to take on additional responsibilities.
"We try to teach them to listen to people and respect the opinions of others. They also gain leadership skills, get to take the oath and make new friendships," she said.
Student ambassadors are held at higher standards and have many expectations to uphold. Some include having to respect Senior High's dress code, maintain passing grades at all times, and understanding that academics are their first priority before anything else. 
Although academy ambassadors have many expectations in the school, they are also expected to be careful out of school by not posting anything illegal or distasteful on social media, the Internet, or YouTube. These things could all lead to the possible removal from the program.
According to sophomore student Olivia Shultz, she applied to be an academy ambassador because she would like to promote the school in a good way and bring students and staff members together to better understand one another.
"I thought it would be fun to be an ambassador," she said, "I want to show that our school isn't full of bad students and that there are some really good students that want to succeed." 
Shultz said that she would like to be a role model for other students who need someone to look up to. She wants to be there for people who need a voice and for the students who want to speak out when they feel like they can't.
According to Stoltenberg, academy ambassadors don't always have it easy, having many responsibilities and expectations to abide by, but they make lasting friendships and become great leaders for our world and school.
Applications for next year have already been submitted. Students who want to become academy ambassadors who didn't submit their applications will have to wait until next year to apply. This year's applications are currently being reviewed and the new ambassadors will be chosen soon.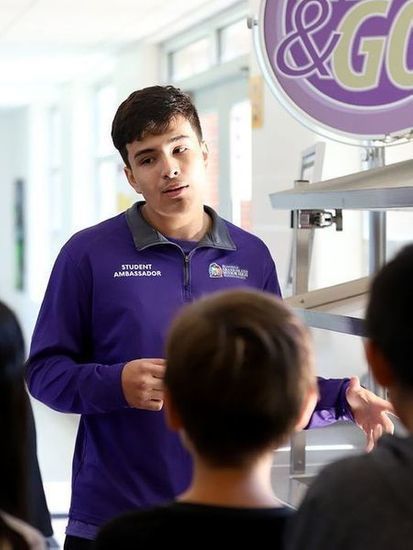 Current Senior High Academy Ambassadors:
Stefany Chavez Gomez
Academy of Technical Sciences
Angel Gomez Cortez
Academy of Education, Law & Public Safety
Riley Harder
Academy of Medical Sciences
Jakob Koch
Academy of Business & Communications
Kate Reyes
Academy of Business & Communications
Sara Serrano
Academy of Education, Law & Public Safety
Jacob Staab
Academy of Business & Communications
---
Fun and Games With Children and Grandchildren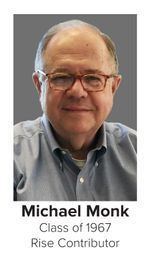 From time immemorial, parents and grandparents have played games with their children and grandchildren. These games often evolve organically and are part of the joy and fabric of these relationships. Probably most readers have such experiences either as a parent or child or both, and they are always interesting to me. So I share some of my experiences both as a parent and grandparent.
Bad Guys and Super Heroes (1982-1984)
This was a game I played with daughter Susannah and son James starting when they were about six and three years old respectively. The basic premise was that Dad (that's me) was a Bad Guy, and they each were a Superhero. Many a night I would arrive home from work and hear them plead, "Dad, can we play Bad Guys and Superheroes?"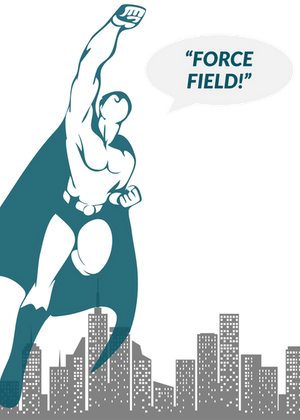 Susannah would usually choose to be either Wonder Woman or Super Girl. And she would try to wear her "Underoo" underwear which featured pictures of either Wonder Woman or Super Girl. There were some tense moments some mornings when Sue could not find some "Underoo" set to wear to school. It was a high level crisis. But we would search the newly clean laundry, or sometimes even the dirty clothes for one of the prized sets of underwear.
James would be a variety of heroes. Sometimes Ram Man, sometimes Superman, and sometimes others. I would be a generic "Bad Guy," but while playing James would often call me "Zod, Bod, the Big Fat Hod" a phrase of mysterious origin.    
The basic premise of the game was that I would chase them and attack them with pretend thrusts, parries, and other blows. They would fight back with their super powers. They would blast with imaginary guns or weapons, or simply do a fake punch, which would cause me to fall back in agony. I would attempt to grab or punch or squeeze them, but they were quick at avoiding the Bad Guy. Also Ram Man would often literally "ram" me and I would again fall back in agony. James also inserted the concept of a "force field," which he had seen in some movie. When I would be about to grab or get him, he would declare, "FORCE FIELD" and if I got near him, I would scream in pain when my hand touched the invisible, but painful, force field. 
Karate (1984-1987)
There was a period where James was interested in Karate and was taking lessons. When he was about five or six years of age, every night I would come home from work and James would be there saying, "Dad? Can we?" And I knew he meant "Can we fight and play Karate." So usually we would.  Basically, we would do hand whacks and kicks. The thrusts were mostly pretend, but some blows would land on the target. We had some pretty rough and tumble battles. One day James was talking to a guest in our home, and he said, "I really like rough housing." I don't know where he heard the phrase "rough housing," but he knew it.
Olympic Diving (1984-1986)
In 1984, when the Summer Olympics were in Los Angeles, I took a two week vacation and bought as many tickets as possible. My cousin, Randy Garroutte (GISH, Class of 1970), his wife and father-in-law, and my law school buddy John Fowler and his family, all stayed at our house in Santa Monica and joined us at Olympic events. We saw tons of events, including the start of the first Olympic women's marathon ever, which at mile two went down San Vicente Boulevard, less than two blocks from our home in Santa Monica. During the Olympics, Bill, Randy's father-in-law, took daughter Susannah to the female platform diving event, and that made a big impression.
Later that summer, when we were on the dock at Lake Okoboji, now our Iowa home, we developed the game of Olympic Diving. I would be the announcer, and I would say something like, "Next up from Sweden is Inga Gustafson!" Sue would then approach the end of the dock and do a crazy jump into the water, sometimes with twists and turns. Then I would solemnly and loudly announce, "The judges give it a 9, a 9, an 8, a 10, and the judge from the Soviet Union, a 3!"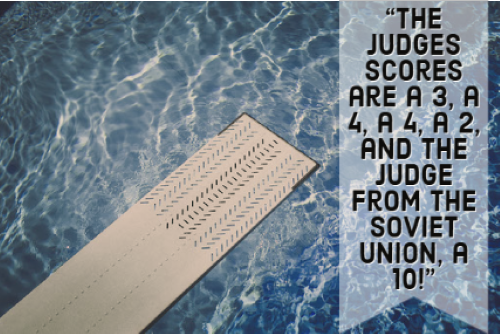 I would next announce, "From Japan, the next diver is Yoshihiro Yamagi." James would then dramatically approach the end of the dock, and do an equally crazy dive, can opener, or cannon ball. I would then again announce, "And the judges give it a 9, a 10, an 8, a 9, and the judge from the Soviet Union a 2."   
Then I would approach the end of the dock and say, "Now up is Vassily Romanov, from the Soviet Union," then I would do a bad can opener, or a "flying goose." While still in the lake I would shout "The judges scores are a 3, a 4, a 4, a 2, and the judge from the Soviet Union, a 10!"
Bad Kitty! (2017-2020)
Fast forward about 30 years, and I now play games with my grandchildren, Victoria, now 10, and Leonardo, now eight. Victoria has always loved cats and kitties. For something like five straight years at Halloween she was some kind of cat or kitty. Well, somehow that love morphed into the game of Bad Kitty.
I, Grandpa Mike, am the Bad Kitty. Victoria and Leo are little good Kitties. Bad Kitty is required to remain in his chair, and good Kitties try to come as close as possible and pester Bad Kitty, without Bad Kitty getting them. If Bad Kitty captures one of the good Kitties, he either gives them a belly blow, or, in a phrase my father used to love, he will "kiss them on the dirty neck." Bad Kitty starts the game by saying in a very scary voice, "I am a really Bad Kitty and I am going to get you!!!" They then dodge around and try to poke me, but not get close enough to be caught. Sometimes Bad Kitty will pretend to be a good Kitty and say, "Oh, I am just a very nice kitty and I would never hurt anyone. Come see." But they are too smart to come too close. On occasion, Bad Kitty is permitted to get out of the chair, and chase them. But with these rules, there are about a million "safe" places they can go, where Bad Kitty cannot get them.   
A few years ago, we rented a Suite at Target Field in Minneapolis for a Minnesota Twins baseball game. Victoria had invited three or four of her eight-year-old buddies, and she suggested we all play Bad Kitty. So I chased them around the Suite in menacing fashion producing screams of joy and fear. Then, Mary Lazarus, our long time friend from college days, joined the game as a female Bad Kitty. So two Bad Kitties were chasing the girls. Mary then developed the concept of "Sparkle." If a Bad Kitty is about to catch them, they get to yell "Sparkle," which freezes Bad Kitty. After playing for quite a while, we rested and I watched a little of the baseball game. Then Eva, one of Victoria's friends, came up to me and pleaded, "Can you chase us again?" Of course I did.
Sharkie and Fishies (2018-2020)
This is a game Victoria, Leo and I play in the pool at our Santa Monica house. I, of course, am the Sharkie and they are the two Fishies. Sharkie swims around and tries to get them, and they swim away to avoid being caught. Once again, the Fishies are in a safe zone if they are touching the side of the pool, where Sharkie cannot get them. Since Victoria swims faster than I, she always gets away. And Leo carefully clings to a side of the pool if Sharkie is anywhere near. I don't know what Sharkie would do if he were to catch them, since I have never caught them.   
Crushing Machine and other Machine Games (2016-2018)
From my buddy Jeff Greenberger (GISH Class of 1967) and his brother Dan (GISH Class of 1970), I have also learned a few new "Machine" games. One is the Crushing Machine, where one gets behind a grandchild and holds them very tight, a Crushing Machine. You have to be careful on this one not to crush too hard.
Another is the Upside Down Machine, where I grab them by the feet and swing them around upside down. Yet another is the Washing Machine, where I hold them off the ground and shake them around like a washing machine. Each of these machines must be administered with care and caution. They generally produce laughter, but on rare occasions, a tear.  
Some parents I think are hesitant to play such games, since they fear losing their dignity or are just not willing to be goofy and ridiculous. But for better or worse, I look forward to losing my dignity and being goofy and ridiculous. After all, you only live twice!
I can be reached at m.monk@mpglaw.com.
---
Top Rated Movies
from many a January 15th ago
1941

"Santa Fe Trail" starring Errol Flynn and Olivia de Havilland

1951

"At War with the Army" starring Dean Martin and Jerry Lewis

1961

"Swiss Family Robinson" starring James MacArthur and Dorothy McGuire

1971

"Love Story" starring Ryan O'Neal and Ali MacGraw

1981

"9 to 5" starring Jane Fonda, Dolly Parton, and Lily Tomlin

1991

"Home Alone" starring Macaulay Culkin

2001

"Save the Last Dance" starring Julia Stiles and Sean Patrick Thomas

2011

"The Green Hornet" starring Seth Rogen and Cameron Diaz
Source: playback.fm
---
New Year No Time for Resolutions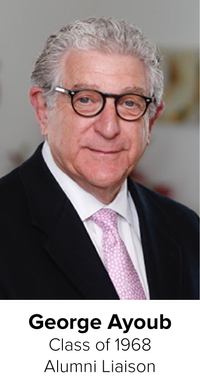 Be it resolved …
Fuhgeddaboudit!
Not that I'm confusing Senior High alums with Canarsie High alums from Brooklyn. Nor is my outburst an homage to "The Honeymooners." 
Here's the deal: For many years now, I've skipped the whole New Year's resolution thing. I've based this decision on both logic and experience, caring not a whit to resolve myself to lose this or quit that or spend more time with whosits or less time with whatsits. 
Nor does my yearly abstention from this traditional and popular self-improvement process keep me from applauding the efforts of others who mark January 1 as day one of a life without cigarettes or cheesecake or aged Scotch. Or perhaps it's the beginning of regular exercise or more book reading or less staring at a screen.
Whatever life change you are 15 days into, I respect and admire your courage and yes, your resolve.
Just leave me out of it.
For me, the numbers just don't add up. 
Those would be the research numbers that reveal for eight out of 10 of us, resolution becomes dissolution before Valentine's Day. That's close — experts tell us it takes 66 days for a habit to form — but no cigar. (Unless you're giving up smoking, in which case no cigar is what you're going for.)
So if you're off the sugar or on the treadmill, hustle up. According to my calculations, you have less than a month before a pint of Ben and Jerry's Cherry Garcia magically appears in your shopping cart and your workout clothes move to the bottom drawer of your dresser. 
Relax … everybody's doing it … or at least the numbers tell me they are. And if you can't trust the math, well, let's not even go there.
Among the smarty pants who study human behavior, some counsel that a reasonable resolution made with moderate expectations is the way to go. So if I want to lose weight, aim for something like a pound a month or maybe even two, the rationale being that realizing some success and feeling better about ourselves will strengthen our resolve.
While I respect the science and the moderation, I couldn't find any science that moderation improves our chances to stay resolute longer than six weeks. 
Obviously, some people are able to develop the habit of skipping the ice cream during their weekly grocery shopping or breaking a sweat four or five times a week … and doing it without being treated for OCD.
The math says that person is only one out of five of us … developing the habit, not needing help with OCD.
My experience with New Year's resolutions underscores the science, often working to lower the average number of days before we average resolution makers cash in our behavior modification chips.
For example, I'm terrible about writing notes, either newsy updates for anniversary or birthday remembrances or thank you notes, those handwritten, personal little missives we send after gifts or favors or a specific kindness. The advent of texting has improved my response, but putting a notecard in the mail has, to date, been a bridge too far. 
Someone who knew my shortcomings encouraged me to change and even gave me a box of beautiful note cards and envelopes.
Determined to make good on her generosity, I went straight to work. I made a list of people to whom I owed a late congratulations or thank you or just a note to say hello. My list was long, enough to get through my friend's gift of 50 notecards and more. I decided to send one card each day, adding to my list periodically. I was eager to start and took great pleasure in sending those first few cards.
I still have half the box. 
I made it only to January 24 before some trifle interrupted my New Year's resolution. 
Maybe a card a day was too much … even though I had a plan. Maybe the urge to change my behavior wasn't as strong as I thought it was. Maybe I'm lazy. Maybe my resolve succumbed to a combination of pledge-busting dynamics, not the least of which is … simply … me.
That was nearly 10 years ago, my last effort marking January 1 as the day I was going to change or dye or erase my proverbial spots.
Curiously, since then I have changed some bad old habits and developed some good new ones — neither coming via a date on the calendar, having an open end, or using an unreasonable measure for success. (A card a day? What was I thinking?) 
So I've learned that, yes, I may eat a couple pints of Cherry Garcia or hang clothes on the treadmill for weeks on end. 
Or not. 
One thing is for sure, however. Whatever I do, don't expect a card in the mail letting you know about it.
---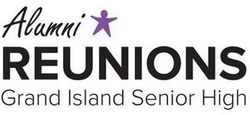 Planning a class reunion?
We can help get you started!
Contact us for your class list and send us information about your reunion. We will post it to our website.
Kari Price, Alumni Coordinator
kprice@gips.org
308.385.5900 ext. 201148
NOTE: Reunion information in this newsletter is current as of the publication date. To see Reunion updates and additions go to our Alumni Reunions page or check with the contact person for more details.
Grand Island Senior High Reunions/Gatherings
Class of 1956
The Class of 1956 wishes to extend an invitation to fellow classmates to join them at their monthly gathering. They meet on the 2nd Tuesday of each month at the Midtown Holiday Inn at 6:00 pm. 
Class of 1960
The Class of 1960 gathers  the first Wednesday of each month at Tommy's Restaurant at 11 a.m. Join Us. Rogene Bainbridge 308-384-6904.
Class of 1965
UPDATE: The Class of 1965's 55th  Reunion has been called off until further notice. For more information email Loretta Catlett at  cruzinmom@hotmail.com.
Class of 1966
The Class of 1966 wishes to extend an invitation to fellow classmates to join them at their monthly lunch gathering. They meet the 3rd Wednesday of each month at the Platt Duetsche at 1:00 pm.
Class of 1970
UPDATE: Class 1970 Reunion Postponed — GISH Class of 1970, the Reunion Committee has come to a consensus and we have decided to postpone our 50th High School Reunion Celebration until further notice. Just to be clear, our 50th High School Reunion is not cancelled, it is just postponed to a later date. Many of you have already registered and sent in your checks, and those will be mailed back to you. We are all looking forward to a Party and after all of this I am sure we can all use a fun weekend. We will monitor the situation and let everyone know when we have rescheduled. Contact gish1970@gmail.com with questions. (Craig Paro)
Class of 1990
UPDATE: Class 1990 Reunion Postponed
The 30th Class Reunion for the Class of 1990 has been postponed until 2021. Join the facebook group at GISH Class of 1990, 30 year reunion for updates and to connect with classmates.
Class of 2000
UPDATE: Class 2000 Reunion Postponed
The 20th Class Reunion for the Class of 2000 has been postponed until June 5, 2021. Join the facebook group at Class of 2000 GISH. For more information please contact Elizabeth Patterson, epatterson715@aol.com or Erica Wilkinson at ericawilk1326@gmail.com.
 
---
November and December memorial list of GISH Alumni
LUETTA (HEPP) FINDLAY, Class of 1950, died Nov. 1, 2020, in Grand Island. Luetta lived in Hastings. She was 88.
JEAN (BROWN) BOCKMAN, Class of 1969, died Nov. 2, 2020, in Grand Island. She was 69.  
RICHARD STEPHENS, Class of 1954, died Nov. 5, 2020, in Ashland. He was 84. 
DUANE VOSS, Class of 1953, died Nov. 10, 2020, in Grand Island. Duane lives in Cairo. He was 87. 
NANCY (HARDER) BRUNS, Class of 1958, died Nov. 12, 2020 in Grand Island. She was 80.
NANCY (RANSLEM) HUET, Class of 1971, died Nov. 12, 2020, in Greeley, CO. She was 68. 
WAYNE SCHULLER, Class of 1954, died Nov. 13, 2020, Central City. He was 83. 
SHERRY (WATSON) QUICK, Class of 1956, died Nov. 14, 2020, in Hordville. She was 82. 
PATRICIA (CONLEY) GRUDZINSKI, Class of 1965, died Nov. 15, 2020, in Grand Island. She was 73. 
DONNA (WHITT) KEHM, Class of 1952, died Nov. 17, 2020, in Minot, ND.  She was 86.  
VIC GOSDA, Class of 1948, died Nov. 19, 2020, in Grand Island. He was 91. 
VENUS (GRIESMAN)  KLINGENBERG, Class of 1992, died Nov. 20, 2020, in Grand Island. She was 47. 
DAROLD TAGGE, Class of 1958, died Nov. 20, 2020, in Holdrege. He was 80. 
CLARENCE PARSONS, Class of 1950, died Nov. 23, 2020, in Fullerton. Clarence lived in rural Grand Island. He was 88. 
LOUIS KLINTWORTH, Class of 1948, died Nov. 26, 2020, in Aurora. Louis lived in Marquette. He was 89.
LARRY FENTON, Class of 1958, died Nov. 29, 2020, in Lincoln. He was 81. 
PAUL BECKMAN, Class of 1930, died Dec. 1, 2020, in Elwood. He was 108.   
KRISTI STRATTON, Class of 1992, died Dec. 2, 2020, in Omaha. Kristi lives on Grand Island. She was 48. 
MARK WEAVER, Class of 1980, died Dec. 5, 2020, in Omaha. He was 58. 
JERRY SCHWIEGER, Class of 1956, died Dec. 8, 2020, in Grand Island. He was 81. 
BOB WALKER, Class of 1968, died Dec. 8, 2020, in Grand Island. He was 70.  
JAN (ANDERSON) FRAUEN, Class of 1952, died Dec. 11, 2020, in Grand Island. Jan was school secretary at Barr Middle School for 28 years. She was 86.  
JOAN (LUEBBE) BRADEN, Class of 1952, died Dec. 11, 2020, in Midland, TX. She was 85.
NADINE (EVANS) STULL, Class of 1944, died Dec. 12, 2020, in Lincoln. She was 94. 
VIRGINIA (SORENSEN) GERBIG, Class of 1950, died Dec. 14, 2020, in Grand Island. She was 88.  
RALPH KAISER, Class of 1976, died Dec. 18, 2020, in Grand Island. He was 62.
BERNICE (TAGGE) TUCKER, Class of 1948, died Dec. 19, in Grand Island. She was 90.
SHARON (ANDERSON) JEMISON, Class of 1961, died Dec. 20, 2020 in Hastings. Sharon lived in Giltner. She was 78.  
LEWELLYN (SCHROEDER) PETERSON, Class of 1964, died Dec. 21, in Greeley. Lewellyn lived in Smith Center, KS. She was 75.  
PERRY GAUTHIER, Class of 1979, died Dec. 23, in Lincoln. He was 60.
LOU (LIPPS) JENNINGS, Class of 1963, died Dec. 26, 2020, in Lincoln. She was 75. 
MARY (WIGSTORE) OPP, Class of 1961, died Dec. 27, 2020, in Alda. She was 77.
CRAIG GILLHAM, Class of 1964, died Dec. 28, 2020, in Grand Island. He was 74. 
JEFFERY WELCH, Class of 1990, died Dec. 28, 2020, in Grand Island. He was 49. 
KAY (ALBER) STADE, Class of 1963, died Dec. 29, 2020, in Gretna. She was 75. 
PEGGY (POULLOS) O'DEA, Class of 1968, died Dec. 30, 2020, in Kearney. She was 70. 
CHARLENE (AUTREY) ROSS, Class of 1965, died Dec. 30, 2020, in Grand Island. She was 73. 
NORMA JEAN (MCMULLEN) WOODS, Class of 1945, died Dec. 30, 2020, in St. Paul. She was 93.
To report an alumni death since December 31, 2020, please send an email with the first name, last name, class year and maiden name if applicable to alumni@gips.org.