Give a High $5 on Giving Tuesday
Giving Tuesday was founded in 2012 as a day that encouraged people to do good. Since then, this charitable day, which is always held the Tuesday after Thanksgiving, has been a way for nonprofit organizations to highlight their missions. 
Join us on November 29 for Giving Tuesday as we invest in opportunities together.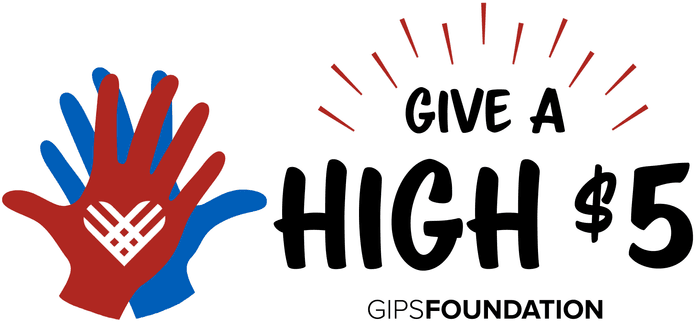 Make a High $5 donation to the GIPS Foundation in honor of a GIPS staff member!
Include a personal note with your donation and we'll take care of sharing each special shout out.
Whose face will you put a smile on for Giving Tuesday this year?
 

High $5 Certificate Example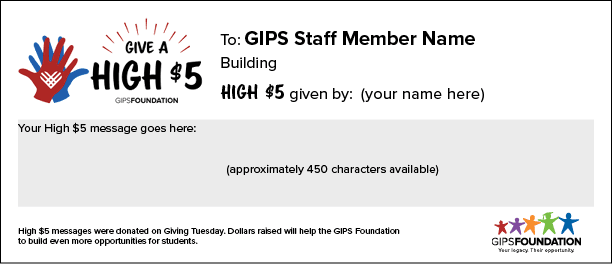 Don't know a GIPS staff member?
You'll still be able to give a general donation to the campaign. 
Giving will be open all day on Tuesday, November 29.
$1,000 Match Donor
With a strong belief in incremental growth for each generation, Jimmy and Melissa Reed have pledged $1,000 for Giving Tuesday 2022. They will match all High $5 donations up to $1,000. That is 200 High $5 notes to GIPS Staff! Help the Reeds make a lasting impact with your donation on Giving Tuesday.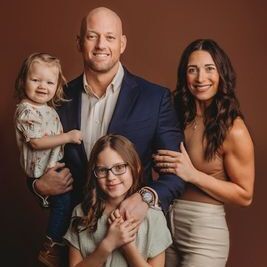 "We believe in the incremental growth of each generation. Generational growth is achievable with building groundwork that includes early and continuous education. As parents of a child in the GIPS system, we wholeheartedly support the GIPS Foundation and this campaign to recognize the teachers, staff and administration who are intricately and passionately involved in improving the lives of each student for generations to come."
Jimmy & Melissa Reed